And other legislative updates in this month's Up the Street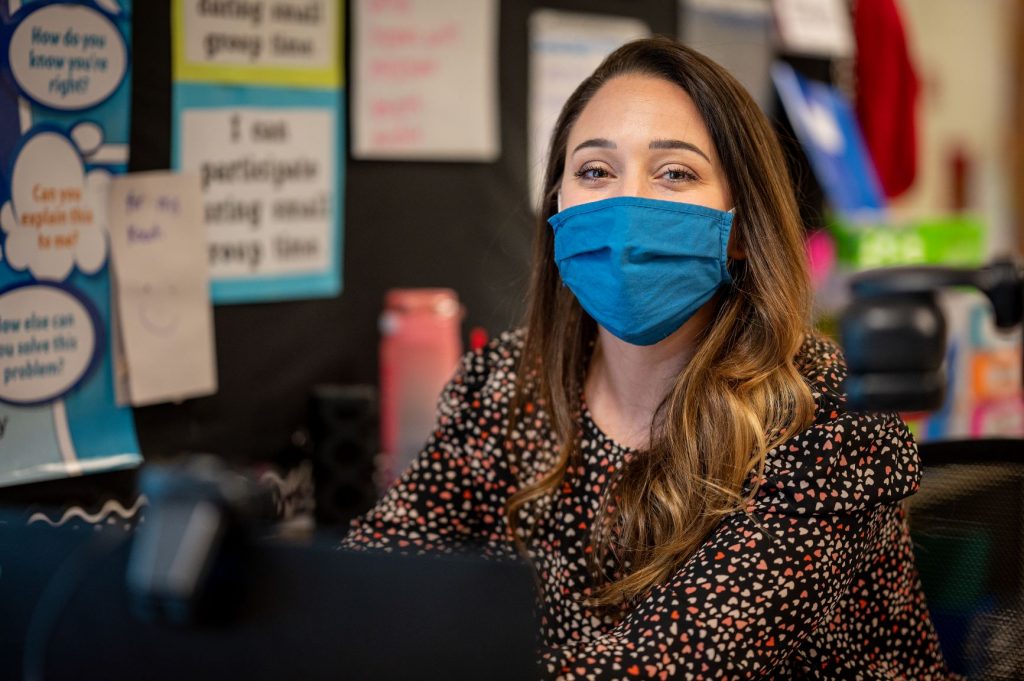 THIS MONTH IN ANNAPOLIS
Legislative Successes Changing Education Already
The coronavirus pandemic drove MSEA's short- and long-term priorities during this year's session to secure resources to safely and sustainably work and learn in our schools, as well as to provide the supports necessary for recovery from its impacts. Key to this effort was the successful override of the governor's veto of the Blueprint for Maryland's Future, which means it will now be implemented over the next decade. It is designed to restore equity where it has been denied; to fight for imperative progress for racial and social justice; to ensure that every student no matter their zip code has a world-class education; and to raise the profile of, and respect for, the profession of educators. Members across the state will play a key role in seeing the Blueprint faithfully carried out.
Immediately, schools are mandated to develop summer- and after-school and tutoring programs to provide academic and social emotional learning opportunities that counterbalance the pandemic's impact. Educators need to help plan, and be hired, for those programs, which will operate this summer and next. Federal funding for additional tutoring and extended learning opportunities is available through 2024, and the American Rescue Plan will send key funding to Maryland and other states to help this recovery effort.
NEWS AND NOTES
Nonbinding Resolution by State Board Misses the Mark
On April 27, the Maryland State Board of Education (SBOE) adopted a surprise resolution that seemed unnecessary at best and a distraction at worst. The resolution calls for all schools to be open full-time for in-person, non-hybrid instruction next school year for at least 180 days—a working assumption that has been held by most already. Rachel McCusker, the one active educator on the SBOE, and parent representative Lori Morrow criticized the board's impulsive and negatively framed resolution, which incorrectly inferred unwillingness on the part of educators or school systems to meet the goal. The resolution was not available for public input before the vote, demonstrating a pointed lack of transparency. Technically, as SBOE President Clarence Crawford noted, the resolution is nonbinding and therefore has no direct impact on district plans. MSEA President Cheryl Bost described the resolution in the press as one final opportunity by outgoing Superintendent Karen Salmon to tell districts what to do.
New State Superintendent Coming Soon
In recent closed sessions, the SBOE has continued its search for Superintendent Salmon's replacement. She is scheduled to retire June 30, a year after her original retirement date. The next superintendent will require only SBOE approval as legislation to include the General Assembly's advice and consent did not pass this year. A new superintendent will have a steep learning curve involving the implementation of the Blueprint for Maryland's Future and post-pandemic programs. MSEA hopes for a collaborative relationship with the next superintendent to ensure that educators' voices are at the table for the critical years ahead.
House GOP Leadership Changes
State House Republicans selected a new leadership team for their 42 members: Del. Jason Buckel (Allegany County) replaces Anne Arundel's Del. Nic Kipke as minority leader, and Del. Christopher T. Adams (Middle Shore) takes over for Del. Kathy Szeliga (Baltimore County) as minority whip.
Shamoyia Gardiner to Lead Strong Schools Maryland as Executive Director
Strong Schools Maryland, a key ally in the passage of the Blueprint for Maryland's Future, has announced Shamoyia Gardiner as the organization's new executive director. She has been promoted from her position as deputy executive director, now that former executive director Joe Francaviglia has left to manage the comptroller campaign of Del. Brooke Lierman (D-Baltimore City).
Incoming Census Data to Inform Redistricting Process; Maryland Added 400,000 in Past 10 Years
The pandemic-delayed 2020 Census count is coming in, and the early results show just a 7% increase in Maryland's population. The addition of 403,672 people brings the state population to 6.2 million. That modest increase means no change in the number of congressional seats, but more granular data will be coming to inform the process by the governor and General Assembly in crafting and finalizing congressional and legislative maps. For his part, the governor's Redistricting Commission, which began its work on May 5, will produce recommendations to presumably inform what the governor will submit for the General Assembly's consideration. The General Assembly can approve the governor's maps or pass resolutions and maps of their own. Depending on the timing of when maps will be introduced and adopted, candidates may have to scramble between the February 22, 2022 filing deadline and the June 28 primary.
CAMPAIGN 2022
Democratic Gubernatorial Primary Battle Takes Shape; GOP Field Also Developing
Although gubernatorial candidates have until February to officially file their paperwork, the fields are taking shape. Most recently, Democrats Rushern Baker and John King, and Republican Commerce Secretary Kelly Schulz, have said they plan to run. Baker, the former Prince George's County executive, was the runner-up to Ben Jealous in the 2018 Democratic primary. King served as education secretary during the second term of the Obama Administration, and recently founded the political advocacy organization Strong Future Maryland. As reported previously in Up the Street, Comptroller Peter Franchot (D) was first to announce his intentions to run for governor, and fellow Democrats Jon Baron and Ashwani Jain have said they will run.
Several others are sending signals about a possible run for governor. Former Democratic National Committee Chairman and U.S. Labor Secretary Tom Perez has set up a committee that could raise funds toward a gubernatorial bid. Wes Moore, the former CEO of the Robin Hood Foundation, Army veteran, and Baltimore native, established a fundraising committee, but has not made anything official. And former Attorney General Doug Gansler has hired a national campaign strategist who was a senior policy analyst for the late Senate President Mike Miller.
Baltimore County Executive Johnny Olszewski had been a rumored candidate for governor, but announced on Thursday that he plans to seek re-election next year to continue to lead the third-largest jurisdiction in the state.
Schulz announced her plans to run for governor hours after Lt. Gov. Boyd Rutherford said that he would not run. Republican former Lt. Governor Michael Steele, who served from 2003-2007 with Gov. Bob Ehrlich, has said in several media outlets that he is considering a run as well.
Glassman Enters Comptroller Race
In the race for comptroller, Republican Harford County Executive Barry Glassman announced his run for the office just days after the legislative session ended. Democrats Del. Brooke Lierman (D-46) and Bowie Mayor Tim Adams previously announced their plans.
Candidate Finance Reports Show Incumbents' Strengths, Newcomers' Possible Intentions
Finance reports show that, among others, Democratic Sen. Chris Van Hollen, Rep. David Trone (D-6th), and Rep. Jamie Raskin (D-8th) have strong cash positions. In just a few months in her bid to challenge Rep. Andy Harris (R-1st) Heather Mizeur has raised $350,000 to lead the field of challengers to Harris. If Trone runs for governor, former Del. Aruna Miller has raised funds to try to lock down the inside position for his Congressional seat.
42nd District Senate Race Heats Up
While redistricting that will happen before February could change the landscape of the fluid Baltimore area districts, as of April, Sen. Chris West (R-42) has a challenger in his Baltimore County district from Democratic political newcomer Jeff Bonner. Bonner is a military veteran and airline pilot. West narrowly won his race in 2018, besting Democrat Robbie Leonard in a close 51%-49% contest.