And other legislative updates in this week's Up the Street
THIS WEEK IN ANNAPOLIS
MSEA Advocates for Reduction in Mandated Spring Standardized Testing
This week MSEA has been fighting for students and educators—who have enough stress navigating the myriad unique demands of education during the pandemic—to be given as much grace as possible from high-stakes standardized tests. In public comment Tuesday to the Maryland State Board of Education (SBOE), MSEA President Cheryl Bost urged improving on Superintendent Karen Salmon's plan to administer federally-required assessments this spring. In her public comment, Bost called for: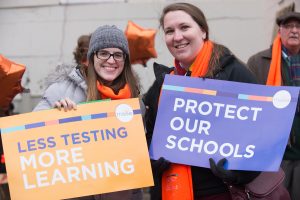 Scheduling testing blocks during class periods and age-appropriate blocks
Not pulling teachers or para-educators to be test administrators or proctors taking them away from instructing other students
No test prep leading up to the test administration which would take away additional instructional time
No students, whether in-person or virtual, should be pressured into taking any of the tests
The provision of contractual time to educators to analyze the assessment results
Seeking all waivers offered by the U.S. Department of Education (USDE) and the state to reduce all testing to the minimum required
The SBOE meeting followed the U.S. Department of Education (USDE) announcement on Monday that full waivers will not be granted this year from the assessments tied to the Elementary and Secondary Education Act (ESEA) as amended by the Every Student Succeeds Act (ESSA). However, USDE did offer states the opportunity to extend the timeframe through the summer and fall to complete the tests and shorten the length of tests, and to allow waivers of non-ELA and math assessments, the required  95% participation threshold, and all ties to accountability such as school ratings, student grades, etc.
MSEA is pushing the state to take full advantage of the flexibility USDE is offering amid the obvious lack of validity and utility that standardized testing will involve this year. Bost and several district officials implored the state not to sacrifice in-person instructional time so soon after educators and students are beginning to reconnect in school. Educators need time to address social-emotional challenges and trauma exacerbated by the pandemic and for instruction, not for stressful and unhelpful testing.
While state standardized testing is questionably useful to begin with, this year's assessment is worse for relying on the unseen Maryland Comprehensive Assessment Program (MCAP) test that replaces the Partnership for Assessment of Readiness for College and Careers (PARCC), last used in 2019. The MCAP, which was originally scheduled to have its premiere administration last spring, will instead be given for the first time this spring. The state plans to use this year's administration of the test for standard-setting, despite the incredible inconsistency in terms of mode, timing, and equity that will impact the test and resulting data.
Conducting these assessments this year is a waste of time and money, and the results will not provide accurate performance assessments, as National Education Association (NEA) President Becky Pringle stated in her disappointed response to USDE's decision this week. "All students deserve and have the ability to demonstrate knowledge in many ways that are measurable by those who know them best—their educators," she said. "Standardized tests have never been valid or reliable measures of what students know and are able to do, and they are especially unreliable now."
What's Next for the Assessments
Salmon's plan that was approved by the State Board is to extend the test window through June 4 and to administer 2.6 hours of math testing and 4.6 hours of testing in English Language Arts. The SBOE pressed Salmon for a commitment to reduce the number of testing hours "if possible." SBOE member Rachel McCusker, the only active public school educator on the board, voted against the haphazard and disruptive testing plan, which included Salmon's decision to ensure security among students taking the test remotely by "assum[ing] that everyone is going to be on the straight and narrow." Parent board member Lori Morrow abstained. Salmon promised that next month she would describe her plan to test all students.
Legislation Promotes Accommodations and Care, Not Job Loss for Educators
As schools ramp up in-person operations, some educators are faced with a choice between work and keeping themselves and their family safe. MSEA supports HB 1322, sponsored by Del. Alonzo Washington (D-22). It prevents retaliation against educators who are 65 or older, have an underlying medical condition identified by the CDC as putting them at greater risk from coronavirus (or who live in a household with, or are the primary caretaker for, an individual who meets either of those conditions), have not yet been fully vaccinated but are attempting to do so, and who choose not to return to in-person instruction. The bill would also prevent the suspension or revocation of certifications should an educator choose not to instruct in-person during the 2020-21 school year. HB 1322 will be heard in the Ways and Means Committee next Wednesday, March 3. In advance of the hearings, educators can click here to contact their legislators and urge them to support this important legislation.
MSEA Pushes for Collective Bargaining Rights for Community College Employees
On March 4 MSEA will testify in support of SB 746, which would give collective bargaining rights to community college employees.  The March 4 hearing in the Finance Committee is a key hurdle to get the bill to a full Senate vote. The measure has passed the House of Delegates multiple times in the last few years.
Senate Role in Selecting State School Superintendent under Discussion
With the need for a good state school superintendent more critical than ever, MSEA supports HB 465, which would require that the state superintendent be appointed with the advice and consent of the Senate. The bill would also prohibit the appointment of an individual as state superintendent if the individual is, or during the immediately preceding year was, a member of the State Board of Education. The bill would temper the governor-appointed SBOE's sole power to choose a superintendent. The bill has passed the House and is in the Senate.
NEWS AND NOTES
Sumpter, Mele-McCarthy Reappointed to School Board, Newcomer Added
Unfortunately, a SBOE that is more vigorously supportive of educators is not on the horizon, given the "green bag" nominations the governor made last week. For two of the three SBOE terms that expire in June, Hogan nominated for reappointment Warner Sumpter and Joan Mele-McCarthy. For the third seat, Hogan nominated Chuen-Chin Bianca Chang, whose resume includes having been principal at the Chinese Language School of Columbia, Maryland. If approved by the Senate, the four-year appointments begin in July. Members may serve no more than two full-term appointments.
In-Person Instruction, Vaccination, and Building Preparations
One step in the right direction of working and learning safely in school buildings came this week when the governor incorporated a clarifying mask mandate in an updated executive order. Masks are now required for everyone over the age of five who is in a location "where interaction with others is likely." The only exception is for special education students who cannot wear a mask. In such cases, it is imperative that schools provide appropriate personal protective equipment to the staff working with unmasked students.
CAMPAIGN 2022
Baltimore's Wes Moore Explores Gubernatorial Race After Stepping Down from Nonprofit
As promised, the field of prospective 2022 gubernatorial candidates has expanded, with this week's news of Baltimore native Wes Moore exploring the idea and consulting campaign professionals. Fellow Democrats Comptroller Peter Franchot and one-time Montgomery County Council candidate and former member of the Obama Administration Ashwani Jain are the only two who have officially announced their plans to run so far.