Spotlight on Delegate Jazz Lewis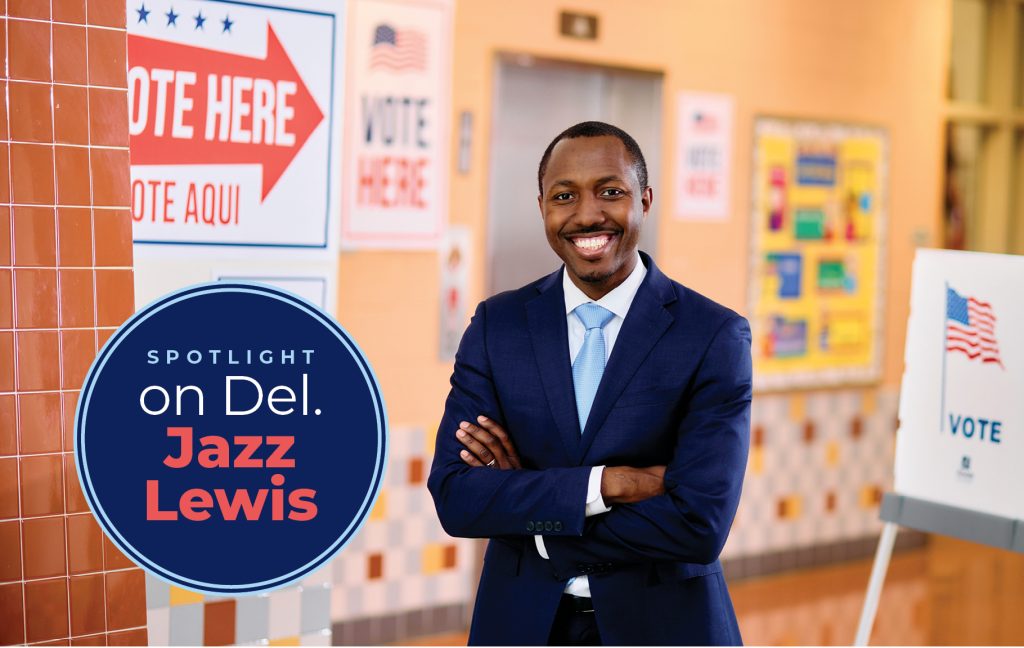 Prince George's County delegate Jazz Lewis (Dist. 24) worked as a community and union organizer with SEIU before being appointed to the Maryland House of Delegates in 2017 and winning elections in 2018 and 2022. He was appointed to serve as the House Majority Whip in January.
How has your experience as a labor organizer informed your work in the General Assembly? 
It has shown me how our workers live their lives and the constant struggle to make ends meet while caring for themselves and family, all while trying to be as productive as possible in the workplace. Labor organizing showed me that mighty things could be accomplished through our collective action. There is power in coming together to organize for better wages, working conditions, and fair treatment. My time organizing showed me that a lot can happen if the hard work gets done to convene stakeholders, organize, and problem-solve together. Ultimately working families benefit when we validate their concerns and work to advocate on their behalf.
How has being a Prince George's County Public Schools graduate and future public school dad informed your perspective as a legislator? 
Being from Gorgeous Prince George's and being a dad has grounded my legislation in the real-world concerns that Marylanders face on a daily basis. Our teachers took extra time to help shape me into who I am. I owe them a lot, and I think of them at every turn. As a graduate of public schools, I believe that every child in America deserves to receive a quality education, in state-of-the-art facilities, with supported educators who can focus on the well-being and development of their students. Being a father has motivated me to double down on our collective efforts to tackle the defining challenges of our time so that my son will not have to face many of the struggles we are going through today.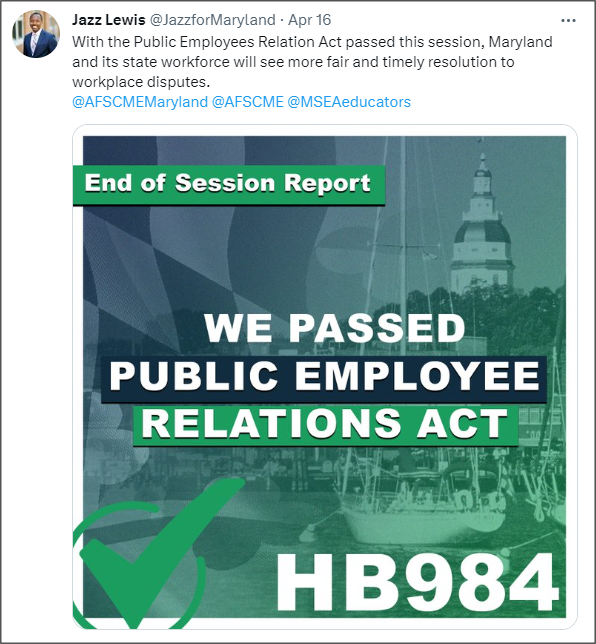 You sponsored and championed the Public Employee Relations Act (PERA) this year. What will its passage mean to public employees like educators? 
PERA will ensure that our state's educators can have their workplace concerns and disputes addressed in a fair and timely manner. This legislation will ensure that the procedures and precedents of our state's labor relations board are fair, processes are streamlined and modernized, and that the board is well-staffed to address the issues of our state's workforce.
You also sponsored HB 2 to allow union members a tax break for their union dues, which is an issue you've been working on for years. Why is this issue so important to you? 
This is an issue of fairness to me. Historically, this tax deduction was available on the federal level but was eliminated by Congressional Republicans to help pass a massive tax cut for the rich at the expense of working families. As businesses invest in themselves, they can deduct those expenses from their taxes. Why not the workers? Particularly our union members. Unions have provided so much to this nation. Beyond the 40-hour work week and OSHA regulations that are well known, often when workers are laid off, the unions step in to cover their salary until they find their next job, not the state's unemployment insurance. In that lens, I proposed the tax deduction so that here in Maryland, we provide a needed benefit to workers so they can have more money in their pockets to support their families.
What's on your to do list for the remainder of this term? 
I aim to continue supporting our state employees and workers across Maryland. One of the main challenges our government faces is the incredibly high vacancy rate across departments, putting additional stress on remaining workers and harming the critical work that our employees must do. I want to continue in the work we've seen from Governor Wes Moore and Speaker Adrienne Jones to attract the new workers that Maryland needs while supporting our current amazing workers.
Latest News