And other legislative updates in this month's Up the Street
THIS MONTH IN ANNAPOLIS
Reopening with Commitment, Despite Demoralizing State Activity
Educators have worked hard all summer to make this school year fulfilling and successful for all students. Despite the lack of specific guidance over the summer from the Maryland State Department of Education (MSDE), school systems drafted reopening plans as required and worked to develop rich virtual learning environments that would be safe for all. Educators miss students and know that in-person learning is better for academic and social-emotional support than virtual learning, but science and safety, not reckless politics, must determine when in-person teaching resumes.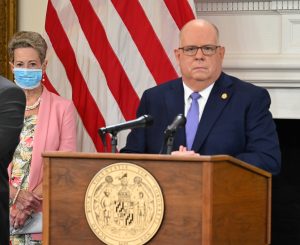 All this work—and lack of direction from the state—made the announcement from Gov. Hogan and Superintendent Salmon last week all the more surprising. The governor proclaimed that all schools were authorized to open—which they were before his announcement—and then Hogan and Salmon proceeded to share metrics to guide reopening decisions which would have been useful months ago, rather than weeks after locals' reopening plans were due and days before the first day of school for Maryland students. They then chided schools for not opening more rapidly, thereby confusing and insulting many, and generally creating chaos at a time when clear communication and stability is needed.
In a statement reacting to the widely-panned press conference, MSEA President Cheryl Bost said in part, "The governor and superintendent abdicated responsibility for creating reopening standards and told districts to come up with their own plans, indicating appropriate confidence that local school systems would do what is best for students. Today, they chose to ambush and second guess the hard decisions that local boards of education, parents, and educators have made to keep students and schools safe." The Baltimore Sun editorialized that "Taking potshots is the wrong way to manage a crisis. We don't think local school systems lack the will for in-person instruction, in many cases, they simply lack the way to do it safely. Trying to embarrass them publicly with last-minute obduration doesn't help."
MSEA Wins Improvements to Superintendent's Last-Minute Changes
MSEA swiftly acted to defeat Superintendent Salmon's last-minute virtual teaching standards, which she held back from setting all summer and released shortly after her press conference with the governor. Her out-of-the-blue proposal to the State Board of Education (SBOE) on September 1 would have required schools to revise their teaching schedules by September 28. A petition drive by MSEA pushing back on her proposal garnered more than 22,000 signatures from educators and Marylanders in less than 48 hours. In a letter, President Bost warned the Board that such a significant change would undermine confidence between families and teachers, who would suffer from upsetting student and family schedules so close to the start of school. Salmon intended to get the Board to require every district to have an average of 3.5 hours of synchronous, or live, learning per day, five days a week by September 28. Many grade levels in districts would not have met the unexpected standards. Ultimately, the Board conducted a chaotic discussion of two options (one of which was not revealed until the meeting began) that generated yet a third. The Board ultimately voted in favor of a version that was much improved from Salmon's desired proposal. The Board approved setting a 3.5-hour minimum average of synchronous learning per day across the grades, but the districts have until December, instead of the end of September, to meet it. Educators must be part of the discussion when districts count their synchronous learning hours, making sure to include every applicable use of time, such as office hours.
NEWS AND NOTES
Stakeholders Shut Out of Teacher Qualification Plans
On August 25, the SBOE decided to proceed with the process of publishing regulations for teacher certification requirements and programs for licensed teachers (13A.12.01-.07 and 13A.07.06). The SBOE continued to follow Salmon's lead in rejecting key stakeholder input from MSEA and the Professional Standards and Teacher Education Board (PSTEB). Salmon denied MSEA and PSTEB a seat at the table to craft the proposed regulations, claiming disingenuously that stakeholders had been involved because they were invited to observe the drafting process. President Bost warned the SBOE that the regulations ignore or water down the expert findings of the Kirwan Commission, including by discouraging teachers from obtaining master's degrees to advance their career. The regulations still have several stages of review in the regulatory process to go through and MSEA will continue to fight for the regulations to align with best practices and well-researched programs recommended by the Kirwan Commission.
Suspensions and Testing for Early Grades
On August 25, the SBOE received details about suspensions which showed that despite the 2017 law mandating a reduction in pre-K-2 suspensions, they disproportionately involve students of color. In her public comment to the SBOE, President Bost explained that more psychologists social workers and more culturally and trauma-informed educators are what is needed, not excessive punishment.
In testing news, given the extraordinary spring and unusual summer overshadowed by the coronavirus pandemic the SBOE approved waiving the Kindergarten Readiness Assessment for the 2020-2021 school year.
Gaming Revenue and the Education Trust Fund
The Maryland Lottery and state's casinos reported their FY20 revenues last month. FY19 was a record-breaking year, and FY20 was on track to perform better until that progress was halted in March when the state's six casinos were forced to close for the last three months because of the coronavirus pandemic. Ultimately casino revenue was $1.279 billion, down 27% from last year, while the lottery stayed strong, brining in $588.7 million, ending only 0.8% below the previous year. Lottery and casino contributions to the state totaled more than $1.113 billion, a 15.1% decrease from FY19. Due to this revenue shortfall casino and gaming contributions to the Education Trust Fund were 26.9% less than last year's, for a total of $396.8 million.
Putting Brakes on Betsy DeVos' Pilfering Public School Money
A federal judge granted a request from Maryland and other states to temporarily halt Education Secretary Betsy DeVos's implementation of a rule requiring K-12 public schools to share CARES Act relief funding with private schools. The ruling upheld interpretations that the CARES Act is intended to assist public schools, not private schools.
Hogan Administration Stirs Controversy
Even as Governor Hogan has warned state agencies and the public that the state is in a dire fiscal situation, questions about administration officials' pay-outs and raises have followed. In June the SBOE approved a renewal of Superintendent Salmon's contract with a $40,000 raise. Around that same time Hogan tapped Roy McGrath, who was serving as executive director of Maryland Environmental Services (a state agency), to serve as his chief of staff. Leaving his position to move laterally within state government, McGrath received a $233,000 severance package and $55,000 in expense reimbursements approved by the MES Board. The MES board approved the package with the impression that the governor had signed off, which Hogan denies. McGrath has resigned as chief of staff, but legislators have met twice for oversight hearings to get to the bottom of a story that continues to unfold.
Facebook Live Returns: "Educate at 8"
Our live Q&A on Facebook returned August 26, with MSEA President Cheryl Bost and General Counsel Kristy Anderson answering questions and reducing confusion about safely reopening schools, job security, and recording the virtual classroom experience. "Educate at 8," will be occur every other Wednesday, and MSEA will continue to respond to emailed questions and publish answers and updates on our website at www.marylandeducators.org/coronavirus.
CAMPAIGN 2020
Make a Plan to Vote
As part of MSEA's aggressive campaign to promote voting and encourage members and voters alike to use www.MDAppleBallot.com to identify educator-recommended candidates in their district, we are also targeting all members who are eligible to vote with this mail piece that should arrive in the first part of September. It outlines the various ways you can vote by mail, vote early in person, or vote on election day. Making your voting plan is just as important as doing your research on candidates to support in this critical election. We encourage vote by mail as the safest and healthiest way to send a strong message about the direction of our country and our state.