And other legislative updates in this Week's Up the Street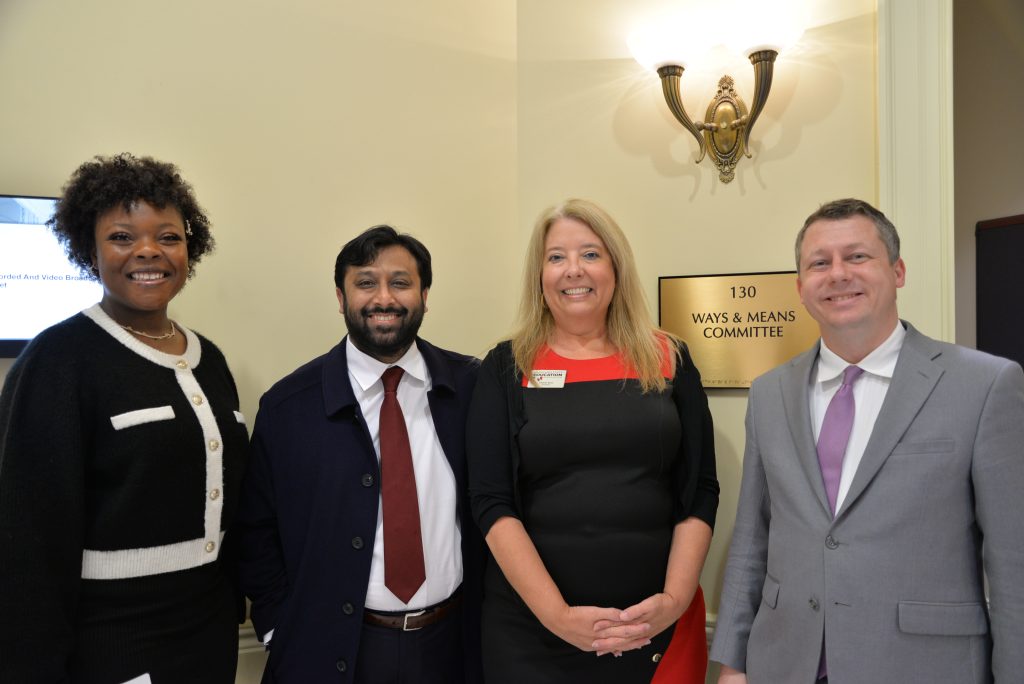 THIS WEEK IN ANNAPOLIS
Educator Shortage Act Heard in House
On Wednesday, MSEA President Cheryl Bost and aspiring educator Jailyn Bridgeforth joined the lead panel testifying in support of Gov. Wes Moore's Educator Shortage Act (House Bill 1219/Senate Bill 893) during its hearing in the House Ways and Means Committee.
"The pipeline of educators continues to be insufficient while challenging working conditions and years of inadequate pay make it hard to retain the outstanding professionals whom students and families depend on," said MSEA President Cheryl Bost in her written testimony in support of the bill. "Along with full funding of the Blueprint for Maryland's Future, the Maryland Educator Shortage Act helps to make progress on the educator shortage that school systems across the state are struggling with. Financial investments in future educators could be the difference in turning the tide against recruitment and retention issues within the profession, while also focusing efforts to build a diverse teaching force."
"Four years ago when I started my matriculation, there were 32 students in the elementary education track. May 20, nine of us will cross the stage," Bridgeforth testified. "Not for a lack of love of education, but for a lack of survivability of this major…A favorable vote means that more people will be able to be educators, more people can enter classrooms, and more than ever, the children in the state of Maryland will get the education that they so rightfully deserve."
Among the goals that this legislation would achieve are establishing a paid internship program for aspiring educators, retooling the Teaching Fellows for Maryland program, streamlining the hiring of teachers who have credentials from other states, and expanding Grow Our Own programs. To show your support for the Educator Shortage Act, email your legislators here.
Bill to Take Additional Steps to Improve Shortages Heard in House and Senate
Also on Wednesday, a key piece of legislation to address educator shortages was heard in both the House (HB883) and Senate (SB791) committees of jurisdiction. This bill would take targeted steps aimed at improving the educator shortages by:
Expanding eligibility for all salary increases that are currently limited to Nationally Board Certified teachers to additional highly qualified educators, including educators teaching in critical shortage areas like reading and math specialists, school counselors, literacy interventionists, gifted and talented specialists, and more
Expanding eligibility for these salary increases to behavioral health and other school-based student service providers, such as school psychologists and speech pathologists, who obtain highly regarded national accreditation in their profession
Removing unworkable language concerning the career ladder requirement that already overworked assistant principals spend 20% of their time as a teacher of record and the remainder of their time engaged in other teaching activities
The bill had strong hearings in both committees and a range of favorable testimony supporting it, including MSEA's.
Legislature Explores Moving 2024 Primary Date
Maryland's 2024 primary is scheduled for April 23—but that date may change before the end of the legislative session. A bill filed this week by Del. Dalya Attar (D-Baltimore City) in the House and by Sen. Shelly Hettleman (D-Baltimore County) in the Senate would move the primary date so that it did not conflict with the first day of Passover, which will fall on April 23 next year. Senate President Bill Ferguson (D-Baltimore City) and House Speaker Adrienne Jones (D-Baltimore County) released a joint letter in support of such a move on Monday.
Hearing to Consider Establishing Workgroup to Examine Wage Solutions for Education Support Professionals
At 1 p.m. on March 8 Senate Bill 735, which would establish a workgroup to explore the best ways to improve support staff wages, will have its first hearing in the Senate Budget and Taxation Committee. Chair of the Senate Democratic Caucus Craig Zucker (D-Montgomery) introduced SB735, and Del. Melissa Wells (D-Baltimore City) crossfiled House Bill 1234. The workgroup would make recommendations to the General Assembly for future legislation and MSEA would have a seat on the workgroup.
Labor Rights Bill to Have House Hearing
The first hearing on House Bill 984, one of MSEA's legislative priorities that would improve the collective bargaining law for public employees, will have a hearing at 1 p.m. on March 7 in the House Appropriations Committee. MSEA will testify as in the first hearing on the crossfiled Senate Bill 367 that public employees need an efficient, well-resourced labor board that can resolve disputes in a timely manner. Sen. Clarence Lam (D-Howard and Anne Arundel) is sponsoring SB367, and HB984 is sponsored by Majority Whip Del. Jazz Lewis (D-Prince George's), who serves as the chair of the Personnel Subcommittee of the Appropriations Committee.
The bill would merge the three state public labor relations laws into a single, standardized, and modernized framework for public employee collective bargaining. Currently these three boards are ineffective, understaffed, and unduly divided. As a result, neither labor nor management is assured fair and timely resolution of disputes over contracts, unit clarifications, unfair labor practices, and bargaining.
NEWS AND NOTES
Grants to Stop Chronic Overidentification of Students for Special Education
For schools to address a chronic overidentification of historically underserved students in special education programs, the Maryland State Department of Education is launching a grant program that will leverage American Rescue Plan Elementary and Secondary School Relief Funds (ESSER III). The misidentification that has gone on for decades has particularly affected male, Black, English learner, and economically disadvantaged students.
"This is not a problem we have to live with. This is an ugly problem," Superintendent Mohammed Choudhury told the State Board of Education on Tuesday. Through the Reducing Overidentification in Special Education (ROSE) program, school districts will invest in strategies that address and mitigate the overidentification or misidentification of persistently underperforming students with intellectual and/or emotional disabilities.
Kelly Sworn into Senate, Delegate Seat Open in District 16
On Monday, Ariana Kelly was sworn in as the senator representing Montgomery County's District 16. Sen. Kelly, who served as a delegate for more than a decade, succeeds Susan Lee, who joined the Moore Administration as Secretary of State. The Montgomery County Democratic Central Committee will now identify a replacement for Sen. Kelly's House seat, likely in the next month. Former educator Del. Bonnie Cullison (D-Montgomery) was named vice chair of the Health and Government Operations Committee, a role which Kelly previously held.
Martinez Fills House Seat in District 22
Last Friday, Ashanti Martinez (D-Prince George's) was sworn in to fill the House seat vacated by now Sen. Alonzo Washington, who was appointed to the Senate earlier this session following former Sen. Paul Pinsky's appointment by Gov. Moore to become director of the Maryland Energy Administration. One of Del. Martinez's first tweets in office celebrated meeting with Prince George's County educators to discuss education bills before the General Assembly.
NEA Strongly Supports Biden Nomination of Julie Su for Labor Secretary
NEA strongly supports Deputy Labor Secretary Julie Su to be the next U.S. labor secretary. President Biden's nomination of her exemplifies his historic support for labor and minorities as he builds a cabinet that reflects the nation's diversity.
"Su has been a champion of workers throughout her long career in government and the labor movement," NEA President Becky Pringle said. "Her leadership has been instrumental in securing fair labor and workplace conditions for workers and businesses nationwide…She leads with kindness and empathy, building initiatives that inform workers of their rights and staunchly protecting workers who are victims of wage theft and other related crimes."
NEA also praised outgoing Labor Secretary Marty Walsh, who has led the department since the start of the Biden Administration. He is leaving to lead the NHL Players' Association.