And other legislative updates in this week's Up the Street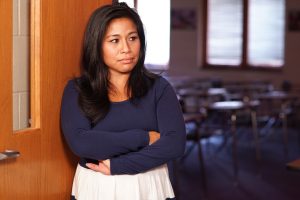 THIS WEEK IN ANNAPOLIS
Governor's Bill Addresses Educator Shortage Head-on
Confronting the shortage of educators and the inadequate pipeline to supply their ranks, Gov. Moore has introduced his Educator Shortage Act, House Bill 1219. The bill would achieve several goals that MSEA has fought for, including establishing a paid internship program for aspiring educators.
The Educator Shortage Act would set targets for the recruitment and retention of teachers in teacher preparation programs, including requiring the Maryland State Department of Education (MSDE) to create a dashboard for educator recruitment, retention, and diversity. It also requires the state to join the Interstate Teacher Mobility Compact to create reciprocity among participant states and reduce the barriers to license portability and employment. In addition, the Act:
Reforms the Teaching Fellows for Maryland program, expands eligibility, and directs MSDE to publicize the program at HBCUs and to students who are members of groups that are under-represented among teachers.
Establishes the Grow Our Own Educators Scholarship Program and Fund, which includes a four-year service requirement in a public school or pre-k program and scholarships for tuition and mandatory fees.
Establishes the Educator Internship Stipend Program, which provides stipends of up to $20,000 for student teachers participating in an internship or practicum as an undergraduate or graduate student leading to a teaching certificate.
To implement the Educator Shortage Act, the governor allocated $15 million in his proposed Fiscal Year 2024 budget, Senate Bill 181/House Bill 200. The Educator Shortage Act will be heard at 1 p.m. on March 1 in the House Ways and Means Committee.
Workgroup Proposed to Examine Wage Solutions for Education Support Professionals
Chair of the Senate Democratic Caucus Senator Craig Zucker (D-Montgomery) is building on the education support professional-focused legislation he introduced last year. This year Zucker has introduced Senate Bill 735, and Del. Melissa Wells (D-Baltimore City) crossfiled House Bill 1234, to establish a workgroup to explore the best ways to improve support staff wages. The workgroup would make recommendations to the General Assembly for future legislation, and MSEA would have a seat on the workgroup.
The idea for the workgroup was originally part of Zucker's bill last year, which included paying ESPs $1,000 retention bonuses divided across two years. However, when SB831 passed in 2022 it did not include the workgroup. The bonuses passed, but former Gov. Hogan did not fully fund them in fiscal year 2023, and as promised Gov. Moore fixed that to make ESPs whole in his proposed FY24 budget.
SB735 will have its first hearing in the Senate Budget and Taxation Committee at 1 p.m. on March 8.
Labor Rights Central to Senate Bill 367/House Bill 984
The Senate Finance Committee on Thursday held the first hearing on Senate Bill 367, which would improve the collective bargaining law for public employees and is one of MSEA's legislative priorities. MSEA testified that public employees need an efficient, well-resourced labor board that can resolve disputes in a timely manner. Sen. Clarence Lam (D-Howard and Anne Arundel) is sponsoring SB367, crossfiled as House Bill 984, which is sponsored by Majority Whip Del. Jazz Lewis (D-Prince George's), who serves as the Chair of the Personnel Subcommittee of the Appropriations Committee.
The bill would merge the three state public labor relations laws into a single, standardized, and modernized framework for public employee collective bargaining. Ineffective, understaffed, and unduly divided, the setup of these three boards currently limits labor and management's ability to have fair and timely resolution of disputes over contracts, unit clarifications, unfair labor practices, and bargaining. The House Appropriations Committee will have a hearing on HB984 at 1 p.m. on March 7.
MSEA Supports Mental Health, Gun Violence Prevention Bills
Headlines about mental health challenges among students and the epidemic of gun violence are appearing all too frequently in Maryland and across the country. This week a number of bills that would address these crises had hearings. Among the bills that MSEA provided verbal testimony in support of are:
NEWS AND NOTES
Cabinet Appointments Cause Legislative Changes; Del. Kelly Tapped to Fill Senate's 16th District Seat
The Montgomery County Democratic Central Committee has nominated Del. Ariana Kelly (D-Montgomery) to fill the Senate District 16 seat. Gov. Moore's Secretary of State Susan Lee, who was confirmed to her post on Monday, held the Senate seat until January 18. In addition to Lee, on Monday the Senate confirmed six other cabinet secretaries Gov. Moore appointed. Also on Monday, the Executive Nominations Committee approved the re-appointments of two members of the State Board of Education, elected teacher member Rachel McCusker and current chair Clarence Crawford, sending them on to the Senate. Moore has sent more than 100 names to the Senate for various state appointments.
Harford County Executive Bullies Kindergarten Teacher Elected to County Council
In the 2022 election, MSEA supported educators vying to represent and serve their communities, and celebrated the victories like those of Jacob Bennett, a kindergarten teacher in Harford County. Bennett, a first-time candidate, ran a grassroots campaign and won a close race for a seat on the Harford County Council. Newly elected Harford County Executive Bob Cassilly, a former state senator who often took anti-public education positions during his time in Annapolis, immediately launched an effort to bully Bennett off the council, from passive-aggressive moves like not inviting him to the official county inauguration ceremony to mounting a legal case to disqualify Bennett.
Bennett has been serving on the council without receiving a council salary during the litigation, and he is now appealing a judge's ruling, based on a specific provision of the Harford County charter, that as a teacher he is disqualified from serving on the council. As Bennett pointed out in his case, numerous other teachers, of both political parties, serve on county councils in other areas of the state.
Study Finds Maryland's Education Level to Be Second Highest in Country
Maryland is the second most educated state in America, according to a recent study by WalletHub.com. Only Massachusetts ranked higher on WalletHub's scale. WalletHub compared all 50 states across 18 metrics that examined the key factors of a well-educated population: educational attainment, school quality, and achievement gaps between genders and races.
Educators Have Opportunity to Rally to Cancel Student Debt in Washington, D.C.
On February 28 NEA and a wide range of labor and social justice allies are taking part in a rally in Washington, D.C. to support the cancelation of student debt. Information about attending the event is in this link.