And other legislative updates in this month's Up the Street.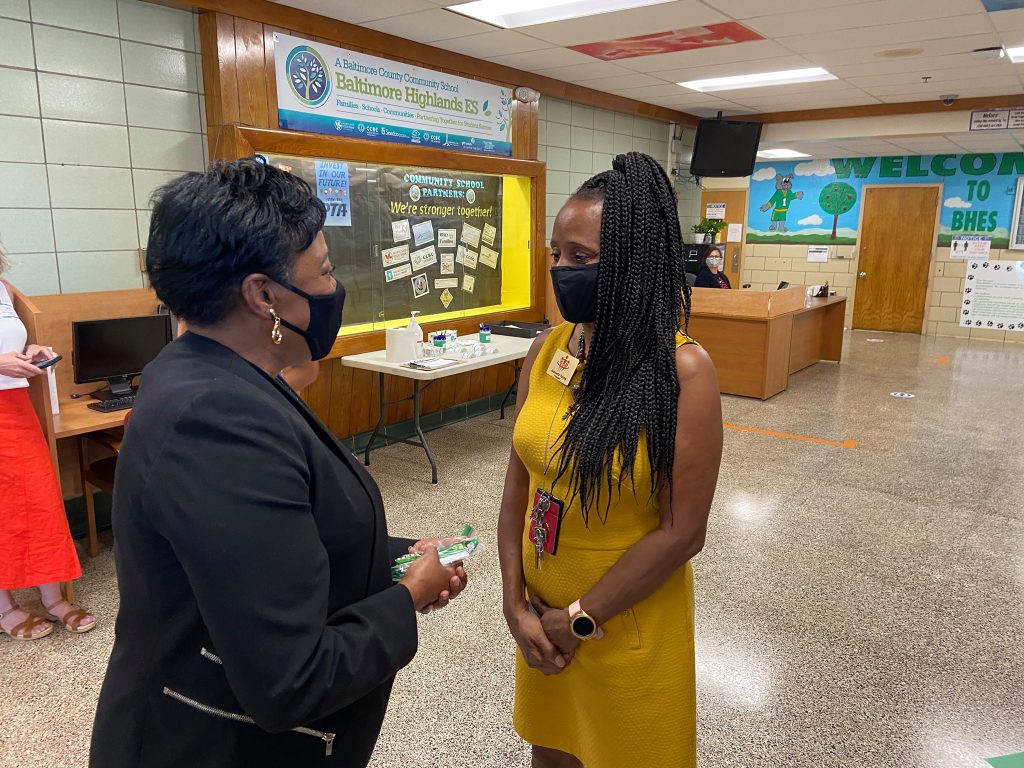 THIS MONTH IN ANNAPOLIS
200th Edition of Up the Street
As this 200th edition of Up the Street goes to press, it's an opportunity to reflect on the importance of communicating legislative information and building a network of readers and activists who can use that information to improve outcomes for their profession, students, families, and communities. That's not to overstate the power of a semi-regular legislative/political update, but more to recognize how this space has been used to tell our collective story of action and results. When MSEA began publishing Up the Street in January 2011, it was going to be a way to communicate with legislative die-hards on a weekly or monthly basis for the 90-day legislative session. Today, it is a tool for a more expansive narrative of education activism that covers well beyond the actions of the General Assembly. It is a place to find new information and context on complicated details. It has chronicled major battles, from retirement security to State Board of Education actions to coalition efforts to build and pass the Blueprint for Maryland's Future. And in the next 200 issues, we will continue to focus on the important work that unifies us, including holding ourselves, our partners, and our elected and appointed officials accountable in the faithful implementation of the Blueprint and the related issues that impact our school communities. Thank you for subscribing, reading, sharing, commenting, and partnering in this work. And cheers to issue number 200!
Blueprint Accountability Advances with Naming of Full AIB Nominating Committee
Progress continues toward filling the Accountability and Implementation Board (AIB) that will have long-term oversight of the Blueprint for Maryland's Future statewide implementation. As a member of the AIB Nominating Committee, MSEA President Cheryl Bost will have a voice in selecting nine AIB candidates to be presented to the governor. The governor then will appoint seven from that slate to the AIB, with the advice and consent of the Senate. The six-member committee was able to begin its work once Gov. Hogan appointed his two members: Edward Root, a retired adjunct professor and dean of education at Frostburg State University, former State Board of Education (SBOE) member and chairman, and former Allegany County school superintendent, and Rose Li, who is stepping down after serving four years on the SBOE. Hogan's two appointees join Bost and the three other members appointed by the legislature's presiding officers, as reported previously in Up the Street.
Federal Funds and Accountability Measures Begin ahead of AIB Appointment
While the AIB has not been appointed, officially the Blueprint veto override during the 2021 legislative session brought the AIB online retroactively to a July 2020 start. Blueprint deadlines begin immediately. On July 1, 2021, reports from districts on their plan to use any retained FY21 Blueprint funds in FY22 were to be submitted to the AIB, the Maryland State Department of Education (MSDE), and the Department of Legislative Services (DLS). This coming school year, the Blueprint requires schools to deploy a system to track ninth-graders' progress to reaching college and career readiness (CCR) standards by the end of their 10th grade year. By October 1, the AIB is scheduled to receive reports of eligible prekindergarten students, and by December 1 to receive a report on summer school and tutoring program execution. By February 15, 2022, the AIB must present a comprehensive implementation plan that will set the standards for all local district Blueprint implementation plans. District implementation plans are due June 15, 2022 for AIB approval.
At the June 22 SBOE meeting, the last for Superintendent Karen Salmon, the board voted to publish the state's draft plan for use of federal coronavirus relief funds from the Coronavirus Relief and Emergency Spending (CARES) Act, the Coronavirus Response and Relief Supplemental Appropriations (CRRSA) Act, and the American Rescue Plan (ARP) that are still being spent. Public comment on the delayed plan is open until July 9. Two-thirds of the $1.95 billion in ARP education funding for Maryland has been distributed to school districts, Salmon said. The U.S. Department of Education (USDE) is holding the remaining third until it receives the state plan for use of the funding. MSDE received an extension to July 30 to submit the plan, which was originally due June 7, citing a desire to give the SBOE and new Superintendent Mohammed Choudhury more time to review it. MSEA President Bost criticized the SBOE for yet again presenting a nearly final draft rather than obtaining public comment or stakeholder input first. Bost held out hope that Choudhury will welcome authentic public engagement. "It was not the intention of the crafters of the American Rescue Plan to show stakeholders a plan just to have them react to it," Bost said. "I'm really looking for that to change underneath the new state superintendent."
NEWS AND NOTES
Focusing on Community Schools that Address Long-Standing and New Needs
The Blueprint's power to transform education was on display when National Education Association (NEA) President Becky Pringle, Bost, TABCO President Cindy Sexton, ESPBC President Jeannette Young, and local officials toured Baltimore Highlands Elementary School on June 15. One of 10 community schools already in Baltimore County, Highlands modeled the opportunities and individualized services that will be provided to more students thanks to the Blueprint. Community schools will provide the wraparound services to address longstanding education and social inequities that have been experienced by students and families, and to reverse the effects of the coronavirus pandemic. Levels of poverty in 289 schools qualify them to be community schools this year, and more will be added each year until more than 550 are estimated to become community schools in the next six years.
Funding for Blueprint Benefits from Record Casino Revenues
MSEA's successful fight to see gambling revenues used to increase school funding means that the new record for casino revenues set in May of $172.4 million is good news for the Education Trust Fund (ETF) that supports the Blueprint. Contributions to the ETF in May were $53,285,419, an increase of $5,537,940 (11.6%) compared to the $47,747,479 in ETF contributions during May 2019. Casino gaming revenues also support the communities where the casinos are located, Maryland's horse racing industry, and small, minority-, and women-owned businesses.
Educators Report Higher Levels of Stress than Other Professionals
Education Week featured a RAND Corporation survey that found educators are nearly twice as likely as other professionals to experience frequent job-related stress. The data confirm what Bost has impressed upon state leaders and expressed in a recent Conduit Street podcast about severe conditions that educators have endured over recent months. The pandemic has worsened working conditions and intensified the attrition rates for experienced educators. NEA reported that a third of members plan to retire early because of the pandemic. As schools fully reopen and plan to support students' social emotional well-being, districts need to factor in the social emotional health of their educators, who need to be at their best to identify and address their students' trauma.
CAMPAIGN 2022
More Candidates Enter Race for Governor; Frederick, Prince George's Legislative Districts in Play
Jon Baron, Wes Moore, and Tom Perez have officially announced their campaigns to become the Democratic candidate for governor. The list of Democratic gubernatorial hopefuls includes no fewer than eight contenders.
In the Republican camp, Delegate Daniel L. Cox (R-Frederick and Carroll) has set up a gubernatorial fundraising committee. Cox is known as a Trump and Qanon supporter who sponsored busloads of protestors to join the January 6 insurrection at the Capitol, called former Vice President Pence a traitor, and recently compared a mental health care bill to the Holocaust. His candidacy would add new levels of division and controversy to a field that includes announced Republican candidates Commerce Secretary Kelly M. Schulz and Robin Ficker.
One-time Senate president candidate Sen. Douglas J.J. Peters (D-Prince George's) announced he will resign at the end of the month and not run again in 2022. On Thursday he was appointed to the University of Maryland Board of Regents by Governor Hogan. His departure leaves open a seat that may attract a number of candidates (as well as potentially setting off a shuffling of committee assignments). The Prince George's Democratic Central Committee will have to select a candidate for Hogan to appoint to fill the seat for next session and ramp up for the June primary. Delegate Wanika B. Fisher (D-Prince George's) has decided not to run for re-election to the General Assembly and instead to seek a seat on the Prince George's County Council. In Frederick Delegate Karen Lewis Young (D-Frederick), wife of Sen. Ron Young (D-Frederick), announced she plans to run for his seat. Ron Young has not made any announcement about 2022, but said he would do so in coming weeks.