And other legislative updates in this month's Up the Street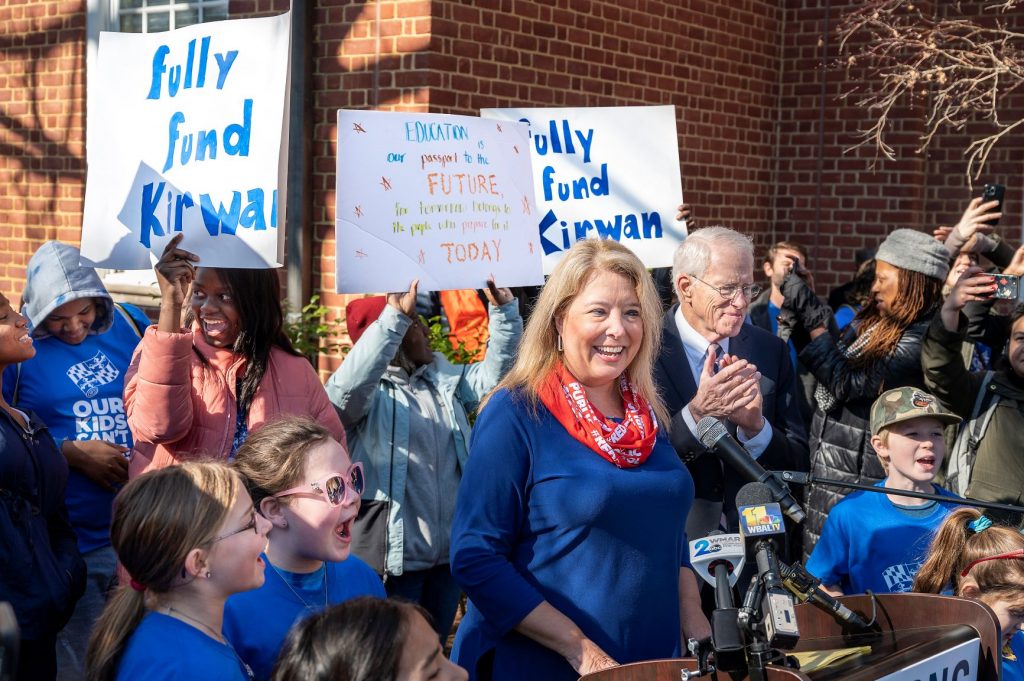 THIS MONTH IN ANNAPOLIS
Blueprint Accountability and Implementation Board Takes First Steps
As the full implementation of the Blueprint for Maryland's Future begins, MSEA is proud to have President Cheryl Bost appointed by House Speaker Adrienne Jones to serve on the six-member Accountability and Implementation Board Nominating Committee. Bost brings an important educator's voice to the process of filling the seven-member Accountability and Implementation Board (AIB) that will have long-term oversight of statewide Blueprint implementation. The AIB will be appointed by the governor with the advice and consent of the Senate from a slate of nominees selected by the AIB Nominating Committee.
Senate President Bill Ferguson appointed Sen. Paul Pinsky, the chair of the Senate Education, Health, and Environmental Affairs Committee who also served on the Kirwan Commission, and Shanaysha Sauls, the president and chief executive officer of the Baltimore Community Foundation. In addition to Bost, Jones appointed Franchesca Brown, principal of Woodmoor Elementary School in Baltimore County. When the presiding officers named their four Nominating Committee members on May 19, it now means that the governor has 30 days from May 19 to appoint his two. If the governor does not make his appointments within the 30-day window, the Nominating Committee may proceed with a majority vote by four members. Once the committee's slate of nine nominees is presented to the governor, he has 30 days to appoint seven to the AIB.
Who Makes Decisions, Collaborates
As outlined in the Blueprint, the Nominating Committee and AIB members are to have expertise in education policy, teaching strategies, systemic change in complex organizations, and finance. The AIB will approve state and local implementation plans, release or withhold funds to districts for Blueprint implementation, and receive reports on state and local execution of all Blueprint programs. In case of conflict between the Maryland State Department of Education (MSDE) and the AIB, the AIB will have authority.
When Does It Start?
While preliminary programmatic features, such as some community school funding, prekindergarten expansion, and funding for educator raises, applied in fiscal years 2019 through 2021, the bulk of Blueprint programs and new funding formulas begin in FY22. By July 1, reports from districts on their plan to use any retained FY21 Blueprint funds in FY22 are due to the AIB. In the fall, schools must deploy a system to track ninth-graders' progress to reaching college and career readiness standards by the end of their 10th grade year. By October 1, the AIB will receive reports of eligible prekindergarten students, and by December 1 they will receive a report on summer school and tutoring program execution. By February 15, 2022, the AIB must present a comprehensive implementation plan that will set the standards for all local district Blueprint implementation plans. District implementation plans must be approved by the AIB by June 15, 2022.
Governor Vetoes Bills for Community College Organizing, Educator Accommodations
Two important bills for educators during this year's General Assembly session were the passage of HB 894, to give collective bargaining rights to community college employees, and HB 1322, to give educators a fairer accommodations process during the pandemic-impacted 2020-2021 school year. Unfortunately, Gov. Hogan announced vetoes of both bills late on Friday, May 28 just before the beginning of the Memorial Day weekend.
For HB 894, his veto will likely represent just a delay and a manageable challenge as the bill passed with veto-proof majorities in both chambers. MSEA will continue to work with a strong coalition of advocates to push for a successful veto override and ultimate passage of HB 894 so community college educators will be able to join the ranks of educators who benefit from the strength that union membership provides.
HB 1322 would only have applied to the 2020-21 school year, making a veto override moot when the legislature next convenes. The progress and overwhelming passage of the bill, however, did help to jumpstart fairer and quicker accommodations processes and responses at the local level for the educators identified in the bill itself: those who are 65 or older, have an underlying medical condition identified by the CDC as putting them at greater risk from coronavirus (or who live in a household with, or are the primary caretaker for, an individual who meets either of those conditions), have not been vaccinated, and who choose not to return to in-person instruction.
NEWS AND NOTES
New State Superintendent Announced
MSEA hopes to forge a positive working relationship with the next state school superintendent, Mohammed Choudhury, whose selection the State Board of Education (SBOE) announced on May 27. Choudhury currently works as the associate superintendent of strategy, talent, and innovation for the San Antonio Independent School District. He will start July 1, completing the remaining three years of Superintendent Karen Salmon's contract. MSEA looks for a genuinely collaborative relationship with Choudhury—a relationship that has been absent between MSDE and educators and other stakeholders in recent years—to ensure that educators' voices are at the table for the critical years ahead. As Bost noted in an interview days before the announcement, the next superintendent will have a steep learning curve involving implementation of the Blueprint for Maryland's Future and post-pandemic programs.
SBOE Oblivious to Effect State Delay Puts on Local School Districts' Planning
MSDE reported at the May 25 SBOE meeting that they have created templates for school district reports on the use of federal coronavirus relief funding. Salmon said that two-thirds of the $1.95 billion American Rescue Plan education funding for Maryland has been distributed to school districts. The U.S. Department of Education (USDE) will hold the remaining third until it receives state plans for use of the funding. MSDE has requested an extension until July 30 of the June 7 due date for its report to USDE. Bost warned the SBOE that the state's surprise extension request undermines local school districts that have to wait for the funds as they prepare for the summer and fall.
New Graduation Requirements Adopted by State Board
At its May meeting, the SBOE adopted previously considered changes to graduation requirements that increase the number of math and health credits required and reduce the impact of course assessments on graduation. Beginning with the ninth grade class of 2021-2022, the number of credits required for graduation will increase from 21 to 22, the number of credits in mathematics will increase from three to four, and the number of credits in health will increase from one-half credit to one credit. Computer science and engineering will be added to the subject of technology education and advanced technology will be deleted from the completer options. Beginning in the 2022-2023 school year, the graduation requirement that students must pass assessments in algebra, English, science, and government will move from a stand-alone assessment requirement to an end-of-course assessment requirement, which would count for 20% of the student's final grade in the respective course.
In the 2020-2021 and 2021-2022 school years, taking the Maryland Comprehensive Assessment Program (MCAP) in algebra, English, science, and government will meet the graduation requirement. Students graduating in the 2020-2021 school year are not required to take the assessment in government. Students are able to earn two state endorsements, which could be added to their diploma, including a College Ready State Endorsement and/or a Career and Technical Education State endorsement.
CAMPAIGN 2022
More Democrats Enter Race for Governor; Trone Seeks Re-Election
Former Maryland Attorney General Doug Gansler has entered the race for governor. Gansler has been out of politics since he lost to Anthony Brown in the 2014 gubernatorial primary. Baltimore technology executive and philanthropist Michael Rosenbaum announced on May 11 that he too is seeking the Democratic nomination for governor. In Congressional news, U.S. Rep. David Trone (D-6th) has announced he will run to keep his Congressional seat in 2022 instead of running for governor or another office.