And other legislative updates in this week's Up the Street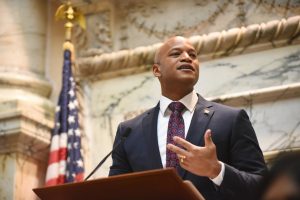 THIS WEEK IN ANNAPOLIS
Solutions Embedded in Educator Shortage Act
For the Moore Administration and educators, a top legislative priority continues to be addressing the educator shortages that affect every job category across Maryland public schools and make it harder for current educators to meet their students' needs. Gov. Moore's Educator Shortage Act, House Bill 1219 (crossfiled with Senate Bill 893), will be heard at 1 p.m. on Wednesday, March 1 in the House Ways and Means Committee.
Among the goals that this legislation would achieve are establishing a paid internship program for aspiring educators, retooling the Teaching Fellows for Maryland program, streamlining the hiring of teachers who have credentials from other states, and expanding Grow Our Own programs. To show your support for the Educator Shortage Act, email your legislators here.
Moore Advocates for Service Year
Gov. Moore's proposal to have all high school graduates be eligible for a paid year of public service would expand service opportunities as well as opportunities to encourage careers in education if the Serving Every Region Through Vocational Exploration Act passes. The House version of the bill, HB546, had its first hearing in the House Appropriations Committee on Tuesday. On Wednesday, Senate Bill 551, the Senate crossfile, had its first hearing in the Education, Energy, and the Environment Committee.
Bills Address Child Poverty, Access to Mental Health Care
Legislation to feed more hungry students is making its way through House and Senate hearings. Recent data about the level of childhood poverty in Maryland make addressing food insecurity among students more important than ever.
To expand free meals to students, MSEA testified this week in support of House Bill 628/Senate Bill 557 and Senate Bill 559/House Bill 514. Hundreds of Maryland schools currently participate in the Maryland Meals for Achievement In-Classroom Breakfast Program and the National School Lunch Program that these bills would expand. Delegate Kirill Reznik (D-Montgomery) sponsored HB628, and Senators Guy Guzzone (D-Howard) and Craig Zucker (D-Montgomery) crossfiled SB557 to make free breakfast and lunch universal. SB559/HB514—sponsored by Guzzone and Zucker, crossfiled by Delegate Jared Solomon (D-Montgomery)—increases the annual state appropriation required for the Maryland Meals for Achievement In-Classroom Breakfast Program from $7.5 million to over $12 million. This state support supplements the federal aid used to supply students in need with free breakfast. At 1 p.m. on February 28, HB514 will have a hearing in the House Appropriations Committee.
Given the numbers of children living in poverty, MSEA also supports legislation that would allow Medicaid reimbursements for behavioral health services as found in House Bill 82/Senate Bill 201, sponsored by Delegate Lorig Charkoudian (D-Montgomery) and crossfiled by Senator Katie Fry Hester (D-Howard and Montgomery). The availability of mental health care has always fallen short of need, and more students in poverty need those services since the start of the pandemic, as underscored by a recent national poll of superintendents which found that 92% felt that the student mental health crisis was worse compared to 2019.
NEWS AND NOTES
AIB Updates
The Blueprint for Maryland's Future Accountability and Implementation Board (AIB) reported on Monday in the House Appropriations Education and Economic Development Subcommittee that with its $4.8 million budget for FY24, the AIB aims to fill another 10 full-time positions. These new positions would bring AIB staffing to a total of 14 and include a dedicated communications consultant and a public outreach coordinator. The AIB would use this staff and the $3 million set aside by law to support local school systems and provide technical assistance. The form that such technical assistance takes has started with the AIB offices providing direct assistance to local school boards. AIB Chair Isiah Leggett said direct payments to local school boards to pay for technical assistance may occur in the future.
The AIB is building out its website and is prepared to start receiving county school boards' first implementation plans, due March 15. Those plans will be published on the website, and the website and plans will be translated into Spanish first, followed by translation into other languages.
Approval of this first round of district plans will depend on the completeness of the plan. Next year schools will have to show progress implementing Blueprint goals. While the law allows the AIB to withhold 25% of Blueprint funding from school districts that fall short of goals, Leggett said that is not the course the board hopes to take.
Leggett also noted that the AIB supports House Bill 770/Senate Bill 913 to expand access to free full-day pre-kindergarten to more at-promise students, including students with special needs and English language learners.
Applications to fill a vacancy on the AIB close today at 8 p.m. The vacancy was created when Fagan Harris was selected to serve as Gov. Moore's chief of staff. Click here for application instructions. Additional information about the AIB can be found here.
State Treasurer Wins Election to Four-Year Term
Former Delegate Dereck Davis was elected a year ago to finish the remaining year of Nancy Kopp's term as treasurer when she retired. On Monday during a joint session of the House and Senate, Davis was elected to a four-year term by a near unanimous vote. Davis, Moore, and Comptroller Brooke Lierman form the three-person Board of Public Works that monitors, reviews, and approves state contracts.
Moore Opens Process of Filling State Boards, Commissions with Volunteers
The names of Moore's nominees for hundreds of positions on boards and commissions were delivered to the State House last Friday in the traditional opaque green bag. The governor's office then published the list of people he wants to include in the work to improve Maryland's quality of life. The Senate will now consider the nominations. Additional nominations, including to the State Board of Education and Public School Labor Relations Board, are expected in the coming weeks.
Moore Says No to GOP Election Detractor for State Elections Board
However, Moore this week refused to approve the State Republican Central Committee's nomination of William Newton to serve on the State Board of Elections, which oversees all state elections. Newton has a criminal record and has made unproven allegations questioning the state's election process.
Tuesday D.C. Rally Will Support Cancelling Student Debt
On February 28 NEA and a wide range of labor and social justice allies are taking part in a rally in Washington, D.C. to support the cancelation of student debt. Information about attending the event is in this link.