Empowering themselves to improve working and learning conditions, the full-time faculty at Wor-Wic Community College (WWCC) have decided to unionize with the Maryland State Education Association (MSEA).  On October 27, the Public Employee Relations Board certified MSEA as the faculty's bargaining agent.
"We advocated for years to give community college employees greater voice and strength," said MSEA President Cheryl Bost. "Having union representation will improve their working conditions, economic livelihood, and the learning environment for community college faculty and their students."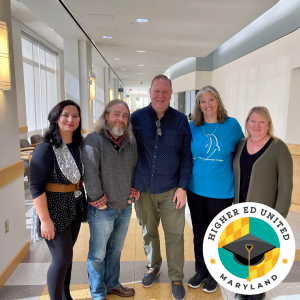 "I want WWCC to be the best community college it can be and that can only be done with a union helping to protect our rights and provide the unified voice we need to create an environment that professors will thrive in," said WWCC computer studies professor and faculty organizer Kevin Justice.
Community college faculty obtained the right to organize through collective bargaining legislation, House Bill 894/Senate Bill 746, that MSEA and other labor allies advocated to pass in 2021. The law allowed faculty to begin organizing in the second half of 2022. MSEA has raised awareness about the power of union voice, the success of organizing to improve working conditions, and the benefits of membership in a union of 75,000 educators across the state and 3 million across the country who will support their colleagues. Since the bill passed, faculty at Harford Community College have also organized a bargaining unit affiliated with MSEA.
MSEA represents 75,000 educators and is the largest professional employee organization in Maryland. Members include elementary and secondary teachers, education support professionals, certificated specialists, school administrators, retired educators, higher education faculty, and students preparing to become members. MSEA supports more than 40 local affiliated associations throughout Maryland.