And other legislative updates in this month's Up the Street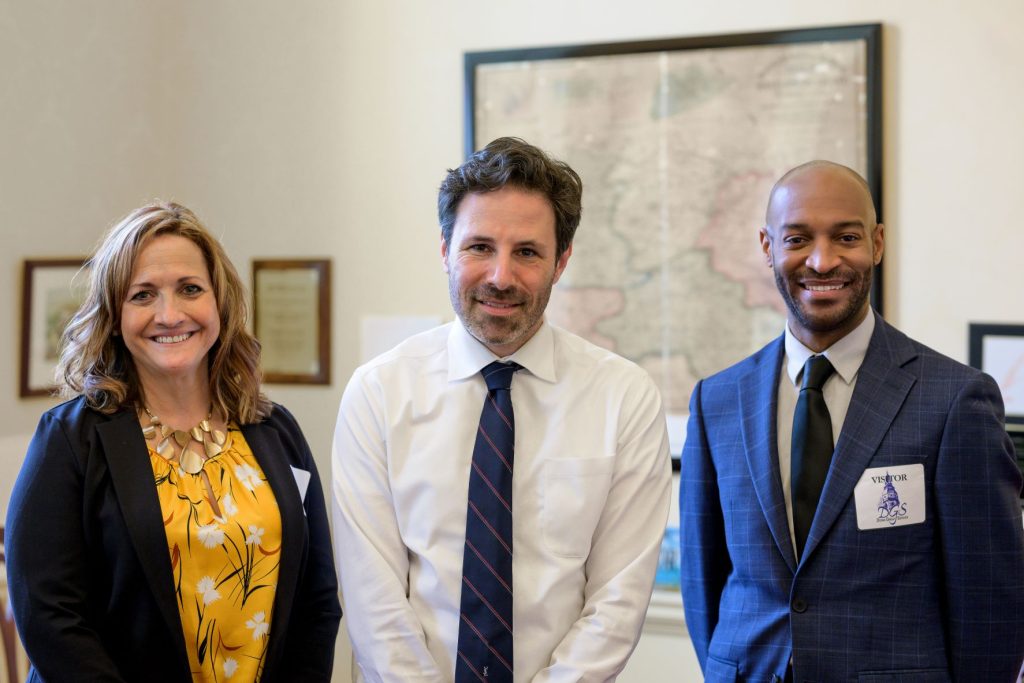 THIS MONTH IN ANNAPOLIS
Bills to Prevent Discrimination, Increase Education Support Professional Wages Become Law without Hogan's Signature
Thanks to legislators and education advocates, legislation to improve education support professional (ESP) wages and anti-discrimination measures became law without Gov. Hogan's signature last Friday. Despite Hogan's silence on both the anti-discrimination law in House Bill 850, and the ESP bonus bill in Senate Bill 831/House Bill 1349, their enactment still marks important success for lawmakers, educators, and students. The bills were not included in Hogan's previous public bill-signing ceremonies, and a day before the deadline to sign, veto, or allow bills to become law without his signature, he included them in a group of the latter.
Thanks to HB850, for the first time private schools will be held to the non-discrimination standards that have applied to public schools. Sponsored by Delegate Jheanelle Wilkins (D-Montgomery) in the House and Senator Cory McCray (D-Baltimore City) in the Senate, the legislation prohibits public schools and private schools that get state aid from discriminating based on race, ethnicity, color, religion, sex, age, national origin, marital status, sexual orientation, gender identity, or disability. MSEA and a coalition of allied organizations, including Disability Rights Maryland and FreeState Justice, have fought for this legislation for years, and the urgency to assure such protections could not be greater.
SB831, sponsored by Senator Craig Zucker (D-Montgomery), and HB1349, sponsored by Delegate Shaneka Henson (D-Anne Arundel), recognize the work of ESPs during the pandemic with cash bonuses in FY23 and FY24. MSEA saw this legislation as the next step, but not the last, to improve salaries for support staff and a means to address the crisis in support staff recruitment and retention.
Hogan Blocks Guardrails for Virtual Education, Tax Break for Union Members
Hogan spent the pandemic criticizing educators' efforts to deliver comprehensive virtual education and still rejected legislation designed to improve the virtual education experience for all students, vetoing House Bill 1163 and Senate Bill 362. HB1163, sponsored by Delegate Alonzo Washington (D-Prince George's), and SB362, sponsored by Senator Paul Pinsky (D-Prince George's), would have developed specific guardrails to support equity and higher quality virtual education if and when virtual instruction is delivered. MSEA testified in support of the guardrails, which would require the Maryland State Department of Education (MSDE) to provide local school systems with guidance related to the professional development and support for teachers to execute virtual education best practices and to establish guidelines for virtual learning. Because the legislature will not reconvene until after the election of a new governor and legislature, there will not be an opportunity to override Hogan's misguided veto. MSEA will build on this year's work and partner on future legislation to assure that students receive the education they are due when virtual options are employed.
Hogan also vetoed a modest tax break for union members in House Bill 172. Sponsored by former public school teacher and House Majority Leader Delegate Eric Luedtke (D-Montgomery), the law would have allowed union dues up to $300 to be subtracted from your taxable income when filing state taxes.
Capital Budget Has Construction Money for K-12, Higher Ed
The $4 billion capital budget that legislators and Hogan signed into law on May 16 includes $466.7 million in general obligation debt for public education projects, with $304 million of that for K-12 public school construction projects, and $195 million for higher education institutions, including community colleges.
NEWS AND NOTES
Education Experts Sought by Blueprint Accountability and Implementation Board
Educators have an opportunity to advise the Accountability and Implementation Board (AIB) that implements the Blueprint for Maryland's Future. The AIB is seeking experts in four key policy areas: early childhood education, student supports, career pathways, and high quality diverse educators. Applications close at midnight on June 20, and applicants can use this link.
Teacher Shortage, Mental Health Get Lawmakers' Attention
The nationwide shortage of educators and the difficulty in recruiting and retaining them was central to the discussion of the proposed U.S. Department of Education budget for federal fiscal year 2023 during the House Labor, Health and Human Services, Education and Related Agencies subcommittee hearing on May 25. "The profession is in crisis," Secretary of Education Miguel Cardona told lawmakers.
Cardona requested $468 million in his proposed budget to expand the community schools program by 800 schools across the country. He emphasized the need for mental health supports as part of expanded wraparound services to address pandemic recovery, poverty, inequity, and other conditions that can lead to family and community crises, such as school violence. Items in the proposed budget include $1 billion to hire mental health staff and give educators mental health training, $350 million for educator recruitment and retention, and an increase of $1,775 (10%) per student for Pell higher education grants.
Elementary School Murders Outrage Cardona; Educators Support Taking Action
In the wake of the murder of 19 fourth-graders and two teachers, Cardona also addressed the terrors of gun violence in schools with the congressional committee. "We need help, and we need help now. … The time for thoughts and prayers alone is over. We need action," Cardona said a day after the school shooting. The students and educators in Uvalde are the latest victims of gun violence in schools, which has continued for decades while the NRA and many Republican lawmakers have blocked laws to restrict access to the weapons of war that the Uvalde gunman and others have used.
Committed to student and educator safety, the National Education Association (NEA) and American Federation of Teachers (AFT) continue to call for stricter laws to limit access to guns, ban assault-style weapons as Maryland has, and pass a nationwide red flag law like Maryland's to prevent those who pose a threat to themselves or others from being able to buy a gun, among other measures. They are organizing rallies for National Gun Violence Awareness Day (Friday, June 3) demanding a future free of gun violence, and establishing Wear Orange Weekend on June 3-5, asking supporters to wear orange in honor the communities stricken by gun violence.
Chronic inaction on gun safety by federal leaders inspired students to lead the March for Our Lives in 2018 after the massacre at Marjory Stoneman Douglas High School in Florida. Because of the appalling gun violence that has continued to claim students' lives since then they are organizing hundreds of protests across the nation June 11, with a major rally on the mall in Washington, D.C.
Maryland Earns AAA Bond Rating, Demonstrating Fiscal Responsibility
Treasurer Dereck Davis announced Thursday that Maryland's sound financial planning earned it the best bond rating possible from all three major bond rating agencies: S&P Global Ratings, Moody's Investors Service, and Fitch Ratings. Maryland occupies the enviable position of continuously holding that AAA rating longer than any other state, and it bodes well as Maryland plans a $1.05 billion bond sale.
CAMPAIGN 2022
Moore Gaining in Polls, Western Democrats Pick Him, Lierman
As the July 19 primary nears, poll numbers are improving and support is growing for MSEA-recommended candidates. Among Democrats, gubernatorial candidate Wes Moore and comptroller candidate Delegate Brooke Lierman (D-Baltimore City) won a straw poll at the Western Maryland Democratic Summit. Recent public polling appears to be indicating a two-candidate race in the gubernatorial primary, with Wes Moore getting closer to Comptroller Peter Franchot, whose polling numbers have been stagnant for months.
Endorsements in State, U.S. Races
Endorsements have been rolling out at a fast pace over the last month. In the governor's race, Wes Moore racked up endorsements from House Speaker Adrienne Jones (D-Baltimore County), Majority Whip Senator Susan Lee (D-Montgomery), Delegate Debra Davis (D-Charles County), Delegate Rachel Jones (D-Calvert and Prince George's), and former Baltimore County Executive Don Mohler. In the attorney general's race, Anthony Brown received endorsements from Senators Brian Feldman (D-Montgomery) and Ben Kramer (D-Montgomery), Deputy Majority Whip Cory McCray (D-Baltimore City), Delegate Ben Brooks (D-Baltimore County), Delegate Charlotte Crutchfield (D-Montgomery), the American Federation of State, County and Municipal Employees Council 3, the Maryland State and District of Columbia AFL-CIO, the American Federation of Government Employees, the Transport Workers Union of America, and NARAL Pro-Choice Maryland. And in the comptroller's race, U.S. Rep. John Sarbanes, Baltimore County Council Chair Julian Jones, Professional Fire Fighters of Maryland (International Association of Fire Fighters), Maryland State and District of Columbia AFL-CIO, and Service Employees International Union (SEIU) locals 32BJ and 1199 endorsed Brooke Lierman.
In the race for Maryland's congressional 4th district seat being vacated by Anthony Brown, former 4th District Rep. Donna Edwards was officially endorsed by the NEA Fund for Children and Public Education PAC and also received an endorsement from U.S. House Speaker Nancy Pelosi.