Convention focuses on the voice and vision of educators
Whether you were in Ocean City and want to relive the highlights or didn't make it and want to see what you missed, here are 10 of the top moments from this year's convention:
1. Focus on Winning the Fight for More School Funding
We've come a long way — and have an important opportunity in the coming months to improve school funding for the next generation of students. Members shared how they've used their voices to Fix the Fund and make sure casino revenues went to increased school funding, helped education champions win office in 2018, took over the streets of Annapolis with nearly 10,000 pro-public education activists during the March for Our Schools, and won strong contracts and better learning conditions for students thanks to new funding from the Blueprint for Maryland's Future. The discussion then turned to what's ahead for the Kirwan Commission, the Blueprint, and the 2020 legislative session — and how educators and community members can continue to use their voices to win adequate and equitable funding for every student in every neighborhood in Maryland.
2. MSEA ESP of the Year Inspires Delegates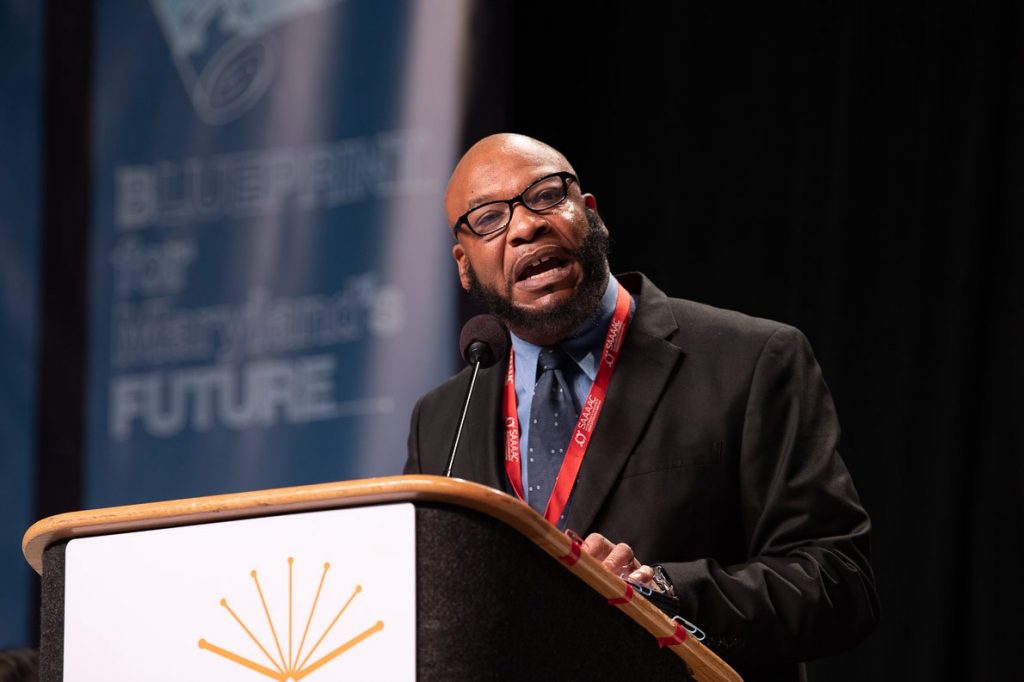 Anne Arundel County's David Pickens, a para-educator at MacArthur Middle School and JV football coach at Meade High School, delivered a stirring address to RA delegates, full of stories of how every educator in a community supports students: "Regardless of your status, your title, or where you are on a pay scale, you indeed are priceless and vital to the development of young people," said Pickens. "Continue to be part of the student's village because it truly takes a village to raise a child and never give up on them. We do not know what is going on in children's lives beyond school. Get to know them and know their story. Continue to encourage our young scholars so we can share more stories about students of success and less about students of statistics."
3. MSEA President Cheryl Bost's Remarks Highlight Member Voices
This year, MSEA President Cheryl Bost was joined on stage by five fellow educators who told delegates how they've used their voices to fight for their vision of public education.
"We are the public education experts," said Bost. "We walk the walk each day. Let's not be afraid, not be intimidated, but instead stand up and be loud because we have power to get out our vision and our voice."
4. Delegates Debate New Business
Delegates debated and passed amendments to MSEA's resolutions, adopted a bylaw amendment, and considered 15 New Business Items (NBIs), passing eight NBIs on a wide range of issues. Look for quarterly updates on MSEA's work to fulfill passed NBIS at marylandeducators.org/convention.
5. Maryland Speaker of the House Adrienne Jones Visits RA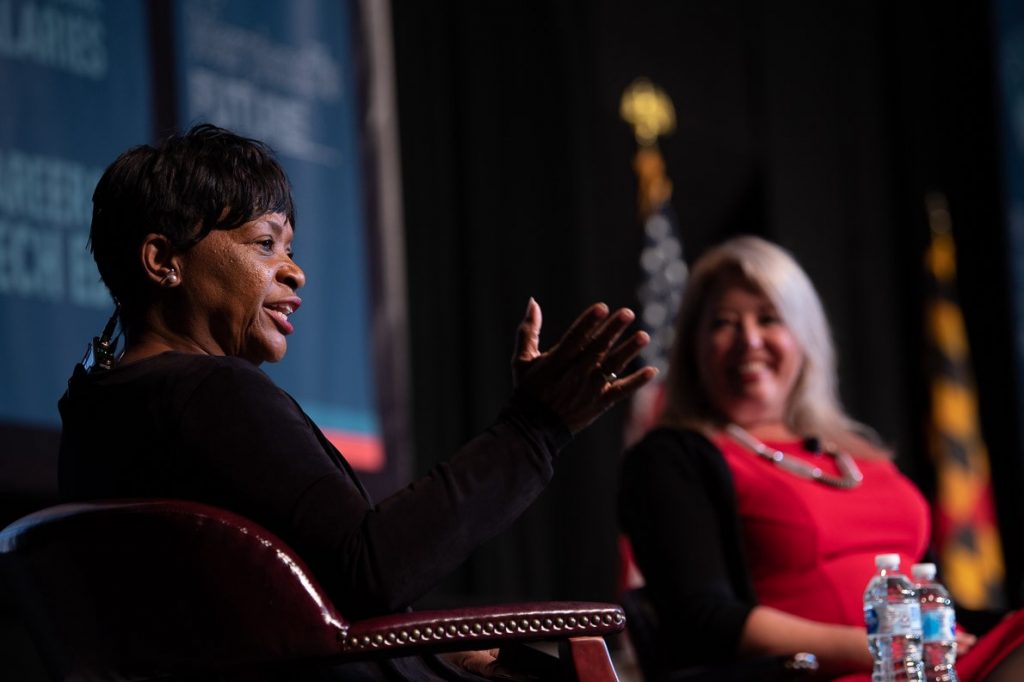 Speaker of the House Adrienne Jones (D-District 10) stopped by the RA for a wide-ranging conversation with President Bost, covering the Blueprint for Maryland's Future, school construction, community schools, standardized testing, and more.
6. State Board of Education Update
President Bost, with Montgomery County Education Association President and Chair of the Professional Standards for Teacher Education BoardChris Lloyd, provided delegates an update on important issues in front of the State Board of Education, including concerning changes to teacher certification and evaluations. Bost and Lloyd emphasized how critical it is for educators to use their voices on these issues and be aware of how the lack of public school experience of most state board members affects their understanding of our profession and the needs of public schools and students.
The problematic proposed changes and absence of teaching experience on the board make it all the more important for educators to vote in the upcoming election to add a classroom teacher to the State Board of Education. The election is November 10–17 and educators holding a Maryland teaching certificate are eligible to vote.
7. Another Record-Breaking Year for PAC Fundraising
For the fifth year in a row, delegates set a new record for fundraising for MSEA's Fund for Children and Public Education. This year, delegates raised an amazing $46,000 in two days.
8. Standing in Solidarity
On Saturday morning, 600+ delegates sporting red for ed posed for what may have been the largest selfie in MSEA RA history to send a message of solidarity to the Chicago Teachers Union, South Park Education Association, and United Auto Workers.
9. Professional Development Workshops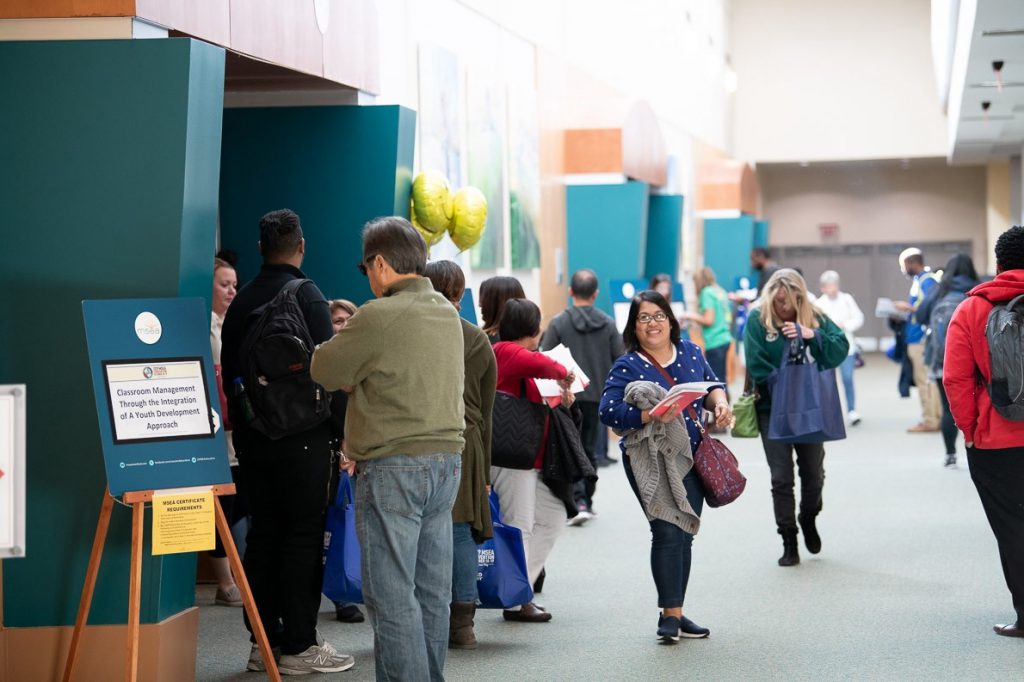 While the RA was meeting on the first floor of the convention center, hundreds of educators from across the state headed to the second floor for dozens of workshops to boost their professional skills.
10. Original Art Greets Convention Attendees
Baltimore County art teacher Vernon Fains created two original canvasses that hung near the main entryway to the convention center — and became the background of countless photos and selfies throughout the weekend!
Already looking forward to next year's MSEA Convention? Circle October 16 and 17 on your calendar and join us!