Advice on making it from two Teachers of the Year.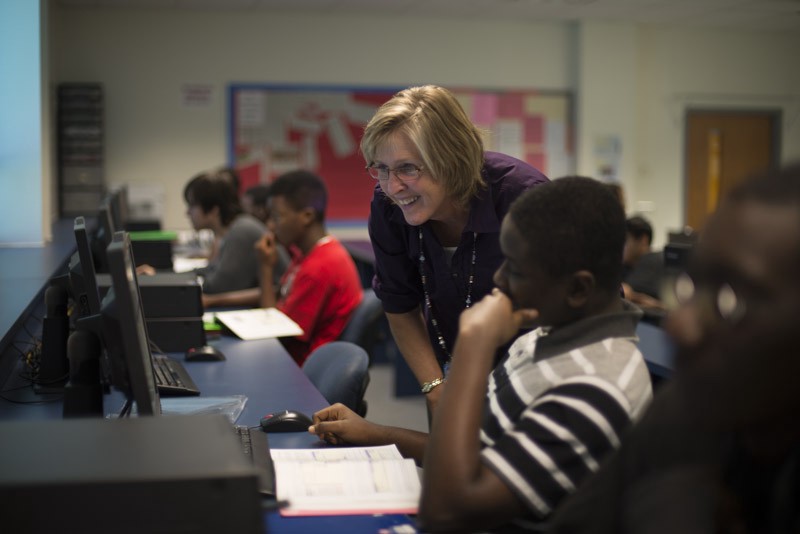 Becoming a new teacher isn't just for twenty-somethings. It's for people who have had rewarding careers in other industries and for those who want a full-time job that supports their communities and the next generation. But no matter how many years of job experience are on a resume, the transition to teaching can still be bumpy.
Two Teachers of the Year — former Baltimore City (and Maryland) Teacher of the Year Athanasia (Sia) Kyriakakos and former Talbot County Teacher of the Year Annie Mewborn — share their journeys into the profession as well as some tips for how to survive and thrive.
What did you do before becoming a teacher?
Sia: Before I became a teacher I was making art. I was an exhibiting and practicing sculptor. My work derived from my two cultures, my personal mythology, and experiences. It was about self-discovery and identity. I had attended the Maryland Institute College of Art and had earned a bachelor in fine arts degree. So when I graduated, I proceeded to show in different galleries around Hartford, Connecticut and took part in national juried exhibitions. I was an active member of several nonprofit organizations/galleries showing, hanging, jurying, and doing public relations work. In general, I was very active in the arts community as a practicing artist.
Annie: Prior to becoming a teacher, I was a sergeant in the U.S. Army and later a casino dealer in Atlantic City, New Jersey. I also worked at the post office.
Why did you make the switch into teaching?
Sia: I don't think I switched into teaching, I think I developed into a teacher. My artwork was all about telling a story, sharing an experience. The final product — the sculpture — derived from a memory, an experience, or my family history. The art work could not stand alone without that story being told. I would be just as excited to talk to my audience about the inspiration behind the artwork as I was to make it. For me the art was about communication and sharing.
I didn't want to go into teaching initially, perhaps, because I didn't realize what teaching was really about. My first teaching experience surprised and mystified me. I had been invited to teach for a one-day project, with a group of "at-risk" teen girls in one of the toughest urban neighborhoods in Hartford. We worked all day making paper and quietly communicating not through words but through the action of "making." We bonded over the process of creation, quietly opening up ourselves, sharing our stories and vulnerability in the most authentic of ways. The communication was fluid and raw. We had made an authentic connection. That's how I got hooked into teaching. I did not leave art. I brought art with me. It became my vehicle to communicate with my students. And I give it to them as a tool in order to express, communicate, and connect with the world every day. Everyday I open a door to another way of life for them and often some choose to go through it. Now, I sculpt society.
Annie: I made a career change to teaching after realizing that the other jobs I held were unfulfilling and I wanted to have a greater sense of purpose. I've always had a strong desire to serve others in a meaningful way. As a teacher, I was able to channel the passion and drive from my previous life experiences and share them with my students, making a positive contribution within their lives and inspiring them to succeed.
"As a teacher, I was able to channel the passion and drive from my previous life experiences and share them with my students, making a positive contribution within their lives and inspiring them to succeed."

— Annie Mewborn
What has been the best part about making the change? What's been the toughest?
Sia: The best part is the opportunity to teach and share something I love deeply; the opportunity to interact, exchange, and learn from my students; and the opportunity to give back in a meaningful way to society and hopefully contribute to a positive change in our communities, culture, and world.
The best part is what I get out of it. There is something so amazingly magical when the lesson is going well. The entire class is quietly working and all you can hear is the scratching of charcoal on the paper and gentle music coming out of the earbuds. We become one in those moments.
It's so great when instead of criticizing each other, my students make that leap to constructively critique each other and help one another succeed. I love seeing that moment of self-discovery in my students, when they have realized they have grown years developmentally in drawing and say something like "I did this!'' or "I never knew I could draw!' At that moment the world is in their hands, they have been affirmed, and they start believing in themselves and that they can accomplish anything with hard work and perseverance.
What has been the toughest part about making this change is the fact that I can't control what adversarial circumstances my students come from. But what I can control is the type of education and experience they get when they enter in my classroom. Where they come from stays at the door, and what we become inside my classroom is a family. And perhaps that is what's the best part about making this change into teaching.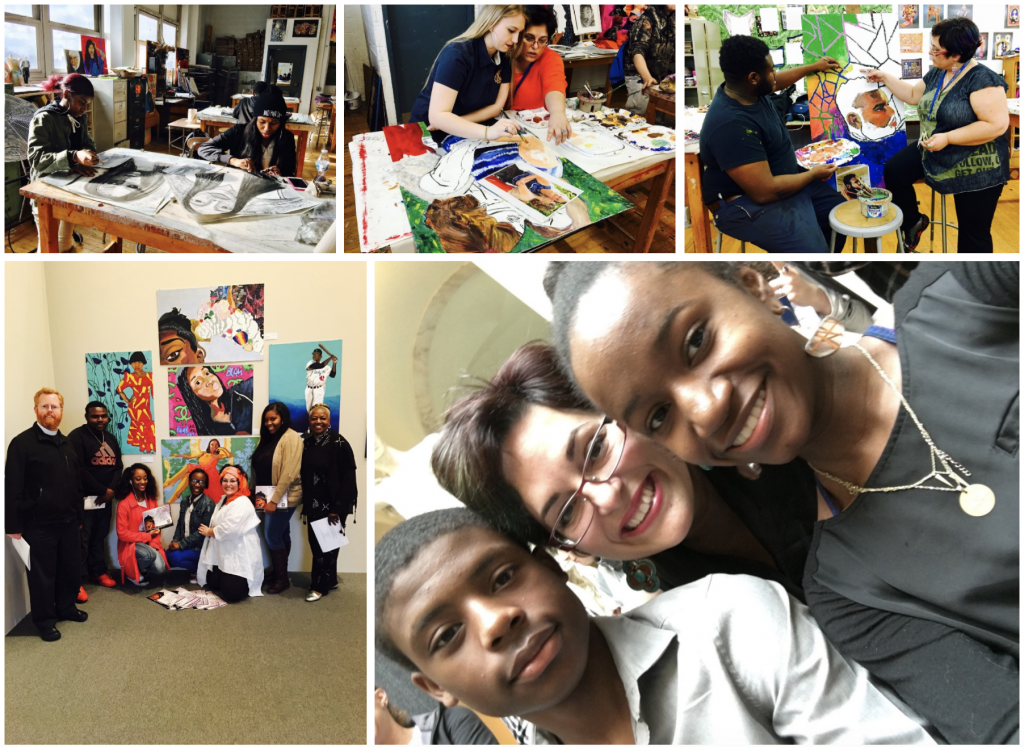 Annie: The best part of making the change to teaching is that I know that I am making an impact in the lives of my students. I know I've made an impact when parents or students themselves have personally requested to be placed in my classroom because I have either taught a sibling or relative or they have learned of my reputation as a teacher. This indicates to me that I have made an impact not only on the child, but also with other members within the family. These students and their families understand that I have high expectations and a sincere commitment to helping them succeed. Another reward is the lasting relationships created with my former students, many of whom come to visit and share stories of high school life, academic successes, and personal accomplishments.
The toughest part is having to deal with the reality that teachers are undervalued and appreciated. Because of my dedication to the profession, I've had to make personal sacrifices of myself and my family as well.
What advice do you have for people who are considering whether or not to change careers and go into education?
Sia: Being an educator is perhaps the toughest and most rewarding profession I have had the privilege to be a part of. Go into education if you have a passion for the subject you are going teach, your students, and teaching itself. Go into teaching knowing that you will have the most gratifying experience in your life.
Do not do it for the money, because you're not going to make much (plus you keep buying supplies for your class and students). Don't do it for the weekends and vacations, because you need those in order to recuperate from the exhausting work of teaching. Also, teaching does not end at 3 o'clock when the bell rings. When you go home, you grade, you write lesson plans, you collaborate with other teachers, you make phone calls, you write emails… and you worry about your students.
Good luck!
Go into teaching knowing that you will have the most gratifying experience in your life.

— Sia Kyriakakos
Annie: For someone considering whether or not to enter the education field, my advice would be to reflect on why they would actually want to go into teaching. While teaching can be rewarding, it does require a bit of sacrifice and commitment. They should strive to practice flexibility, be detail-oriented, require high expectations of the students they teach, and above all, have a sense of humor!