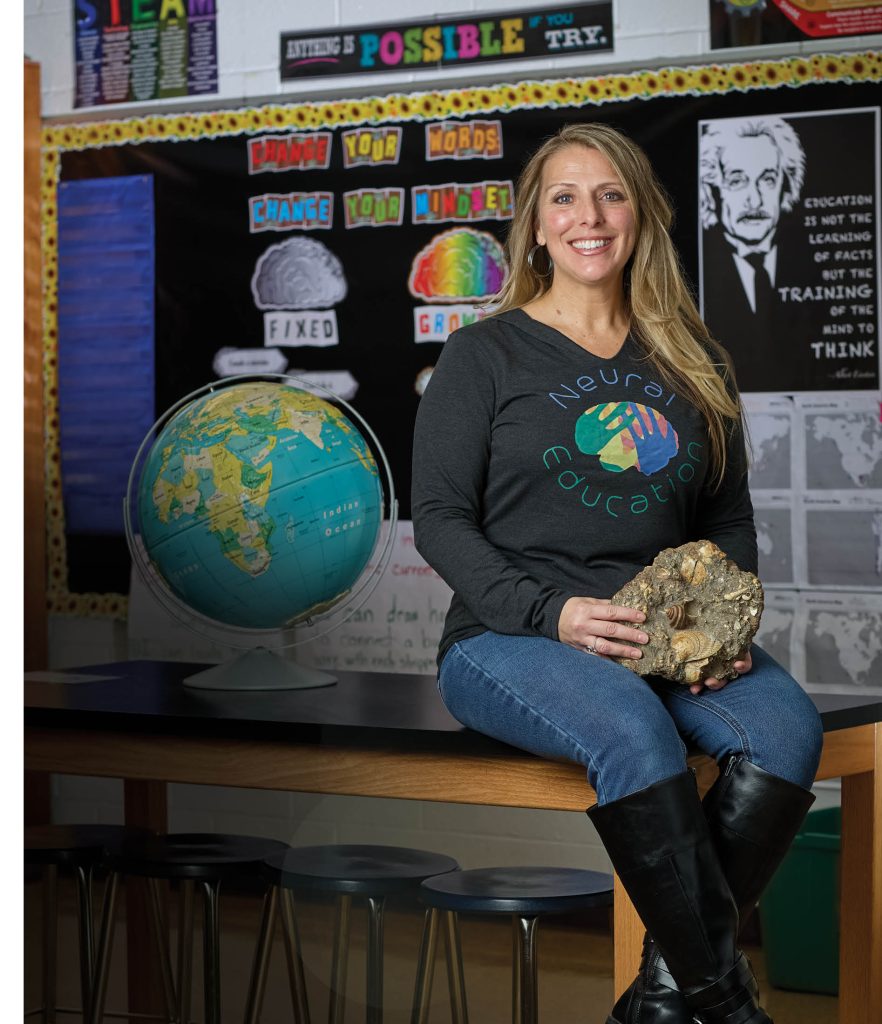 Meet veteran Charles County educator Dyanna Finamore. She's a science teacher whose energized practice is activating synapses in young students at Mt. Hope/Nanjemoy Elementary School. She's taken her professional growth all the way to Tacoma, Washington and the Neural Education Institute using an NEA Learning and Leadership grant. Now she's teaching her students new language to help them identify the way they learn best.
ALWAYS A LEARNER For my students to succeed, I must be an enthusiastic learner in and out of the classroom. My love for learning about the brain led me to the Neural Education Institute (NED) in Tacoma, Washington last year, thanks to a $5,000 NEA Learn­ing and Leadership grant. As I witness the need for educa­tors to transform teaching and learning in exciting and inno­vative ways, I strive to provide opportunities for my students to connect through self-aware­ness, social and emotional practices, and metacognition.
MYELINATING NEW PATHWAYS Have you ever driven home on your everyday route and it has become so rote that you barely remember doing it? This neural pathway in our brain has been myelinated. As we are teaching students new information, we must offer opportunities for them to create new and deeper neural pathways. It is up to us as educators to understand how the structure of our brain is constantly changing. Our goal is to teach our students how their brains work and to use that knowledge to take control of their learning. This has been the focus of my learning with NED.
THEORY INTO PRACTICE The NED Institute gave me insight into how to apply the theory of neuroscience into my educational practice. My students learn about three structures of their brain: the brainstem, the limbic system, and the pre-frontal cortex. From here, I focus on their function: regulate, relate, and reason. It is impor­tant for our students to know how to regulate themselves by first recognizing how they react to various stimuli. Without regulation, we are unable to relate and reason with each other and our learning.
THE "HOW-TO" TO REGULATION Four neurotransmitter posters hang in my classroom: sero­tonin, dopamine, oxytocin, and norepinephrine. As we conduct "power-ups," I talk about which neuro-transmitter is being activated. Now my students will come into our science lab, and say, "I need some oxyto­cin" and give me a hug. I feel it is important to bring the understanding of how the brain works to advance the learning of my students through their own self-discovery, and in turn, build their self-esteem to become life-long learners.
IGNITING YOUR PASSION I learned a long time ago that my purpose was to educate through love, acceptance, and compassion. I believe we are here to share what we are passionate about. Connection is key! What better way to connect with my students, my colleagues, and my school community than by provid­ing opportunities to teach about how the brain works. I am part of a monthly NED professional learning com­munity and becoming one of their champions. My hope is to improve educational outcomes for my students and empower them to access their true potential regard­less of any barrier they face now and in the future.
Latest News