And other legislative updates in this month's Up the Street
THIS MONTH IN ANNAPOLIS
Reopening Safely: State Board Meeting Fuels Worry Rather Than Confidence
Throughout September and as recently as yesterday Governor Hogan and State School Superintendent Karen Salmon continued to make high-pressure statements that left educators anxious and confused. At the State Board of Education (SBOE) meetings on September 21 and 22, Salmon continued to encourage unrealistic reopening expectations. The voice of reason came from Rachel McCusker, the only active teacher on the board, thanks to a bill that MSEA fought for.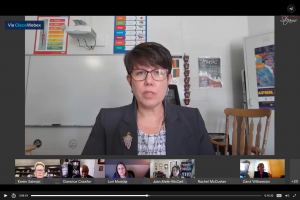 Salmon told board members that all 24 school systems have completed acceptable plans for reopening, but she did not clarify that individual districts are still grappling with unique circumstances that challenge a safe in-person return to school buildings. McCusker, who assured the board that educators want to be in school with students as soon as it is safe, provided invaluable insight and grace to inform her board colleagues of the reality in classrooms "as a teacher who is working with students daily, live, on an electronic platform." She argued that "We can't completely throw safety precautions out the windows." She informed board members that local school districts "have not put all those precautions in place." Hybrid models are still being finalized, and they require teachers to juggle two jobs. "Right now, I think that teachers are unclear about what [hybrid] looks like. … That's causing a great deal of discomfort," McCusker explained. "This is a really complex puzzle."
Unfortunately, some SBOE members don't understand the reality of classroom logistics. Rose Li asked, "If you can open bars and movie theaters and shopping malls why can't you open the schools?" McCusker pointed out that dropping children off at a theater for a few hours is not the same as sending them to school for the day. Board member Shawn Bartley dismissed the greater health risk to teachers: "We need to prioritize our students first," he said. "I understand the concerns about teachers and the immunity of students being higher than the teacher… but at the end of the day but for students there would be no teachers." Conversations like these demonstrate the need for educator voices like McCusker's to be at the table when reopening plans are discussed.
Reopening Should Be More About Safety, Less About Politics
On October 1, Hogan and Salmon reiterated their expectation that schools should reopen without offering to provide the necessary resources and equipment to do so. Washing his hands of responsibility, Hogan stated correctly that local school boards and superintendents control the decision to reopen their schools. MSEA supports locals in refraining from fully returning to classrooms until the system and educators have an agreement about doing so safely, considering issues like transportation, social distancing, supplies for cleaning and personal protective equipment, and protocols for identifying and isolating cases, among other issues. Science and safety must continue to drive discussions about when and how to introduce students and educators back into buildings.
What Resources Are Missing?
In two stunning examples of misinformation and insufficient resourcing by Salmon and Hogan, they made it seem that the state has provided robust funding to make reopening schools safe when in fact they have provided about 3% of what is needed, according to estimates by the State Superintendents Association. On August 27, when Salmon and Hogan were "strongly encouraging" schools to reevaluate their plans and reopen sooner than later they offered $10 million to local districts that would bring students in for in-person learning. Many educators thought that meant $10 million per school or at least $10 million per district. Far from it. On September 9, Salmon and Hogan said the money had been distributed, without mentioning the rubric for choosing recipients. That $10 million was distributed completely inequitably: a third going to non-public schools, a third to higher education, and a third to all of public K-12. The bizarre distribution allowed two non-public schools each to receive more than Montgomery County Public Schools, the state's largest district.
Then on September 21 Salmon and Hogan dangled another $10 million to be shared by K-12 public school systems that planned to open in-person before the end of the calendar year. According to the superintendents, a safe reopening of schools will cost about $486 per public school pupil. The $20 million that Salmon and Hogan have touted amounts to about $15 per public school student. That's 3% of what superintendents say they need to perform the building retrofits, upgrades, equipment, and maintenance requirements to stay safe during the coronavirus pandemic. Share the truth about the inadequate amount of funding proffered by Salmon and Hogan to push public schools to reopen.
NEWS AND NOTES
The SBOE established three broad goals for their year. The first is to hire a high-quality new superintendent. Salmon has stayed on past her planned July 2020 retirement because of the coronavirus pandemic (and received a $40,000 pay raise to do so). The second goal is to oversee the reopening of schools "with an emphasis on equity, accountability and promoting learning for all children" per the Every Student Succeeds Act. This goal was amended to include the word "safely." The third goal is to address the social emotional needs of students and staff. Board President Clarence Crawford said he intends to start each meeting with a report on achieving the goals.
Fiscal Outlook Improves with Board of Revenue Estimates
A better-than-predicted economic outlook from the Board of Revenue Estimates on September 29 does not eliminate tight fiscal forecasts but it has left the state looking at a much less dire situation. The FY21 forecast is $1.4 billion higher, and FY22 $2.1 billion higher, than the worst-case predictions that were made in May. The new $18.7 billion FY21 revenue estimate does reflect a $672.6 million decrease from the pre-pandemic $19.4 billion estimate of FY21 revenue. The governor already cut $400 million from the FY21 budget through actions on the Board of Public Works.
Betsy DeVos Backs Off Dollars to Private School; Piles on Testing
Education Secretary Betsy DeVos has said she will not appeal the federal court rulings against her rule requiring K-12 public schools to share CARES Act funding with private schools. She would have shared the money that Congress designated for public schools with the nonpublic schools she favors. She has consistently supported private schools and vouchers at the expense of meeting the needs of public education, and during the pandemic she has done nothing to help the millions of students without access to high-speed internet and technology, or to resolve the crisis of 667,000 educators who have been laid off, or to keep students and educators safe while she and President Trump push to return to classrooms that have not been made safe. Meanwhile, she has doubled down to mandate next spring the federally mandated annual standardized testing that was waived last spring.
New Delegate, Educator Represents Washington County
Republicans in Washington County selected Brenda Thiam, a special educator, to replace Paul Corderman in the House of Delegates. Corderman was appointed to the Senate to replace Andrew Serafini. Thiam is the first Black female Republican in the General Assembly.
CAMPAIGN 2020
Make a Plan to Vote
MSEA continues to promote voting and encourages members and voters to use MDAppleBallot.com to find local educator-recommended candidates. This video outlines the various ways you can vote. Making your voting plan is just as important as doing your research on candidates. We encourage vote by mail as the safest way to send a message about the direction of our country and our state.