And other legislative updates in this month's Up the Street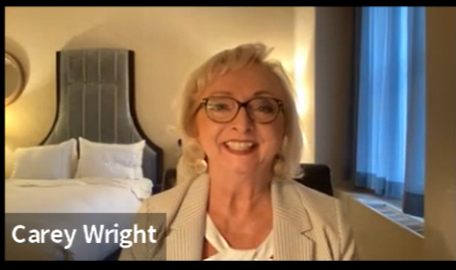 THIS MONTH IN ANNAPOLIS
Carey Wright Appointed Interim Superintendent as Board Searches for Next Superintendent
In the wake of state schools Superintendent Mohammed Choudhury's decision not to seek a contract beyond June 2024, several developments have occurred affecting the office of superintendent and the direction of the Maryland State Education Department (MSDE). Given the potential level of departmental instability, the presence of pro-public education voices from Gov. Moore's board appointees alongside educator-elected representative Rachel McCusker is more important than ever in board decisions.
In an agreement between the State Board of Education (SBOE), Choudhury will resign as superintendent today and stay on in the role of senior advisor to the SBOE on policy and strategy matters through June 30, 2024. On Wednesday, the SBOE voted unanimously to appoint former Mississippi School Superintendent Carey Wright interim superintendent to serve starting October 23 through June 30. "We look forward to meeting with and learning more about Dr. Wright and her plans as interim superintendent," MSEA President Cheryl Bost said in a statement to press. "To be successful in Maryland, Dr. Wright will need to have an open door for educators, support the implementation of the Blueprint, with a focus on equity, and ensure that schools are welcoming and safe places for all of our students."
The SBOE established both a transition team to ensure the operational continuity of the department and a search team to find the next permanent superintendent. McCusker is one of seven on the search committee, which will direct a national search to select a superintendent to begin a full four-year term on July 1, 2024. The committee will first recruit a search firm to assist the SBOE. Board Vice President Joshua Michael will lead the search committee, whose other members are McCusker, Board President Clarence Crawford, Dr. Joan Mele-McCarthy, Warner Sumpter, Nick Greer, and student member Abisola Ayoola.
Blueprint Brings $120 Million Behavioral Health Grant to Expand Counseling for Students
Applications are open until October 12 for $120 million in grant funding enabled by the Blueprint for Maryland's Future to increase school-based mental and behavioral health services. Senate President Bill Ferguson (D-Baltimore City) described the new funding as the start of annual behavioral health funding in the $120 million to $130 million range. Blueprint advocate Delegate Eric Ebersole (D-Baltimore County) who worked as a public school teacher for 35 years, described the funding as a first step in efforts to expand access to high-quality mental health and wraparound services outside of schools. The grants have been set aside to provide counseling, as well as behavioral health services in school and in communities.
Revenue Estimate Drops, but Comptroller "Cautiously Optimistic" for Future
The Board of Revenue Estimates—Comptroller Brooke Lierman, Treasurer Dereck Davis, and Budget Secretary Helene Grady—on September 28 adopted a revised forecast for Fiscal Year 2024 that is down $14.1 million. The Board forecasts total general fund revenues of $24.566 billion in FY24, an increase of 3.8% over the prior year, and $25.081 billion in FY25, an increase of 2.1% over FY24. On an ongoing basis, taking out one-time distributions and other impacts, ongoing general fund revenues are projected to increase by 0.9% in FY24 and 2.2% in FY25.
"Maryland's economy remains stable, and I am cautiously optimistic that we will continue to see modest economic growth and avoid a recession," Lierman said.
NEWS AND NOTES
Education Support Professional of Year Is Ivory Smith, Representative of ESP Values
MSEA's ongoing campaign to raise respect for education support professionals (ESPs) features the annual selection of a statewide ESP of the year. This year, MSEA identified Ivory Smith, a custodian at Ocean City Elementary School, as the 2023 ESP of the Year. He was honored at school by MSEA President Cheryl Bost and OCES Principal Julie Smith on September 11, and by the Worcester County Board of Education (WCBOE) at its meeting on September 19.
The award is presented to a member of MSEA who demonstrates outstanding accomplishments and reflects the contributions of ESPs to public education and their community. MSEA receives nominations from across the state for the annual award, and it provides an opportunity to publicize ESPs' essential work and to advocate for their professional treatment and recognition. This year, Eastern Shore media WMDT and Delmarva Now covered the news.
Educator Pay Penalty Reaches All-Time High; Overtime Adds Stress
The educator pay penalty—the gap between the weekly wages of teachers and college graduates working in other professions—has reached a disappointing high nationwide, and in Maryland. Maryland teachers are earning on average of 74 cents on the dollar compared to other professionals with the same level of education. The Education Policy Institute (EPI) reports the penalty grew nationally to a record 26.4% in 2022, 73.6 cents for every dollar that other professionals made in 2022. That is more than four times the 6.1% penalty in 1996. Once adjusted for inflation, public school teachers' average weekly wages dropped $128 between 2021 and 2022, going from $1,457 to $1,329, EPI found. Meanwhile, the average weekly wages of other college graduates remained nearly unchanged in the same period.
Even when considering educator benefits, the total compensation penalty was 17% in 2022. Every state has a wage penalty, and the relative teacher wage penalty exceeds 20% in 31 states. Nationally, the wage penalty for female teachers (compared with other female professionals) crossed over the 20% threshold for the first time in 2022 to 21.3%, and the wage penalty for male teachers is 36.6%.
Meanwhile, a Rand Corp. survey reveals that teachers are working longer hours and for less money than other working adults. One in four hours of the overtime work was uncompensated for such duties as grading and day-to-day planning. "Most teachers feel overworked…[and] unsurprisingly perhaps, most teachers feel underpaid," said Elizabeth Steiner, a policy researcher at RAND and a co-author of the report. Nearly 9 in 10 teachers said they work more than the standard 40 hours each week, compared with less than half of all working adults, Rand found. On average, teachers work 15 uncontracted hours per week, 12 of which are unpaid. Black and Hispanic teachers reported working more hours than their white peers at similar types of schools.
The pay penalty contributes to the educator shortage, and union strength has power to reduce the penalty. Teachers earn 25% more, on average, in states with collective bargaining, and school support staff earn 15% more. In addition, higher education faculty in unions earn about $4,000 more than non-union faculty in the same states.
CAMPAIGN 2024
New Endorsements and Candidates in Senate Primary Races
More endorsements have been announced in the Democratic primary race for the U.S. Senate seat from which Senator Ben Cardin (D-MD) will retire next year, and retired Brig. Gen. John Teichert announced Monday he is seeking the Republican nomination in the race. Among Democrats, Prince George's County Executive Angela Alsobrooks announced the endorsement of Georgia Senator Raphael Warnock (D) and the Congressional Black Caucus Political Action Committee. Montgomery County Councilman Will Jawando announced former County Council colleague Hans Riemer (D) supports his candidacy for Senate.