And other end-of-session updates in this week's Up the Street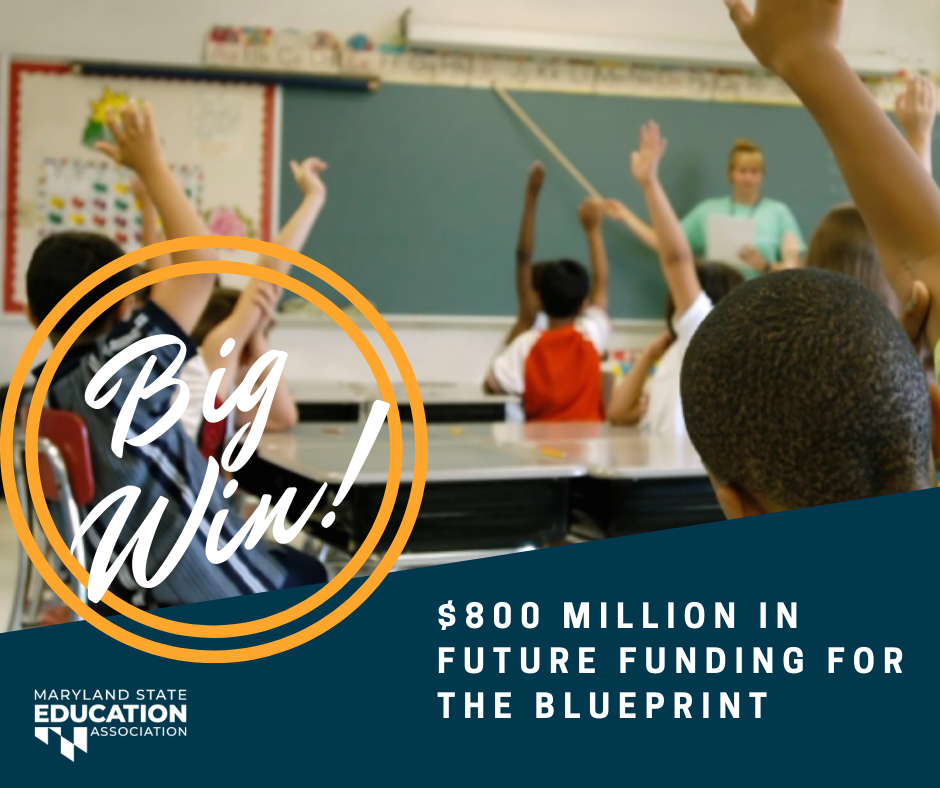 SINE DIE IN ANNAPOLIS
Session Ends with Wins for School Funding, Anti-Discrimination, Education Support Professionals
Third Pandemic-Impacted Session Adjourns Sine Die
At midnight on Monday, the 443rd Maryland General Assembly session adjourned sine die with victories for social justice, education equity, and wage improvements for education support professionals (ESPs). Those are just some of the noteworthy new laws out of the more than 3,100 pieces of legislation introduced. MSEA closely tracked hundreds of bills, which overlapped with MSEA's legislative priorities. The session started out with pandemic-driven protocols, such as mandatory masks, proof of vaccination, and virtual hearings, but in-person activities gradually returned as the omicron wave subsided. All floor votes and most hearings returned to in-person events where limited numbers of people could watch from the public seating areas, and press returned to the chamber floors. In person or virtually, throughout session MSEA lobbyists and members testified at hearings and worked closely with legislators and other advocates throughout session.
Thanks to Legislators and Federal Aid, $61 Billion Budget Delivers to Schools: Approved Budget Includes Legislators' Additions to Bolster Blueprint
The $61 billion FY23 budget that legislators passed continues to factor in recovery from the pandemic while solidifying the state's commitment to the Blueprint. Federal relief funds in the amount of $1.4 billion are available to increase tutoring, supply technology, pay educators, and support new programs. Legislators included $800 million toward out-year funding for the Blueprint for Maryland's Future Fund, made possible by an estimated $7.5 billion surplus across FY22 and FY23. This funding commitment takes important steps to shoring up the funding and implementation of the latter half of the Blueprint and ensuring that the transformational intent of the Blueprint is realized.
Except for accelerated funding for tutoring that the pandemic federal funds enabled, most of the Blueprint programs have been delayed a year to 18 months due to Gov. Hogan's delaying tactics. House Bill 1450 has already become law without the governor's signature and adjusts the deadlines affecting the Accountability and Implementation Board (AIB), the Maryland State Department of Education (MSDE), and local school districts. The updated timeline includes hold harmless provisions to account for drops in enrollment that are predicted to reverse as the pandemic wanes.
Under the new law, the AIB has until December 1 to adopt a comprehensive implementation plan, MSDE has until September 1 to design the criteria for local implementation plans to be approved, and the state and districts have until March 15, 2023 to submit their implementation plans to the AIB for approval. The law also affects the deadline to meet college and career readiness (CCR) expectations. The requirement for local school boards in collaboration with community colleges to develop pathways to support students who do not meet the CCR standard by the end of the 10th grade is delayed until the 2023-2024 school year. The bill also made adjustments to simplify how some revenue was directed to the Blueprint for Maryland's Future Fund.
Hogan Goes out as Anti-Education as He Began
This session marks the final one for Gov. Hogan, who remained consistently anti-public education to the end, while frequently taking credit for the work of the legislature or for actions which laws mandated he take anyway. Yet again through budget tactics he attempted to avoid fully funding the programs and legislation that would actually serve all students from every zip code equitably. A ruling by the attorney general's office found Hogan could have—despite his claim to the contrary—estimated and recognized that the Blueprint for Maryland's Future legislation required his budget to include in FY23 $140 million in education effort adjustment funds to help Baltimore City and Prince George's County schools.
Although Hogan left out that funding from the budget he proposed, as required, he included it in one of five supplemental budgets. His proposal would have cut $99 million from Baltimore City and $26.5 million from Prince George's County. That and another $14 million missing from his original budget squarely hit the historically underserved populations that the Blueprint particularly intends to lift up. And again this year he diverted public money to private schools through the Broadening Options and Opportunities for Students Today (BOOST) program. As usual he included $10 million in the budget he proposed, and he pushed legislation, Senate Bill 401, to make the BOOST program law with a recurring budget impact. Legislators killed the bill, but kept the $10 million funding for the next school year.
Respect for Educators, Reducing Workload, Increasing Wages
The continuing and lingering effects of the coronavirus pandemic on students and educators drove much of MSEA's advocacy. Educators have endured a crushing workload and large class sizes that are driving them from the profession sooner than they had planned before the pandemic. Classrooms with too many students and a shortage of support staff discouraged educators before the pandemic and have worsened.
ESP Wages to Rise
MSEA worked with coalition partners to introduce legislation to improve ESP wages in Senate Bill 831, sponsored by Senator Craig Zucker (D-Montgomery), crossfiled with House Bill 1349, sponsored by Delegate Shaneka Henson (D-Anne Arundel). The legislation provided short- and long-term solutions to raise ESP wages, originally including a $500 bonus for ESPs in each of FY23 and FY24 and the formation of a workgroup, including MSEA representation, to examine ESP employment statistics and develop plans to raise wages long term. MSEA made this legislation a priority to address the crisis in ESP recruitment and retention. ESPs are essential to the daily functioning of our schools, whether they are driving buses, preparing and serving meals, assisting in the classroom, maintaining buildings and technology, keeping records and implementing protocols, or any of the many other critical roles they fill.
The final version of SB831 passed in a 47-0 vote on Monday after being amended to concur with HB1349, which passed the Senate in a 46-0 vote. The House vote on the amended SB831 was 105-31, and 102-34 for HB1349. The bills, which now go to the governor for his consideration and hopeful signature, cut out the creation of the workgroup, keep the $500 bonus plan for FY24, and make the FY23 bonus subject to the already approved budget that includes just over $8 million for ESP bonuses. That is likely to cut the FY23 bonus to half of what MSEA was originally seeking. Nevertheless, the legislation lays the groundwork to improve ESP wages, and MSEA will keep up the fight for long-term ESP wage improvements at the local level through strong organizing and the collective bargaining process.
Educators Should Have Say in Class Sizes
Working conditions prompted MSEA's drive to make class size a legal subject of bargaining. A statewide poll MSEA conducted found that giving educators the right to bargain class size would have a meaningful impact on their working conditions and increase the likelihood they would remain in the profession. Maryland is one of only nine states where class size is an illegal subject of bargaining, along with Alaska, Indiana, Kansas, Maine, Nebraska, South Dakota, Tennessee, and Wisconsin.
Support for the change came from a lineup of congressional representatives, state and local leaders, and educators. They advocated for House Bill 890, sponsored by chair of the House Democratic Caucus Delegate Jazz Lewis (D-Prince George's), to make class size a legal subject of bargaining. Among public supporters for the legislation were candidate for attorney general U.S. Rep. Anthony Brown (D-4th) and former Delegate Aruna Miller (D-Montgomery), the lieutenant governor choice of gubernatorial candidate Wes Moore.
Although the legislation did not pass this year, our push to make class size bargainable has just begun. During a hearing in her committee, House Ways and Means Committee Chair Vanessa Atterbeary (D-Howard County) shared the urgency of taking action, saying, "Not being able to discuss the issue is doing a disservice to the teachers and also the students."

Smaller class sizes provide the opportunity for students and educators to deepen and strengthen relationships—a critical step in supporting children academically and social-emotionally, particularly in the wake of the stresses, traumas, and inequities stemming from the pandemic.
"It is disturbing that Maryland law currently prohibits teachers, when organized and bargaining collectively, from discussing class sizes during contract negotiations," U.S. House Majority Leader Rep. Steny Hoyer (D-5th) wrote to the committee in support of the bill. We will build on the positive conversations and support for this issue over the interim period and continue our efforts to give educators a voice in their class sizes in future legislative sessions.
Retired Educators May Fill Vacancies without Pension Penalty
Given the pandemic-related crises in staffing, MSEA supported incentives to fill vacancies with experienced educators. Senate Bill 410/House Bill 743, sponsored by the Special Joint Subcommittee on Pensions chairs Senator Sarah Elfreth (D-Anne Arundel) and Delegate Brooke Lierman (D-Baltimore City), exempts a reemployed retired educator from the usual earnings cap. This legislation applies to reemployment occurring from July 1, 2022 through June 30, 2024. The legislation passed unanimously in both chambers and has been sent to the governor.
Justice, Equity, Anti-Discrimination Advance
Creating a Safe Environment in All Publicly Funded Schools for All Students
This session marked the successful conclusion of a years-long battle to prohibit schools that receive public funds from discriminating based on race, ethnicity, color, religion, sex, age, national origin, marital status, sexual orientation, gender identity, or disability. MSEA worked with Delegate Jheanelle Wilkins (D-Montgomery) and Senator Cory McCray (D-Baltimore City), along with coalition partners Disability Rights Maryland, ACLU, and FreeState Justice to pass House Bill 850, crossfiled with Senate Bill 666. This is an important step in the right direction to make sure that our schools are safe, fair, and welcoming to students and staff of all backgrounds.
Virtual Education Needs Guardrails to Assure Equity, High Standards
With the use of virtual education increased by the pandemic, MSEA worked with legislators and advocates to develop specific guardrails to support equity and higher quality virtual education if and when it is delivered. MSEA testified in support of guardrails around virtual education that were developed in House Bill 1163, sponsored by Delegate Alonzo Washington (D-Prince George's), and in Senate Bill 362, sponsored by Senator Paul Pinsky (D-Prince George's). The House and Senate amended both bills to be identical and ended up passing the consensus legislation late in session, including with a final vote on Monday. While there were slight differences in the vote count on the bills in each chamber, their final versions mostly passed on party-line votes. The legislation now goes to the governor for final action.
The virtual education legislation requires the State Department of Education to provide local school systems with guidance related to the professional development and support for teachers to execute virtual education best practices, and to establish guidelines for virtual learning. This is just the beginning of the work to assure that students receive the education they are due when virtual options are employed. MSEA will urge Governor Hogan to enact this law and then track the implementation to determine if further refinements need to be made in the future.
Recognizing History, Contributions from Diverse Groups
The need for expanded recognition of diversity in social studies prompted MSEA to support House Bill 47, introduced by Delegate C.T. Wilson (D-Charles). Crossfiled with Senate Bill 462, the legislation would have required the state to develop social studies and American history content standards that recognize the history of African Americans, American Indians, Asian Americans and Pacific Islanders, Hispanic Americans, women and other groups determined by the Maryland State Board of Education (SBOE). MSEA has historically opposed curricular mandates via state legislation, but this bill mostly focused on directing the SBOE to update the curriculum standards. That approach, and the expanded recognition of diversity in social studies, are more consistent with MSEA's lobby strategy and with actions taken by MSEA members at the October Representative Assembly. Although the bills did not get out of committee, MSEA will look for avenues with the Department of Education and SBOE to push for these essential curriculum expansions.
Defending Educators on All Fronts
Maryland Defies Unsettling Trends Occurring Elsewhere
A number of unsuccessful bills that never got out of committee—if they even had hearings— demonstrated the troubling presence of disinformation campaigns designed to pit parents against educators for political gain as have occurred in other states. Conservative groups in Maryland did not achieve their goals to pass the kind of legislation that disrespects educators' professionalism, mandates and rolls back curriculum, and creates conflict between educators and families. MSEA opposed these bills and will continue to fight for a focus on the issues actually impacting students and educators, and for respect for educators as professionals.
Union Dues Tax Break Passes
Pro-union legislation that MSEA supported in House Bill 172, sponsored by House Majority Leader Delegate Eric Luedtke (D-Montgomery), passed to allow union dues up to $300 to be factored in as a subtraction modification from income taxes. It passed last month in the House in a 95-35 vote, and after the Senate amended it, the House concurred with the Senate version and passed it Monday in a 96-37 vote. Given the partisan nature of the vote, it is unclear what action Hogan will take when it reaches his desk.
Session Punctuated by Redistricting Mapping Complications
Congressional Map Decided
The 2020 decennial census required redistricting that made headlines frequently during session even though the General Assembly adopted a congressional district map in December and a legislative district map in January. Lawsuits tangled up the finalization of the original maps, and ultimately the Anne Arundel County Circuit Court ruled that a new congressional map must be drawn. In the wake of the decision, legislators drafted a new one that they passed and Hogan signed last week. The ruling was based on applying for the first time to the congressional district map the state constitutional requirements of legislative districts. Candidates are facing an April 15 filing deadline, and a primary that has already been pushed back to July 19.
Legislative District Map Pending
A new legislative district map was approved in January, but Fair Maps Maryland filed a legal challenge that went automatically to the Maryland Court of Appeals. The state's highest court, which currently has a majority of judges appointed by Hogan, is expected to make a ruling this week about whether the map meets state constitutional requirements. That ruling may introduce further volatility into the election calendar and planning.
Educator Engagement Drives Successful Agenda
During another session overshadowed by the pandemic, education supporters were ready to testify virtually or in person as needed. Whether they participated in virtual press conferences, virtual or in-person testimony, or sent emails and made phone calls, educator voices mattered to lawmakers this year as ever. Legislators heard MSEA members and supporters who advocated for the issues important to educators and students. MSEA is grateful for the activists who made such an important contribution to advance lobbying efforts and win important victories this session.
Whether the victories come from implementing good ideas into new laws or stopping bad ideas from moving forward, our legislative advocacy work must continue. The Blueprint for Maryland's Future is finally on track, and a new governor could make a difference in seeing it more fully supported than it has been. The time is now for educators to make their voices heard in local implementation plans as the Blueprint funds and programs scale up at the district level. Federal funding from coronavirus relief will play a role for another two years, but the future of the Blueprint depends on funding and implementation well beyond that. Educators' voices must continue to be heard so the Blueprint achieves its mission to provide every student a world-class education no matter where they live.