And other legislative updates in this week's Up the Street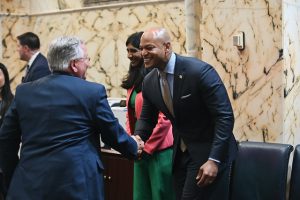 SINE DIE EDITION
THIS WEEK IN ANNAPOLIS
Session Adjourns Sine Die with Historic Wins
At midnight on Monday, the 445th Maryland General Assembly legislative session, and first one for the Moore-Miller Administration, adjourned sine die with victories for education support professionals (ESPs), aspiring and veteran educators, students, social justice, labor rights, and education equity. Out of the more than 3,000 pieces of legislation introduced, MSEA closely tracked hundreds of bills which involved MSEA's legislative priorities and policy positions. MSEA lobbyists and members testified at hearings and worked closely with legislators and other advocates throughout the session to support good laws and put a stop to bad ones.
Education Funding Makes Gains in FY24 Budget
The $62.5 billion budget that lawmakers agreed to includes Gov. Moore's historic levels of funding for public education, setting a new record for public school funding as Blueprint implementation continues and expands. The budget includes $900 million in forward funding for the Blueprint for Maryland's Future Fund, shoring up its fiscal sustainability. The budget also fully funds education support professionals' $1,000 bonuses, which were passed last year but shortchanged by Gov. Hogan. The budget will help fight educator shortages and provide needed investments to raise educator salaries and expand difference-making programs for students, such as career technical education, community schools, and pre-kindergarten.
Gov. Moore and the House made efforts to reduce and phase out private school voucher funding, but unfortunately and disappointingly the Senate adopted an uncompromising position to retain the misguided program that primarily benefits students already in private schools. We will continue to advocate that public dollars should not be used for private school tuition.
Focus on Educator Shortage Successful, Including Paid Teaching Internships
The Moore-Miller Administration joined MSEA in addressing the educator shortage as a top priority. Moore's Educator Shortage Act (House Bill 1219) was heavily amended before it passed, but the law makes progress toward addressing the crisis in the pipeline of highly qualified and diverse educators. The law—renamed the Maryland Educator Shortage Reduction Act—expands a program to offer stipends to student teachers, distributes funding to target future educators from among students attending historically black colleges and universities (HBCUs) and some community colleges, and increases the Janet L. Hoffman loan assistance program and broadens eligibility for educators and school-based behavioral health providers with student debt.
Unfortunately, the final bill amended out an expansion of the Grow Your Own program, which has proven successful in several pilot programs around the state supporting ESPs who want to become certificated educators. MSEA will continue to work to establish a standalone Grow Your Own program operating statewide, potentially including through a bill in the next legislative session. In the meantime, together with our local union partners, we can advocate for best practices of Grow Your Own programs that are supported with funds from a temporary State Department of Education grant program, Maryland Leads.
Public Employee Labor Relations Board to Improve Consistency in Labor Disputes
MSEA fought successfully to improve labor relations and streamline the public employee labor relations boards. House Bill 984, the Public Employee Relations Act, sponsored by Del. Jazz Lewis (D-Prince George's), and the crossfiled Senate Bill 367, sponsored by Sen. Clarence Lam (D-Howard and Anne Arundel), addressed the inefficiency that has characterized Maryland's three labor boards' processes and decisions. MSEA, AFSCME Council 3, additional labor partners, and legislators worked together to merge the mishmash of three state labor relations laws into a single, standardized, and modernized framework for public employee collective bargaining. The law establishes the new Public Employee Labor Relations Board from Maryland's disconnected three boards: the State Labor Relations Board, the State Higher Education Labor Relations Board, and the Public School Labor Relations Board. These three have been understaffed and unduly divided, which has limited labor and management's ability to have fair and timely resolution of disputes over contracts, unit clarifications, unfair labor practices, and bargaining. With passage of this law, Maryland joins the country's growing movement to give workers a more meaningful seat at the table, enhance transparency, and improve fairness.
Fair Wages for All Workers Remains Priority
Gov. Moore introduced the Fair Wage Act of 2023 to hasten the rise of the minimum wage to $15. Starting January 1, it will come none too soon, desperately needed to lift the living standards for thousands of Marylanders. Moore's plan to index future minimum wage increases to the consumer price index, up to 5%, was amended out of the final law. MSEA will remain vigilant to keep the minimum wage relevant.
Union Members Get Tax Break for Union Dues
Another victory for labor came with the passage of House Bill 2, sponsored by Del. Jazz Lewis (D-Prince George's). Union members will be allowed a subtraction modification of their union dues when they file their Maryland income taxes.
Virtual Education Guardrails in Place to Standardize Expectations
While in-person education remains the gold standard for the vast majority of students and situations, the pandemic cemented the reality that virtual education will operate in some circumstances. Virtual schools have lacked the necessary framework to assure that their students have the same guarantees for equity and high standards that they have in physical public school classrooms. MSEA strongly supported such guardrails in Senate Bill 610, sponsored by Sen. Mary Washington (D-Baltimore City and Baltimore County). Bringing virtual schools in line with traditional public schools, the law guarantees that all students have access to the schools as they would with traditional public schools, that staff will be employed by the local board of education and included in collective bargaining, and the schools could not be operated by for-profit vendors. MSEA worked successfully to include protections for ESP wages affected by the use of virtual schools when school buildings are closed.
ESP Wages
The state budget's appropriation to live up to last year's promise of $1,000 retention bonuses for ESPs is a small step in the right direction as part of MSEA's larger campaign for living wages, fairness, and respect for ESPs. The efforts to establish an ESP Wage Workgroup to explore solutions, as proposed in the failed Senate Bill 735, had good intentions, which MSEA supported. Chair of the Senate Democratic Caucus Sen. Craig Zucker (D-Montgomery) sponsored the legislation to establish a workgroup to study and address ESP wages, and Del. Melissa Wells (D-Baltimore City) crossfiled House Bill 1234. The workgroup was to make recommendations to the General Assembly for future legislation, but progress through strong coordinated bargaining at the local level can and will continue even without the workgroup.
Time for Special Educators to Work with Students Protected
Some victories come from implementing good ideas into new laws or stopping misguided ideas from moving forward. Burden of proof legislation, which failed to get out of committee after crossing over to the Senate from the House, was one such defeated bill. Although opposed by a wide range of education groups and advocates the House passed House Bill 294, which would have shifted the burden of proof in due process cases and spike the workload of special educators. This could take away the precious time that special educators have to work with students and would not improve many issues that proponents of the bill raised during the bill hearing. This proposal was especially concerning when schools have record vacancies in special education positions. The Senate prudently did not move this bill. MSEA continues to advocate for better policies that will give students receiving special education services the support they and their families deserve and special educators the time and resources they need.
Blueprint Strengthened, Enhanced by New Laws
This legislative session provided an opportunity to improve on the Blueprint for Maryland's Future as it begins to expand resources for early childhood education, college and career readiness, the educator pipeline, and wraparound services. House Bill 770, sponsored by Del. Vanessa Atterbeary (D-Howard), and Senate Bill 913, sponsored by Sen. Guy Guzzone (D-Howard), updates the Blueprint law to meet existing conditions. The law more broadly defines what qualifies as classroom participation for assistant principals to meet that requirement; it gives educators more time to move up the career ladder to be eligible to write curriculum; and it includes homeless children in the definition of Tier 1 students for the purposes of immediate eligibility for free pre-kindergarten. Key provisions of this bill were adopted from SB 791, sponsored by Sen. Sarah Elfreth (D-Anne Arundel) /HB 883, sponsored by Del. Jessica Feldmark (D-Howard).
Honest, Accurate Education Has Strong Support
In the face of increasing efforts to politicize curriculum, MSEA strongly supported and helped craft the final legislation to ensure students receive honest and accurate education. Sponsored by Sen. Ben Kramer (D-Montgomery), Senate Bill 841 passed to establish $500,000 state funding for a "museum of cultural import" that presents the history and culture of an oppressed and historically underrepresented community to impart a deeper understanding of the community and people's shared humanity.
Legislation Addresses Gun Violence
Jaelynn's Law, House Bill 307/Senate Bill 858, passed in the wake of the senseless tragedy from gun violence that claimed the life of Great Mills High School student Jaelynn Willey. In 2018 another student, who obtained a gun that belonged to his father, shot Jaelynn and himself and injured a third student. Del. Sandy Bartlett (D-Anne Arundel) and Sen. Will Smith (D-Montgomery) sponsored Jaelynn's Law to strengthen penalties for careless storage of guns and ammunition, mandate that the Deputy Secretary for Public Health develop a youth suicide prevention program and firearm storage guide, and authorize tax credits for the purchase of firearm safety devices.
Fight Continues for Students, Educators to Feel Safe
Public school should be a place where all students feel safe and supported. This year, to further that goal, MSEA lobbied successfully to prevent legislation to discriminate against student athletes based on gender identity. The fight to enable all students and educators to be themselves at school will continue.
Bullying County Executive Fails to Thwart Victorious Educator
Far from Annapolis, educators have also been following the saga of how hard Harford County teacher Jacob Bennett had to fight to serve the people who elected him. Former State Sen. Bob Cassilly (R), the new Harford County executive, took unprecedented legal and political steps to try to keep Bennett off the council, repeatedly trying to disqualify him and prevent him from serving. Last week, the Maryland Supreme Court ruled that Bennett, who ran a grassroots campaign and won a close race for the council seat, is eligible to serve while he is employed by the local board of education as a teacher. Bennett now rejoins the ranks of other educators who serve their community on county councils and in elected offices throughout Maryland. In the wake of extremist lawmakers in Tennessee undemocratically silencing the voices of dissenting legislators, Maryland's courts have rejected similarly underhanded attempts among our elected officials.
Educator Engagement Influences Positive Results
This session educators participated in virtual and in-person testimony, sent emails, and made phone calls so lawmakers could understand the consequences and conditions that legislation may create. Legislators heard MSEA members and supporters who advocated for the issues important to educators and students. MSEA appreciates the activists who made this important contribution to advance lobbying efforts and win important victories this session.
The legislative advocacy work must continue. Implementation plans for the Blueprint for Maryland's Future are unfolding, and with implementation comes the clarity of what is working and what needs modification. Educators' voices must continue to be heard so the Blueprint achieves its mission to provide every student a world-class education that provides them the opportunity to pursue their dreams no matter where they live.