And other legislative updates in this week's Up the Street
THIS WEEK IN ANNAPOLIS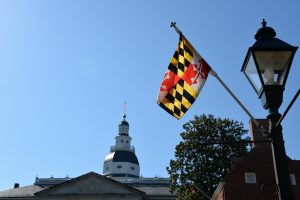 Mid-Session Rush Finds Budget Surplus Sufficient for One-Time Money to Benefit Blueprint
With the March 21 deadline for bills to cross over to the opposite chamber bearing down, the push is on to act on legislation that is still in its original chamber. Both the House and Senate are doubling the number of daily sessions and adding weekend sessions in order to move their top priorities. The annual budget is one of the top items to move before the deadline.
With the Board of Revenue Estimates projecting a $7.5 billion general fund surplus across FY22 and FY23, legislators see an opportunity to make one-time expenditures for a variety of programs, including the Blueprint for Maryland's Future. This week, the Senate approved the budget that came out of the Senate Budget and Taxation Committee with amendments that capitalize on surplus funding. Under the Senate proposal, the Blueprint for Maryland's Future Fund is slated to get an additional $800 million, $98 million is being used to backfill the transportation fund since the gas tax will be lifted for 30 days, and $700 million is to pay for capital projects and free up bond capacity, among the proposed uses. The Blueprint funding action is a significant step in continuing to fund the out-years of the education plan and ensure that all students in all schools will continue to benefit from the expanded programs and staffing levels promised by the Blueprint.
The Senate committee also added a requirement for the governor to include a forecast of how the proposed budget will affect the Blueprint for Maryland's Future Fund in future budgets, just as it forecasts for the general fund, the transportation trust fund, and higher education.
The Budget and Taxation Committee on Monday reserved an additional $350 million for tax relief measures that were being discussed. Even factoring in contributions to the Rainy Day fund, the new spending, and tax relief proposals, approximately $800 million of surplus funding would remain. "The opportunity for some other actions is there," said B&T Committee Chair Guy Guzzone (D-Howard).
Money is clearly available to achieve the education support professionals (ESP) wage and workgroup legislation, House Bill 1349/Senate Bill 831, that MSEA is advocating for this session. For the short-term, the legislation would give support staff $500 bonuses in both FY23 and FY24, and for long-term progress it would establish a workgroup to explore the best ways to improve support staff wages, as well as study the best ways to retain and attract individuals to the professions. The workgroup's recommendations would be shared with the General Assembly for consideration of future legislative action. MSEA would have a seat on the workgroup. Click here to contact your legislators and urge them to support this legislation to raise ESP wages.
The proposal raised last week to eliminate the gas tax for 30 days swiftly passed unanimously this week in identical bills, Senate Bill 1010 and House Bill 1486, in their respective chambers. The bills crossed over to the opposite chambers and are poised for adoption. The legislation now goes to the governor, whose signature can enact it immediately. He submitted a supplemental budget on Thursday that accounted for the loss of approximately $100 million in revenue in lifting the gas tax. The law eliminates the requirement for service stations to remit the 36-cent-per-gallon tax to the comptroller's office for 30 days, creating the expectation that consumers would see that relief in reduced gas prices at the pump.
MSEA Pushes Antidiscrimination Legislation
On Thursday, the House advanced House Bill 850 on a second reader vote, which would prohibit all publicly funded schools from discriminating based on race, ethnicity, color, religion, sex, age, national origin, marital status, sexual orientation, gender identity, or disability. On Friday, the bill cleared the House on its third reader vote. There is no codified language prohibiting such discrimination at nonpublic schools that receive some specified state funding. This bill would prohibit schools from refusing enrollment of a prospective student, expelling a current student, withholding privileges from, or otherwise discriminating against, any individual, require schools to provide a reasonable accommodation, and require schools to print a statement of nondiscrimination in their student handbooks. The House of Delegates has passed this bill many times in past years, and MSEA is working hard with Delegate Jheanelle Wilkins (D-Montgomery) and Senator Cory McCray (D-Baltimore City), along with coalition partners Disability Rights Maryland, ACLU, and FreeState Justice to ensure that it passes the Senate and becomes law.
During the second reader debate on Thursday, Delegate Kathy Szeliga (R-Baltimore and Harford counties) attempted to amend the bill with language mirroring the highly controversial "Don't Say Gay" bill from Florida. The amendment, which was overwhelmingly voted down, attempted to completely subvert the purpose of the bill and sparked intense pushback on the House floor.
Union Dues Tax Break Advances in House
Under House Bill 172, sponsored by Delegate Eric Luedtke (D-Montgomery), union dues could be factored in as a subtraction modification from income taxes. The bill passed in the House on second reader and now advances to third reading and final vote in the House before crossing over to the Senate for consideration.
NEWS AND NOTES
Election Results for State Board Teacher Representative Due Next Month
Voting closed March 13 to elect a teacher to the State Board of Education (SBOE). The results will be posted April 11 by the Maryland State Department of Education. The term runs July 1, 2022-June 30, 2026. Three years ago, MSEA fought to create a seat on the board for an active teacher. Incumbent board member Rachel McCusker served the initial two-year term and she received the MSEA Board of Directors' unanimous endorsement in this election.
Federal Funding Breaks Decades-Old Record, But Congress Cuts Biden's Proposals
In federal education funding for FY22 (which runs through September 30), President Biden signed into law Tuesday $76.4 billion in appropriations. This marks the largest increase for federal education programs in a decade. Congress cut out a $20 billion equity grant proposal that would have supported desegregating schools and bumped total Title I spending to over $37 billion. Congress also cut Biden's proposed increase in IDEA funding for students with disabilities. He sought $15.54 billion and Congress allocated $13.34 billion.

CAMPAIGN 2022
Court Orders Primary Election Delayed to July 19
With state and congressional legislative district boundaries in flux due to litigation, the Maryland Court of Appeals ordered the June 28 primary to be moved to July 19. Early voting will now run from July 7-14. The candidate filing deadline has also been moved from March 22 to April 15, and April 21 is the deadline to challenge a candidate's residency. A trial for petitions against the state's legislative map is set to begin on March 23. The special magistrate in that case intends to submit his report to the Court of Appeals, which has jurisdiction, in early April. A case involving the congressional district map is underway in Anne Arundel County Circuit Court.
Endorsements in AG, Gubernatorial, Comptroller Races
Democratic gubernatorial candidate Tom Perez received the endorsement of Service Employees International Union (SEIU) locals 500 and 32BJ, representing 30,000 workers in Maryland.
In the attorney general's race, Democrat Katie Curran O'Malley received endorsements from Delegates Maggie McIntosh (D-Baltimore City) and Regina Boyce (D-Baltimore City). In the comptroller's race, Democrat Tim Adams announced endorsements from a list of Democratic officials including Del. Darryl Barnes (D-Prince George's), the chair of the Legislative Black Caucus, Prince George's County Council President Calvin Hawkins, and, Baltimore City Council President Nick Mosby.