And other legislative updates in this month's Up the Street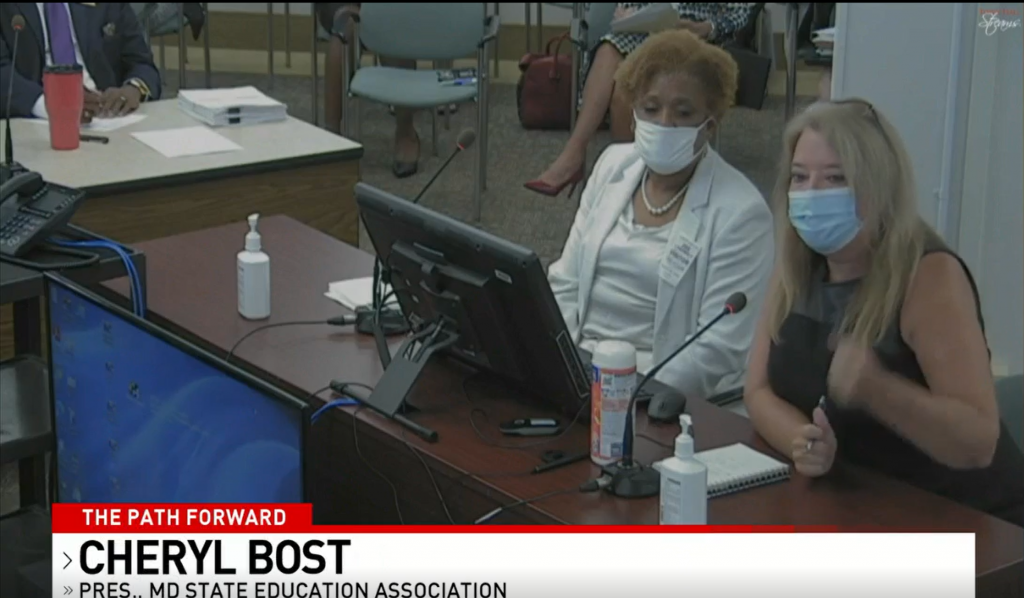 THIS MONTH IN ANNAPOLIS
MSEA Pushes State School Board to Enact Emergency Mask Regulation to Support Safe In-Person Education
MSEA celebrated a victory for safe and sustainable in-person education when a statewide mask mandate for schools was approved by the General Assembly's Administrative, Executive, and Legislative Review (AELR) Committee on September 14. MSEA President Cheryl Bost and several other education activists successfully advocated before the State Board of Education (SBOE) last month for emergency regulations to reinforce the SBOE's stated priority to keep students and educators safely learning in person during the coronavirus pandemic. The emergency regulation can remain in effect for up to 180 days. It required approval from the AELR, which was forced unnecessarily by House GOP committee members to wait 10 days and have a hearing before approving the emergency regulation. AELR and General Assembly leadership asked Gov. Hogan to waive AELR's standard waiting period, but Hogan refused to take action. The regulations passed on a party-line vote, with all Republicans opposing this medically-recommended step for safe in-person learning—the very mode of learning called for by the same legislators who voted against the regulations.
Enforcement of the mandate now will be critical and educators will need clear guidance and support in these efforts. MSEA continues to push the State Department of Education on such guidance, while also advocating with the department and with local school systems for clarity related to quarantine protocols and leave policies.
Governor Stalls Blueprint Accountability and Implementation Board
Hogan continues to attempt to impede progress of the Blueprint for Maryland's Future even as it has started to transform education. He needlessly delayed until the last minute the appointment of the Accountability and Implementation Board (AIB) responsible for the Blueprint's implementation. He tried to reject the bipartisan AIB Nominating Committee's list of AIB candidates, dismissing the effort the committee made to select candidates who possess the combination of expertise and demographic characteristics desired. The committee agreed unanimously on the slate of nine candidates (complete coverage in September's Up the Street) sent to Hogan on September 1, and refused Hogan's September 15 request to reopen applications. By law, he had 30 days to appoint seven to the AIB. This group will begin work immediately, though the state Senate will still need to review and consent.
On October 1, the last possible day to make appointments, Hogan selected the following individuals from the AIB Nominating Committee's list: Mara Doss, Fagan Harris, William "Brit" Kirwan, Isiah "Ike" Leggett, Jennifer Lynch, Joseph Manko, and Laura Stapleton.
Hogan's delay compounds the damage he did by vetoing the Blueprint in 2020. That postponed the formation of the central accountability systems required for its implementation. The AIB needs to hire an executive director and staff to support implementation. Meanwhile deadlines are pressing: October 1 was the deadline for local school systems to report to the Department of Legislative Services the number and percentage of students eligible for free and reduced-price meals, a count that affects several Blueprint calculations. By November 1, the AIB must produce a public report on progress made on implementing the Blueprint so far, including how well state and local entities are carrying out their responsibilities, whether funding is sufficient, and whether any legislative adjustment should be made to the law in the 2022 session that begins on January 12. By February 15 next year, the AIB must produce a comprehensive statewide Blueprint implementation plan, which will define outcomes and metrics and serve as a model for local education systems' implementation plans. The local plans are due June 15.
NEWS AND NOTES
Student Quarantine Numbers, School Transportation, and Educator Shortages Become Major Challenges for School Year
As of the most recent SBOE meeting on September 22, there have been 17,490 students and 875 staff members quarantined during the first weeks that Maryland schools have returned to in-person instruction. There also have been 4,282 confirmed student cases of the coronavirus and 727 confirmed cases amongst staff. Maryland is also coping with the shortage of school bus drivers occurring nationwide that has created a crisis for schools as students return to classrooms. MSEA President Cheryl Bost, in remarks to the SBOE, emphasized the large amount of classroom and substitute vacancies in local systems and warned of looming educator shortages exacerbated by the pandemic.
Funding for Blueprint Benefits from Increased Casino Revenues
MSEA's successful fight to see gambling revenues used for increases in school funding continues to pay dividends as September's gaming revenue topped $165 million. This is a shot in the arm for the Education Trust Fund (ETF) that supports the Blueprint. Contributions to the ETF in September 2021 were $50,147,043, an increase of $6,743,438 (15.6%) compared to the $43,403,605 in ETF contributions during September 2020.
Additional Blueprint Funding Pending Sports Betting Rollout
Before the end of the year, legal sports betting around the state could be generating revenue for the Blueprint for Maryland's Future. The licensing process for betting establishments that was set in the 2021 legislation automatically qualified the state's existing gambling sites and operators to apply for a license. License seekers that are not already operating in Maryland must undergo background checks to apply for a license. On October 6, the Maryland Lottery and Gaming Control Commission voted unanimously that three of Maryland's existing casinos meet the standards in Maryland's new sports wagering law. The next step in the process is a review by the Sports Wagering Application Review Commission (SWARC), which will oversee awarding licenses. However, there may be delays in the sports wagering rollout. During the most recent SWARC meeting, after a closed-door briefing by the attorney general's office, members voted to redo a disparity study to find if there have been groups that have been historically discriminated against in the awarding of licenses similar to the new license for sports wagering.
CAMPAIGN 2022
King's Education Plan Released
Democratic gubernatorial candidate John King laid out an education plan centering on the implementation of the Blueprint for Maryland's Future and including a promise of higher education for 70% of Marylanders.
Early last month, author and Democratic gubernatorial candidate Wes Moore received an endorsement from Anne Arundel County Executive Steuart Pittman. Moore picked up seven additional endorsements from elected officials in West Baltimore. The list includes the entire District 40 legislative delegation and City councilmembers John T. Bullock, Phylicia Porter, and James Torrence.
New Delegate Picked for District 23B
On September 29, the governor appointed Cheryl Landis, the former chair of the Prince George's County Democratic Central Committee, to fill the vacancy created after now Senator Ronald L. Watson (D) filled the District 23 Senate vacancy caused by the resignation of former Senator Douglas J.J. Peters (D).
Kittleman Throws Hat into Ring for Howard County Executive
Former state Senator and former Howard County Executive Allan Kittleman (R) will run to reclaim the county executive position he lost to Calvin Ball (D) in 2018. Ball bested Kittleman 53%-47% in that race.