And other legislative updates in this month's Up the Street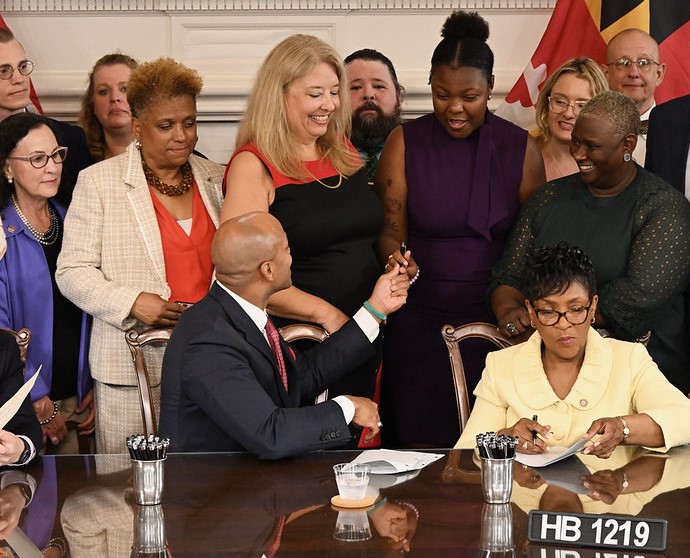 THIS MONTH IN ANNAPOLIS
Pro-Public Education Laws Enacted; Supports for Educators Expand
On May 16, during Gov. Moore's final signing ceremony to enact laws passed in the 2023 General Assembly session, he signed several bills that positively impact students and educators, chief among them the Maryland Educator Shortage Reduction Act, House Bill 1219. Aspiring educator Jailyn Bridgeforth, whose powerful testimony informed legislators about the financial obstacles confronting aspiring educators, attended the signing with MSEA President Cheryl Bost, Vice President Theresa Dudley, and scores of other supporters. Although the law was amended from Moore's original proposal, it will expand a program to offer stipends to student teachers, distribute funding to encourage future educators from among students attending historically black colleges and universities, and increase the Janet L. Hoffman loan assistance program, including by broadening the program's eligibility.
Moore also signed into law gun safety and youth suicide prevention legislation, Senate Bill 858, named Jaelynn's Law for high school student Jaelynn Willey, who was killed by a classmate who had access to his father's gun. MSEA supported the law to address the crisis of gun violence that is killing too many students and educators and traumatizing many more. The National Rifle Association has sued to repeal the law, which would prohibit gun ownership for people who are convicted of storing firearms where an unsupervised child accessed them, resulting in injury or death.
Addressing childhood poverty and hunger, the governor signed Senate Bill 559, a nearly 60% expansion of the Meals for Achievement in-classroom breakfast program. It increases the funding from $7.55 million to $12.05 million. MSEA testified in support of this legislation because educators know that for too many students, the only source of a nutritious meal they might have in a day is at their school. Between March and April, food insecurity grew by 20% among families earning incomes between $35,000 and $70,000, with 36% of Maryland families surveyed reporting that their children were sometimes not eating enough due to the cost of food, according to the Maryland Food Bank.
By May 26, Moore had signed into law all 10 bills of his first legislative package, and 796 of 810 bills that passed this legislative session. He vetoed four, two for being duplicative, and he allowed 10 bills to become law without his signature. With the books closed on his first legislative session, Moore succeeded in acting on campaign promises to ensure all Marylanders have opportunities to live healthier and safer lives, get a world-class education, and obtain meaningful work at livable wages.
Blueprint Funding Source Spared by Maryland Supreme Court
A major Blueprint revenue stream that faced legal challenges from big technology companies remains in force, while still being challenged, following a State Supreme Court decision May 9. The digital advertising tax that went into effect in fiscal year 2022 applies to companies based on the amount of money they make from digital ads shown to Maryland consumers. The tax, ranging from 2.5% to 10%, applies only to companies making at least $100 million per year globally from digital ads, such as Google and Facebook, and the tax applies only to their share of advertising within Maryland. The first-of-its-kind digital ad tax has been estimated to raise up to $250 million annually to support the Blueprint, and the state reported receiving $107 million so far. Given the litigation and one lower court's ruling against the tax, the state refunded more than $14 million to taxpayers requesting that their payments be returned.
The Maryland Supreme Court heard the state's appeal of the Anne Arundel County Circuit Court's ruling that the tax is unconstitutional. The Supreme Court sent the case back to the Anne Arundel County Circuit Court, with orders to dismiss it because the plaintiffs, Comcast and Verizon, have not exhausted administrative remedies. Separately, a federal lawsuit brought by the U.S. Chamber of Commerce and others is pending before the United States Court of Appeals for the Fourth Circuit.
Maryland Attorney General Anthony Brown, whose office defended the tax in court, praised the Maryland Supreme Court's decision, "because the revenues generated by this tax will help us provide our children the best education possible for success."
NEWS AND NOTES
Interest in Cardin's U.S. Senate Seat Grows; Trone's Plan Starts Race in 6th District
The number of contenders for the U.S. Senate seat held by Sen. Ben Cardin (D-Md) and the political ripple effect of his retirement next year continue to expand. Prince George's County Executive Angela Alsobrooks (D) entered the race with support from Baltimore County Executive Johnny Olszewski (D), who declined to run, Anne Arundel County Executive Steuart Pittman, and other elected officials. Following Cardin's announcement last month that he would not seek a fourth term, Montgomery County Councilmember Will Jawando (D) and U.S. Rep. David Trone (D-6th) announced their plans. Trone has since launched a seven-figure statewide ad buy outlining aspects of his platform. U.S. Rep. Jamie Raskin (D-8th) is expected to make a decision this month.
Also running are Democrats Jerome Segal, a Montgomery County activist, and Steven Seuferer of Montgomery County; Republicans Ray Bly of Howard County and Robin Ficker of Montgomery County; and Moshe Y. Landman, a Green Party candidate from Montgomery County.
The 6th District is a competitive district that includes parts of Montgomery County and most of Western Maryland. Delegate Joe Vogel (D-Montgomery County) and Delegate Lesley Lopez (D-Montgomery County) have announced their campaigns for the seat.
House Majority Leader, Other Leadership Positions Shift; Delegates Join Administration
House Speaker Adrienne Jones (D-Baltimore County) announced appointments and prospective nominees for several House leadership positions, including speaker pro tem. For that position she intends in January to support Del. Dana Stein (D-Baltimore County), vice chair of the House Environment and Transportation Committee, to replace Sheree Sample-Hughes (D-Dorchester and Wicomico counties), who had served since Jones became speaker in 2019. Jones appointed Delegate Marc Korman (D-Montgomery) as chair for the House Transportation and the Environment Committee, given the resignation of Delegate Kumar Barve (D-Montgomery) to join the Maryland Public Service Commission, and she appointed Delegate David Moon (D-Montgomery) to take Korman's place as House majority leader.
The Montgomery County Democratic Central Committee will vote June 14 to make a recommendation to Gov. Moore to fill Barve's district seat.
Cheryl Bost on New Education Podcast
The "Brick and Mortar: Education from the Inside Out" podcast founded and hosted by Delegate Eric Ebersole (D-Baltimore County) and MSEA Board of Directors member Matt Gresick welcomed Bost to discuss the strength and value of educators' collective voices to meet today's public education challenges.