And other legislative updates in this month's Up the Street
THIS MONTH IN ANNAPOLIS
Reopening Schools: Listen to the Educators
In the middle of July, and in the absence of meaningful plans to safely reopen schools, MSEA, the Baltimore Teachers Union, and Maryland PTA jointly sent a letter to Superintendent Karen Salmon and Gov. Larry Hogan calling for the school year to begin with virtual learning and instruction for the first semester. The letter argued that a safe and healthy learning environment has to be the priority, and that focusing on virtual learning now would better assure a successful start to the school year and put everyone on a better footing if the coronavirus requires future school closures. By July 22—when Salmon announced that the state would leave the decision about how to reopen schools with local districts—nine districts had already committed to virtual fall semesters. That number has only grown since then; and every district that has finalized their plan will return virtually for at least the first quarter. A few districts will not submit their plan until next week.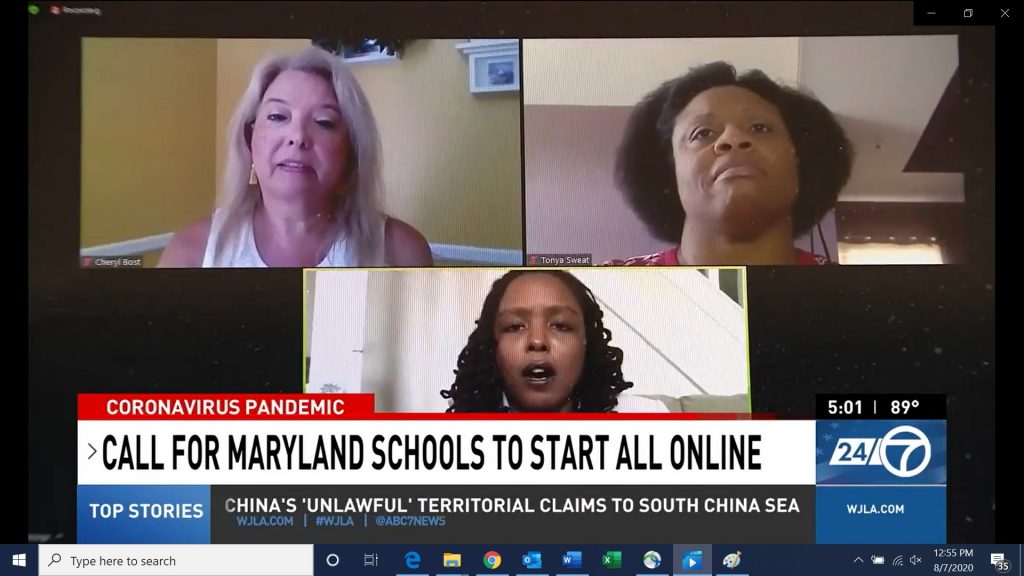 To safely reopen school buildings, districts need to be guided by science and the expertise of educators while also guaranteeing the funding and support schools need to be safe and successful. The educators who know our students and our schools best must be at the table and drive decisions about how to make the school year as successful as possible. Ignoring the voices and concerns of educators, while asking them to risk their health, would be an irresponsible path forward for any district. Educators want to be back in school with students and know that in-person learning is better for academic and social-emotional support than virtual learning, but safety is the priority.
Funding Essential for Coronavirus Recovery
In July, Gov. Hogan proposed $345 million in cuts from education-related funding for this current fiscal year. While he was initially rebuffed by Comptroller Peter Franchot and Treasurer Nancy Kopp, he is expected to renew some of the cut proposals to the Board of Public Works. The agenda for next week's meeting does not include education cuts, but without clarity of federal stimulus relief, it is expected that the governor will try again at the Board's September 2 meeting. MSEA successfully rallied members and allies back in July, and we will be prepared to do it again. Please stay tuned and ready to act to keep the pressure and encouragement on Comptroller Franchot and Treasurer Kopp to prevent further cuts.
In addition to preventing state level cuts to our schools, collective action is needed to demand that Congress pass a new stimulus bill. NEA has collected helpful information and actions about the education stabilization funds, state and local government support, unemployment benefits, and an array of other vital supports that must be included in a compromise proposal. You can use the NEA link to contact our Members of Congress and ask for their support and leadership.
Override the Veto of the Blueprint for Maryland's Future
Our kids can't wait any longer for the funding and support they deserve, and the state's economic future depends on it. Closing the gaps exacerbated by the digital divide and eliminating inequities that the pandemic has deepened make the Blueprint for Maryland's Future more relevant than ever. Hogan's veto of the Blueprint has delayed progress toward more equitably funding education, and we need legislators to override the veto as soon as possible.
NEWS AND NOTES
Changes in Annapolis: Serafini Resigns
After 12 years serving in Annapolis, Sen. Andrew Serafini, R-District 2, resigned his office effective August 1. In a letter to colleagues, he cited frustration and fatigue associated with spending so much time away from Washington County. He served on the Senate Budget and Taxation Committee, where he had respect from both sides of the aisle for his budget acumen. He was a leading Republican voice to support the Blueprint for Maryland's Future in the 2020 session. The Washington County Republican Central Committee is responsible for naming a replacement and is limiting candidates for nomination to members of the current legislative delegation. Delegate Neil Parrott, District 2A, is continuing his bid for Maryland's 6th Congressional District and will not pursue the appointment. That leaves delegates Paul Corderman, District 2B, and William (Bill) Wivell, District 2A. Assuming one of the delegates is appointed, the County Central Committee will then have a House vacancy to fill.
A New School Year Begins for the State School Board
The July meeting of the State Board of Education included the welcoming of new Board members and the election of new leadership. The Board unanimously elected Clarence Crawford as president and Jean Halle as vice president for the 2020-2021 term. The new members include Shawn Bartley, Susan Getty, Holly Wilcox, and student member Jason Wu.
MSEA Demands Answers from State Board
At the same July meeting of the State Board, MSEA President Bost publicized her written request to Board member Dr. Vermelle Greene for an explanation about the selection process used to fill the new Task Force on Achieving Academic Equity and Excellence for Black Boys. Greene, chair of the task force, proposed its formation in June to examine best practices and opportunities to raise achievement among Black boys. Bost immediately requested information so that MSEA members might apply to bring their expertise to the task force. No information was provided to Bost or found on the website before the announcement of committee members was made in July.
Maryland Maintains AAA Bond Rating
The nation's three major bond rating agencies—Fitch Ratings, Moody's Investors Services, and S&P Global Ratings—reaffirmed Maryland's AAA bond rating ahead of a July 22 $1.1 billion bond sale. Maryland is one of 13 states to hold the highest possible rating, which allows the state to borrow money at lower interest rates for capital projects like school construction. Last month's bond sale went particularly well given the current economic conditions and produced a record $180 million in bond premiums and $60 million savings in debt service for this fiscal year. This successful sale shows that investors have great confidence in Maryland's economy moving forward.
Check It Out: MSEA's Brand Centered on Power, Solidarity
MSEA has rebranded and has a new logo to represent and reflect the power of Maryland's diverse team of educators and the professionalism and creativity with which they address their work. The new brand also means a new design for the Up the Street newsletter. We hope you like it!
CAMPAIGN 2020
With 88 Days to Go, Still Waiting for Final General Election Plan
Last month, Gov. Hogan declared that he wanted all precincts in the state open for early voting and election day voting as if 2020 is a normal election. Since that time, voting rights groups and local election officials have pushed back on the governor and asked him to amend his order to account for the realities of health concerns of a pandemic, especially among election judges and volunteers who are reluctant to serve. The Maryland Association of Election Officials (MAEO) has specifically urged the governor to adjust course by expanding more vote by mail and reduce in-person options to no more than 128 voting centers (rather than the 1,000+ precinct locations).
Gov. Hogan has resisted calls for universal vote-by-mail by sending every eligible voter a ballot as was done in the primary election. But with nearly every county reporting the need to consolidate polling locations because of the lack of volunteers, the State Board of Elections is poised to meet at 2 p.m. today to consider the MAEO proposal and possibly recommend further changes to the governor. It is time to act and make it clear and safe for Marylanders to vote this year.
Whatever the Board of Elections and Gov. Hogan decide, MSEA will run an aggressive campaign to promote voting and encourage members and voters alike to use www.MDAppleBallot.com to identify educator-recommended candidates in their district. We will also encourage vote by mail as the safest and healthiest way to send a strong message about the direction of our country and our state.
Virtual Educator Town Hall with Dr. Jill Biden
Last night, Dr. Jill Biden joined NEA President Lily Eskelsen Garcia for a virtual town hall on reopening schools. In declaring that a Joe Biden Administration would make education a priority, Dr. Biden said, "The best policies don't come from politics, they come from educators." To be part of the most consequential election in lifetimes, sign up to be an Educator for Joe.