And other legislative updates in this week's Up the Street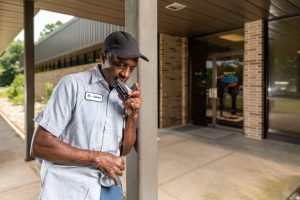 THIS WEEK IN ANNAPOLIS
MSEA Pushes for Pay Raises for Education Support Professionals
MSEA is leading the push for legislation this session to raise wages for education support professionals (ESPs). ESPs provide our students with transportation, nutritious meals, classroom support, technology support, and more, but they are typically not paid according to the value of their work and skill levels. Right now, about half of ESPs in Maryland make less than $35,000 a year. We must do better.
Filling ESP positions was hard before the pandemic, and it has reached crisis levels, with staffing shortages evident in jurisdictions across the state. Senate Bill 831/House Bill 1349 would give ESPs $500 bonuses in FY2023 and FY24 to provide short-term relief, and it would establish a workgroup to explore the best ways to improve ESP wages for the long term. The first hearing on the bill is scheduled for 1 p.m. on March 9 in the Senate Budget and Taxation Committee. Click here to contact your legislators and urge them to support this legislation to raise ESP wages.
Educators Look for Relief from Crushing Workload in Class Size Bargaining Rights
MSEA is also the leading voice to pass House Bill 890/Senate Bill 962 to relieve the crushing workloads and overcrowded classrooms that are discouraging educators from staying in the profession around the state. A statewide poll MSEA conducted found that classes are so large, stress levels so high, and staffing shortages so prevalent that a majority of educators are more likely to leave the profession or retire early than they were prior to the pandemic. The poll found that giving educators the right to bargain class size would have a sizable impact on their working conditions and likelihood to remain in the profession.
Poll findings include:
96% of educators say staff shortages are a serious or very serious concern
92% of educators say that their workload is a serious or very serious concern
60% of educators are more likely to leave the profession or retire earlier than they'd planned due to the pandemic
61% of educators said they would be somewhat or much more likely to stay in the profession if class sizes could be lowered
90% of educators said that having the ability to lower class sizes would somewhat or greatly improve their working conditions
The poll was covered by WBAL-TV, WTOP, and other news outlets.
The class size legislation will have a hearing in the House Ways and Means Committee at 1 p.m. on March 3. Click here to contact your legislators and urge them to give educators a voice in class sizes.
Blueprint Coalition Rallies to Restore Funding Denied by Hogan
Several Blueprint for Maryland's Future Coalition members, including MSEA, spoke out at a press conference on Thursday to fight Gov. Hogan's blatant disregard for education funding in historically underserved communities in his proposed budget. Among $140 million in Blueprint funding Hogan did not include for fiscal year 2023 was $99 million in education effort adjustment funding for Baltimore City and $26.5 million for Prince George's County to help them implement the new programs. On Thursday, representatives from MSEA, Strong Schools Maryland, the Baltimore Teachers Union, the Maryland Center on Economic Policy, Baltimore City Delegation Chair Del. Stephanie Smith, Prince George's County Delegation Chair Del. Nick Charles, and others joined for a press conference to request that Hogan restore the Blueprint funding he left out of his budget through a supplemental budget. Speakers remarked that the failure to fund the Blueprint fully demonstrates Hogan's consistent refusal to give all students, especially those in historically underserved communities, the same opportunity to pursue their dreams through a high-quality education.
Virtual School Matters; MSEA Describes Programmatic Design Expectations
With the acknowledgement that virtual, or remote, education may continue in some form in the future, guardrails for what that could look like have become more important to establish. On Wednesday, Howard County Education Association President Colleen Morris and MSEA Executive Director Sean Johnson spoke at the Senate Education, Health, and Environmental Affairs Committee to advocate for virtual education legislation to create clear guardrails, ensure that students get individual attention, set maximum class sizes, and employ school system-based educators rather than outside contractors. Morris previously served on a workgroup in the lead-up to session, which helped to develop SB362. "There are some bad actors in this [virtual learning] space—we are seeing it in consortium models…that go down this proliferation of for-profit interests," Johnson said. "Creating guardrails that protects students' rights to a free and appropriate public education is essential," Morris argued.
NEWS AND NOTES
AIB and MSDE Seek Extra Months to Ramp up Blueprint for Maryland's Future
Still reckoning with the intentional delays that Hogan's veto and slow nomination process caused, the Blueprint Accountability and Implementation Board (AIB) on Monday voted to request General Assembly approval for a new timeline to meet the Blueprint's deadlines. Before a joint hearing of the House Appropriations and Ways and Means committees on Thursday, AIB Chairman Isiah Leggett said his board is prepared to collaborate closely with the Maryland State Department of Education (MSDE) and other stakeholders while developing its required comprehensive implementation plan. The AIB's comprehensive plan will guide MSDE's Blueprint implementation plan, and it was originally due on Tuesday. However, the delay in seating the AIB—whose members the Senate officially confirmed on Tuesday—made developing a plan for the next dozen years by February 15 impossible. The AIB proposes to have a draft plan in the fall, ready for public comment, and adoption of the plan by December.
Also at the joint House hearing, State School Superintendent Mohammed Choudhury proposed an adjusted timeline for his office's Blueprint implementation, including periods throughout the next few months for public input and for work with local education agencies (LEAs) while developing the plan that will guide the LEAs.
Federal Relief Funds to Flow through MSDE to LEAs for Pandemic Recovery
The National Education Association (NEA) reported positive news that federal coronavirus relief funds can be used to pay for substitute teachers, raise salaries, hire teachers, and more to address the effects of the pandemic on staffing levels. Indeed MSDE recently announced $150 million in grants available to local education agencies out of federal coronavirus relief funds available to address the effects of the pandemic on students and schools, including staff shortages, support for prospective educators, and targeted support for historically underserved students and communities. NEA also reported that community schools are back on a priority list under the Biden Administration, and schools most in need will benefit from the U.S. Department of Education's full-service community schools competitive grant program.
CAMPAIGN 2022
Candidates' Filing Deadline Extended as Court of Appeals Hears Case Against District Map
The filing deadline for candidates to participate in the June 28 primary has been extended from February 22 to March 22. The Maryland Court of Appeals, which is hearing a case that has slowed enacting the new legislative district map that the General Assembly approved, authorized the deadline extension. On Thursday, the court tentatively set some evidentiary and discovery deadlines that raised concerns for Andrea Trento, representing the Board of Elections. He said the tentative schedule to have the case settled by early April makes time very tight before the June 28 primary.