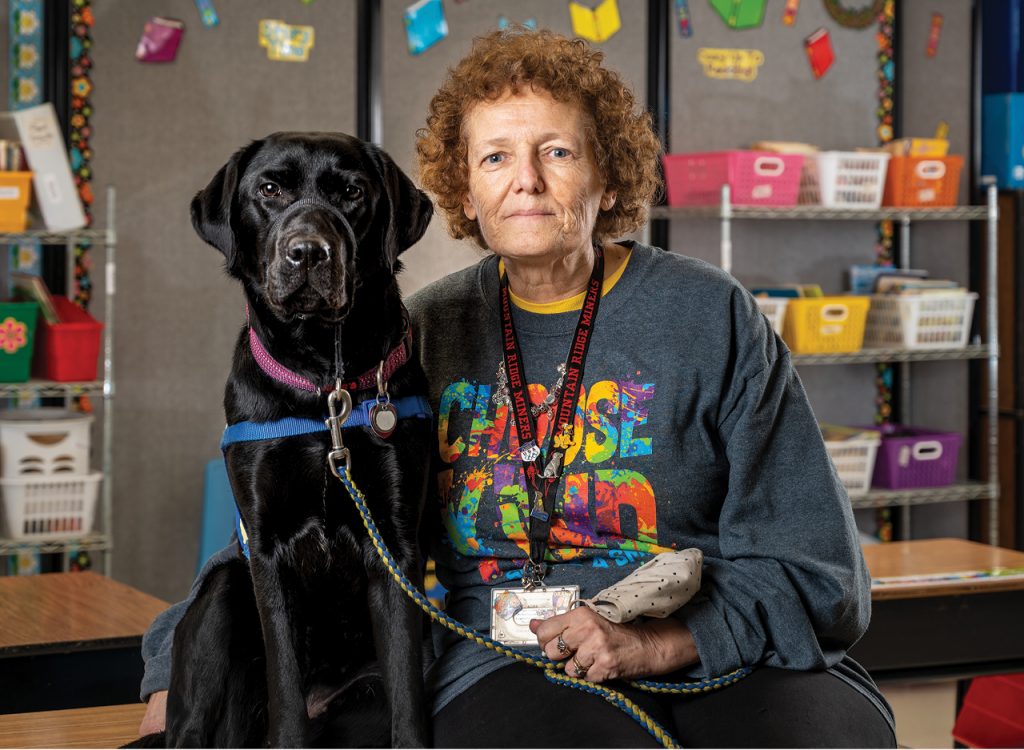 Meet Angel!
I would like to introduce Angel. She is a 16-month-old female black Labrador who is training to become a service dog for Canine Companions for Independence (CCI). Angel is one of 15 pups my family and I have raised with the support, kindness, and help of the staff and students of South Penn Elementary School. When she returns to CCI after 18 months with my family, she'll know 40 basic commands! At CCI, she'll receive the professional training she needs to become a wonderful service dog. My family volunteers to train, feed, and cover vet bills so Angel can be placed with her new companion free of charge.
Angel accompanies me to school daily. There we find our duties to be exciting and fun. I assist the teacher in instruction and use sign language to interpret spoken word into a visual language for hearing-impaired students.
Angel's presence in South Penn brings smiles, dries tears, calms fears, and reduces anxiety. At any given time, she can be seen walking through our school halls with a student cheerfully walking beside her. Other times you can walk into a classroom and see a student sitting on the floor beside Angel as they take a test. If you venture into a preschool room, you can find Angel wearing a student's backpack, holding a favorite color crayon to hand to a student, or performing the command that they all love the most, "SHAKE HI ANGEL!"
We do a lot of signing in Angel's classroom and many of the students are becoming fluent. It is one of my greatest joys when a student approaches me in public, acknowledges Angel with a huge smile, and immediately signs a sit command followed by "good girl" and a pat on the head. Surprised parents are soon smiling as their child says, "This is Angel, and she goes to my school."
Come to visit the school office and you can see Angel assisting our school secretary. Recently, Angel and our principal, Scott Sisler, were in a cookie-eating challenge on a school virtual game night. The students and their families loved it and so did Angel! If you're wondering who won, it wasn't Mr. Sisler.
Angel has opened doors for many children at school. I treasure watching the magic she performs daily without judgment towards anyone. If she visits a classroom to sit with someone who has earned "Angel Time" because they are having a good morning, it makes my day. When a shy, non-verbal student learns Angel's name in sign language and then gestures to show her to their class, that goes into the highlight reel of my life. These pups in training to become service dogs bring incredible joy. It may look like it is all about the smiles that come from students in Angel's presence, but she and
I are loving it just as much.
Latest News