And other legislative updates in this month's Up the Street
This Month in Annapolis
MSEA Develops Checklist to Reopen Schools Safely
MSEA has consistently called for the implementation of specific safety measures while state school officials have failed to deliver clear standards and resources to ensure safe in-person instruction. Lack of leadership from Superintendent Karen Salmon and the State Board of Education (SBOE) drew criticism from the Senate Education, Health and Environmental Affairs (EHEA) Committee at an October 21 hearing. Committee members heard and echoed concerns about this failure from local superintendents, health officials, and stakeholders, including MSEA President Cheryl Bost.
Meanwhile, MSEA, the Maryland PTA, and the Baltimore Teachers Union agreed on a health and safety checklist to provide educators, parents, communities, and school officials with a simple way to gauge the readiness of their school buildings to reopen safely and sustainably. Throughout October Salmon and Governor Hogan continued their line of confusing and misleading messages, endorsing hasty reopening that may appeal to political positions but disregard the conditions in underfunded school systems. A new state dashboard that Salmon touted to the SBOE on October 22 does not ensure safe conditions. It measures just six health and safety items and five related to athletics.
Support for Safety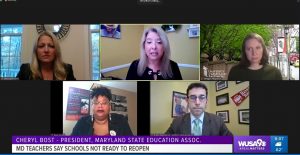 MSEA conducted a widely covered virtual press conference on October 27 to lay out expectations to safely reopen schools for in-person instruction and call for more manageable workloads and greater transparency. Results were presented from a poll of Maryland educators that found overwhelming support of 90% or more for a wide range of safety requirements to be in place before reopening. At the conference Bost was joined by teachers Pam Gaddy (Baltimore County) and Melinda Kearns (St. Mary's) and UMD epidemiologist Dr. Meagan Fitzpatrick. The teachers emphasized that workloads in the virtual or hybrid environments are expanding to unhealthy and unsustainable levels. State Comptroller Peter Franchot and other legislators are in support of MSEA's position for more transparent data about cases in schools. In the checklist that MSEA designed to open schools safely, transparency is essential and must be in place to do the requisite contact tracing.
What Is Still Missing?
At the October 27 SBOE meeting Salmon said neither she nor anyone from MSDE spoke at the October 21 EHEA hearing because they were not invited. She then presented information that attempted to rebut the accusation by local school districts that they have received too few resources from the state to safely reopen. Describing the distribution of CARES Act funds, Salmon disingenuously comingled greater amounts of funding that filled gaps last school year with lesser amounts that are available so far this year. Salmon and Hogan have distributed 3% of the $486 per student that superintendents say they need to perform the building retrofits, upgrades, equipment, and maintenance requirements to stay safe during the pandemic. They are telling MSDE that their budgets may run out by February, which may be right after Hogan makes $200 million in education budget cuts that he has recommended and may pursue in January. MSEA has a summary you can share about the truth about the inadequate amount of funding proffered by Salmon and Hogan.
NEWS AND NOTES
MSEA Welcomes New Legislative Director Pokuaa Owusu-Acheaw
Fresh from her role as intergovernmental affairs officer for Prince George's County Executive Angela Alsobrooks, Pokuaa "PK" Owusu-Acheaw has become MSEA's managing director for political and legislative affairs. She fills the position left when Sean Johnson became MSEA's executive director. The daughter of a retired union educator, Pokuaa has also served as Sen. Chris Van Hollen's Prince George's County regional director and Sen. Joanne Benson's chief of staff.
Rising Cases Negate Reopening
This week the increased positivity rates and cases caused three counties to delay their scheduled returns to in-person teaching. Baltimore County has delayed indefinitely its planned November 16 return, Charles County delayed its return plans, and Anne Arundel pushed their reopening date to the second semester. On Thursday evening, Somerset County announced that all schools would close for two weeks due to rising cases. The escalating numbers make it more important than ever to use the health and safety checklist and fight for safety before reopening to in-person instruction.
Testing, Graduation Requirements, Waivers
MSDE will not issue new school report cards per the Every Student Succeeds Act (ESSA) for the 2019-20 school year due to USDE testing waivers and incomplete data. Report car ratings from the prior year will remain. Schools currently rated TSI and CSI will retain that identification and keep receiving funds for this school year. MSDE has requested a waiver from COMAR graduation requirements to pass the Algebra 1 and English 10 assessment tests. This year's junior class, like last year's seniors, must take and pass the courses. Juniors must sit for the Maryland Comprehensive Assessment Program (MCAP) Algebra and English tests, but passing the tests is not a graduation requirement.
MSDE waived the requirement for students to be vaccinated in order to be counted in the September 30 student enrollment count. This was a positive action and increased the estimated enrollment count by roughly 20,000 students. That still reflects more than a 1.5% decrease in projected enrollment from the prior year and likely a 3%-4% miss from what actual enrollment will be in the 2021-2022 school year if there is a normal start to that year. This is a major area of concern in the crafting of the 2022 state budget, considering the funding formula is based on per pupil enrollment counts. MSEA will prioritize addressing this funding gap in our budget advocacy during the upcoming legislative session and in our work before session with the administration and the Department of Budget and Management.
CAMPAIGN 2020
Election Victories to Celebrate
As we await certification of the will of the people in the presidential race, educators in Maryland are celebrating that 85% of measures and candidates recommended by MSEA and local associations won. Two critical state budgetary measures passed: Question 1, which creates a more balanced and inclusive approach to the state budget and better allows legislators to protect funding for priorities like public schools, and Question 2, which authorizes sports gambling that may raise millions of dollars annually for education funding. During the next legislative session decisions must be made about how and where the gambling can occur and how the revenue will flow to supporting schools. We expect the measure to increase school funding by millions per year—in addition to, not instead of, other revenue sources. All the federal candidates where MSEA had a recommendation won convincingly.
A number of our local affiliates won significant ballot questions, board of education seats, and county council seats: 6 of 6 ballot questions in Cecil, Howard, and Montgomery counties; 1 of 2 county council seats (in Cecil and Wicomico); 23 of 31 local board of education seats (in Anne Arundel, Calvert, Caroline, Carroll, Cecil, Dorchester, Howard, Montgomery, Prince George's, Queen Anne's, St. Mary's, Washington, and Worcester). Educator voices will be strengthened through the election of educators to the Anne Arundel, Caroline, and Dorchester boards of education. Caroline County elected a retired educator in their first board of education elections, and Calvert, Carroll, Cecil, Dorchester, Prince George's, and Worcester educators successfully swept in at least two board of education candidates each without losing any races. Educators will look to build on this success during the 2022 campaign, which will feature an open governor's race and every seat in the legislature.