And other legislative updates in this month's Up the Street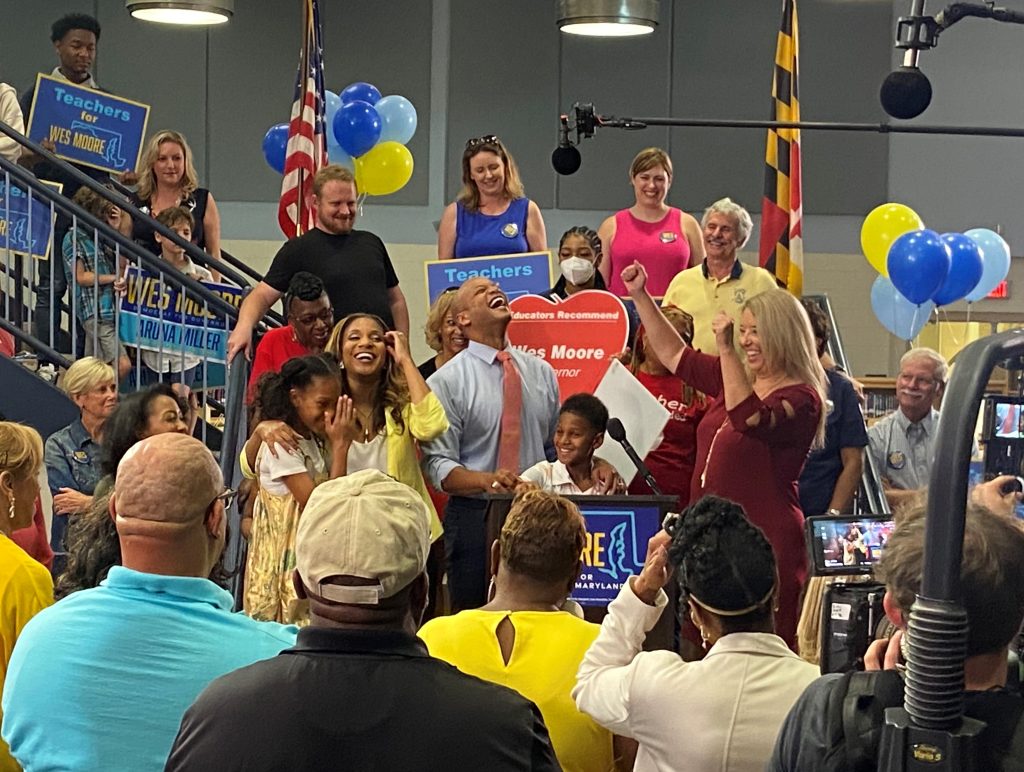 THIS MONTH IN ANNAPOLIS
MSEA's Recommended Candidates Sweep Primary Races across State
While some votes are still being counted, it's clear that at least 84% of MSEA-endorsed candidates swept to victory in the July 19 primary, giving educators an excellent opportunity to see champions for schools and students hold elected office at many different levels. Included in the win column are candidates for county executive, school board, county councils/commissions, the state House and Senate, and the statewide offices of governor, comptroller, and attorney general. MSEA's endorsements proved to be significant and game-changing up and down the primary ballot.
Maryland Matters declared MSEA a "winner" in their list of primary election winners and losers; MSEA is the only major organization to back the successful Democratic statewide candidates: Wes Moore for governor, Brooke Lierman for comptroller, and Anthony Brown for attorney general.
The general election choice between gubernatorial candidates is a stark one, with Dan Cox as the Republican candidate. Supported by Donald Trump, Cox proposes to censor curriculum, take public money for public schools and give it to private schools, and thwart racial and social justice. Brown's opponent has been labeled a white supremacist who is in no way qualified or trustworthy to advance the cause of racial-social justice for Black and Brown people disproportionately impacted by the justice system or to help dismantle the school-to-prison pipeline. The November election will provide some of the clearest choices between state-level candidates that Marylanders have seen in a long time—and the stakes will be high.
Recent U.S. Supreme Court rulings make the 2022 state elections more important than ever to ensure students have a future with the civil rights, human rights, and the access to outstanding public schools that they all deserve. MSEA will continue to rally members and supporters to elect pro-public education local and statewide candidates in the November general election.
NEWS AND NOTES
Conditional Teachers Get Break; State Board Waives Certification Deadlines
The Maryland State Board of Education (SBOE) voted July 26 for a three-year waiver of the regulation governing conditional teachers to help address some of the dire staffing shortages around the state. However, just extra time is not enough, SBOE teacher member Rachel McCusker and MSEA President Cheryl Bost told the board. They urged the board to make sure conditional teachers get mentoring and appropriate support in addition to time to complete requirements for certification.
Maryland districts employed 3,567 conditionally certified teachers during the 2021-2022 school year, double the number employed five years ago. Several hundred of those desperately needed educators were not able to complete all requirements and teach at the same time.
Bost, local superintendents, and State Superintendent Mohammed Choudhury impressed upon the board that staffing shortages have been exacerbated by the pandemic and the time constraints for conditional educators worsen the problem. The SBOE voted to allow local school districts the discretion to extend conditional certificates for up to an additional two years for conditional teachers and resident teachers to meet the requirements to qualify them to stay in the classroom.
AIB Selects Educators among 24 to Serve in Blueprint Implementation Advisory Roles
The Accountability and Implementation Board (AIB) tasked with overseeing implementation of the Blueprint for Maryland's Future had a pool of more than 200 applicants to serve in advisory roles on subcommittees aligned with four of the Blueprint's pillars: early childhood education, high quality and diverse teachers and leaders, college and career readiness, and resources to ensure all students are successful. At least five current or former MSEA members were among the 24 committee appointments. Appointed to two-year terms on the early childhood committee were MSEA members Jacob Bennett, an elementary school teacher who recently won a primary race for a seat on the Harford County Council, and Rainya Miller, a National Board certified teacher and founder and managing member of the Consortium of Accomplished Educators. MSEA member Gina Hoover, a lead teacher in Washington County, was appointed to a one-year term.
On the high quality educator committee, Linda Stuart, a retired elementary school principal in Frederick County, will serve a one-year term and Patricia Twitty, a lead teacher in Prince George's County, will serve a two-year term.
Maryland Joins Peers in Sales Tax Decline; Economists Predict Boom Times Slowing
Economists are watching declines in state sales tax revenue like Maryland's as they look to future state budget pressures. Maryland experienced the greatest decline in sales tax of any state in the year-over-year comparison with April of 2021: 35.7%. Analysts were not surprised to see the pandemic-timed record-setting sales slow nationwide. Maryland is one of 26 states that saw a drop compared to revenue a year earlier.
New Graduation Requirement to Be Delayed until 2023-2024 School Year
The Maryland State Board of Education voted in June to delay implementing a new regulation concerning the Maryland Comprehensive Assessment Program until the 2023-2024 school year. Superintendent Choudhury said schools need more time to change the comprehensive assessments in algebra, language arts, and science from a standalone assessment to an end-of-course assessment that will count as 20% of a final grade in the respective course. The SBOE voted last year to implement the regulation next year.
$3 Billion Federal Support Extends Pandemic Meal Program; USDA Incentivizes Nutritious Meals
Federal funding during the pandemic that expanded school meal service was set to expire in June, but Democrats in Congress fought successfully to extend the child nutrition waiver program, which helped not only to overcome supply chain issues, but also to address food scarcity that existed before and persisted throughout the pandemic in areas of poverty. Congress appropriated $3 billion to cover the cost of meals for all students through the summer and next school year.
Separately, the U.S. Department of Agriculture is launching a $100 million healthy food incentive program to support innovative school meal programs and to address some supply chain issues stemming from the pandemic.
June Casino Revenue Generates $50 Million for Education
Maryland Lottery and Gaming reported $68 million casino revenues in June, with $49.7 million going to education. The six casinos reported receipts of $163 million for the month.
ARP Fund Use Deadline Possibly Extended for Certain Approved Projects
The U.S. Department of Education notified school districts that for some approved projects it will consider requests to extend the deadline to use American Rescue Plan pandemic relief funds that originally had a use-or-lose deadline of September 30, 2024.