And other legislative updates in this month's Up the Street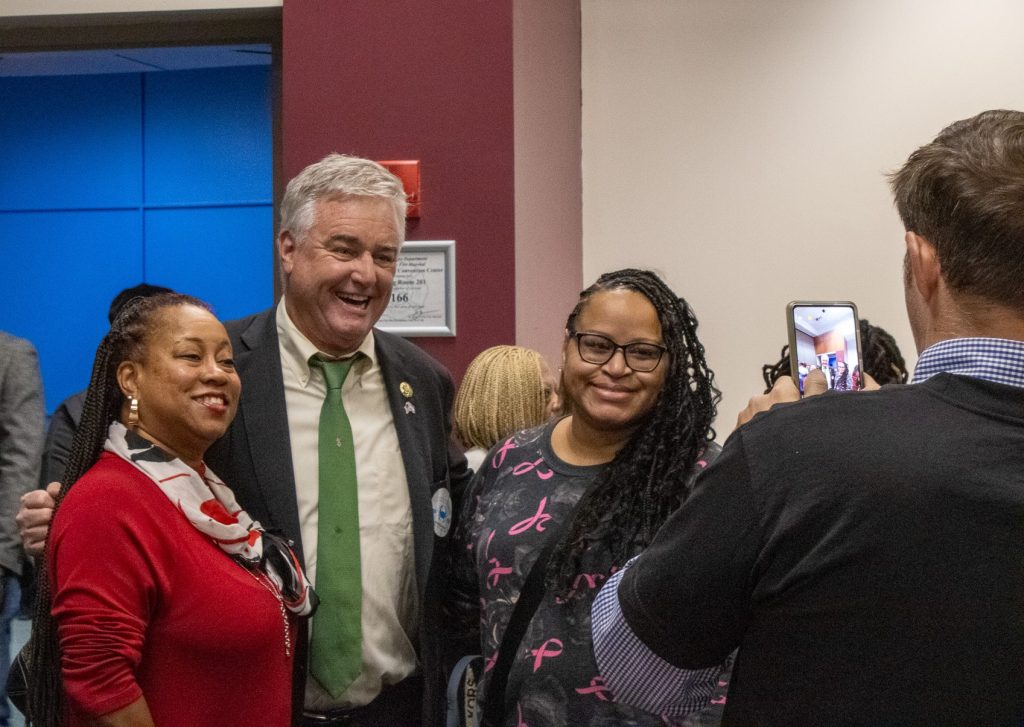 THIS MONTH IN ANNAPOLIS
MSEA Delegates Vote to Recommend David Trone to NEA for Endorsement in U.S. Senate Race
On October 21 the MSEA Representative Assembly (RA) voted to recommend U.S. Rep. David Trone (D-6th) to the National Education Association (NEA) for NEA's endorsement in the primary race to fill the seat from which U.S. Senator Ben Cardin (D-MD) will retire next year. Since this is a federal race, NEA must take further action to officially make an endorsement. The NEA PAC Council will take official action on the recommendation later in November when they take up recommendations from across the country.
"Maryland educators are excited to back David Trone, the son of a public educator, and appreciate his strong record of fighting to give our educators, students, and schools the tools and resources needed to thrive," said MSEA President Cheryl Bost in a statement released yesterday. "He has continually demonstrated his commitment to being an ally and champion for Maryland students, educators, and schools. David Trone is willing to roll up his sleeves and do the hard work to deliver for our educators, but most importantly, he's ready and willing to hear our concerns and take action to help us at a moment's notice."
Other unions that have endorsed Trone include the International Association of Sheet Metal, Air, Rail and Transportation Workers (SMART) and the International Brotherhood of Electrical Workers (IBEW) 307 and IBEW 24.
Gov. Moore Attends MSEA RA, Rejects Book Bans, Advocates for Educators and Students
In remarks to the MSEA RA on October 21, Gov. Wes Moore reiterated his commitment to K-12 public educators and students and denounced the book bans that are cropping up throughout the country and which threaten Maryland schools, educators, and students. Moore advocated for media specialists and librarians who are under attack, and he described the book bans as just another attempt to control, diminish, and subjugate historically oppressed populations. The extremists pushing these bans "do not want people understanding their power," he told a cheering crowd of delegates.
In 2024 Legislative Session, State Board of Education Will Advocate for Full Blueprint Funding
For the 2024 legislative session, the State Board of Education has committed to being more engaged in advocacy, with their top priority full funding for the Blueprint for Maryland's Future. Board member and Carroll County teacher Rachel McCusker is chair of the board's legislative committee, which set the legislative priorities. Currently, the six principles guiding the board are:
Full funding of the Blueprint
Educational equity and closing entrenched opportunity and achievement gaps
Fiscal accountability and prudence during difficult budgetary times
Amendments to the Blueprint that prioritize and accelerate improved outcomes for all students, particularly those who are historically underserved
Opposition to unfunded legislative mandates for the State Board, MSDE, and local school systems
Maintenance of longstanding collaborative process between the State Board, MSDE, local school systems, and stakeholders to establish standards and frameworks for curriculum development by local school systems
NEWS AND NOTES
Interim Superintendent Carey Wright Seeking Job Permanently
Interim State School Superintendent Carey Wright started on October 23 and has already announced her intention to apply for the position, to which she was appointed last month to fill through June 30. A full four-year term begins on July 1, 2024. A board subcommittee that includes McCusker is charged with conducting a national search for the next superintendent.
Attorney General Brown Leads Advocacy for LGBTQ+, All Students, Denounces Book Bans
A coalition of 21 state attorneys general led by Maryland Attorney General Anthony Brown and Massachusetts Attorney General Andrea Joy Campbell are supporting the Montgomery County Board of Education's effort to create a safe and supportive environment for LGTBQ+ children and all students. The coalition filed an amicus brief defending the school board's inclusive policies and stressing the importance of providing safe and inclusive school environments for all children. "Our schools play a fundamental role in shaping the minds and hearts of the next generation, and it's our duty to ensure that every child feels safe, supported, and valued," said Brown. "Educational policies that promote respect for LGBTQ+ people will help build a more equitable future for all children."
Senate Leadership Changes as Griffith Leaves, Beidle Becomes New Finance Chair
Melony Griffith (D-Prince George's) has resigned as state senator to become president and CEO of the Maryland Hospital Association. Senator Pam Beidle (D-Anne Arundel) will become the new chair of the Finance Committee in the wake of Griffith's departure, and Senator Antonio Hayes (D-Baltimore) will replace Beidle as chair of the Executive Nominations Committee. The Prince George's County Democratic Central Committee will recommend a successor for Griffith to Gov. Wes Moore (D), who will officially name the replacement.
Teacher Satisfaction, on Decline for 15 Years, Inched up from All-Time Low
Despite the challenging working conditions and heated culture wars, one poll finds teacher morale rose over the past year. This year's Merrimack College survey of teacher job satisfaction nationwide found 20% of teachers are "very satisfied" with their jobs, above the 12% at that level in 2022 but still dramatically lower than the peak of 62% in 2008. The percentage of teachers very likely or likely to leave the profession for another occupation went down from 44% to 35% last year to this year. Except for this year's increase, teachers' job satisfaction has declined since 2008.
CAMPAIGN 2024
Sarbanes' Decision to Leave Congress Creates Interest among 3rd District Contenders
Since U.S. Rep. John Sarbanes (D-3rd) announced he will not run next year after completing his ninth term in Congress, several experienced state lawmakers and public officials in the district are considering running for the seat. Delegate Vanessa Atterbeary (D-Howard) and Senator Sarah Elfreth (D-Anne Arundel) said they will run, and Howard County Executive Calvin Ball (D) is among the other prominent Democrats considering the race. Redistricting changed the 3rd district last year so it encompasses all of Howard County, part of Carroll County, and a large swath of Anne Arundel County.
U.S. House 6th District Primary Race Field Expands
The open seat in the 6th U.S. House district being created by Trone's run for Senate has attracted no fewer than19 candidates, now including Democrat April McLain Delaney and Republican Dan Cox. McLain Delaney recently worked for the U.S. Commerce Department, and her husband John Delaney (D) represented the district from 2013 to 2019. Cox, a 2020 election denier and former one-term state delegate representing Western Maryland, lost badly to Moore in the 2022 gubernatorial race with 32% of the vote. The 6th district race is expected to be the most competitive in Maryland in 2024 and among the more competitive in the country.