And other legislative updates in this month's Up the Street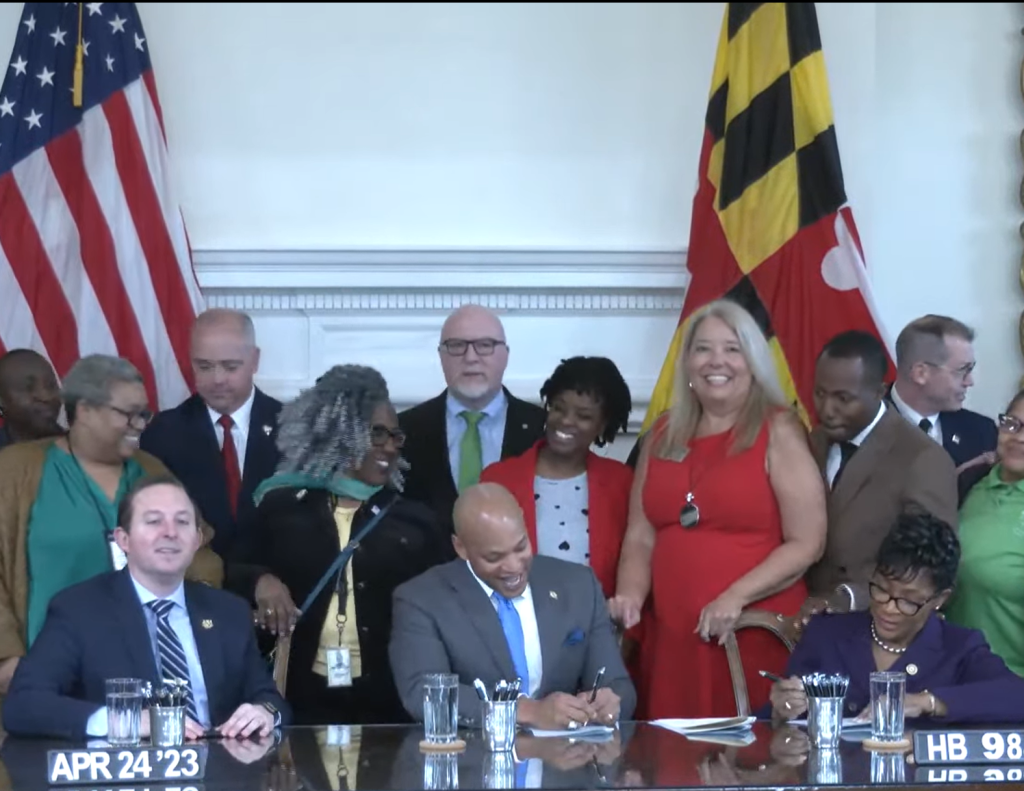 THIS MONTH IN ANNAPOLIS
Legislative Victory Establishes New Labor Board; Moore Nominates Members
A big win for labor relations and workers' rights in the 2023 legislative session continued this week when Gov. Moore nominated experienced labor negotiators and mediators to fill the new Public Employee Relations Board. MSEA and labor allies fought to pass House Bill 984, the Public Employee Relations Act, sponsored by Del. Jazz Lewis (D-Prince George's). The law establishes a single labor board to replace three that had jurisdiction over public employees. The change was needed to address the inefficiency that has characterized Maryland's three labor boards' processes and decisions. The legislation consolidated the duties of the State Labor Relations Board (SLRB), the State Higher Education Labor Relations Board (SHELRB), and the Public School Labor Relations Board (PSLRB) under the new board.
Moore nominated Michael J. Hayes, who most recently served as attorney/advisor to the chair of the National Labor Relations Board (NLRB), to be chair of the new board. Hayes also served for nearly four years as director and deputy assistant secretary of the U.S. Department of Labor's Office of Labor-Management Standards. Moore also nominated:
Lynn Ohman, now retired, directed collective bargaining and advocacy services for the National Education Association for 25 years
Judith Rivlin, the impartial umpire for the Seafarers International Union Appeals Board and a mediator for cases for the AFL-CIO
Harriet E. Cooperman, a partner in Saul Ewing L.L.P. and a former SHELRB chair
Richard Steyer, a labor lawyer who worked in private practice and previously was an attorney with the NLRB and former chair of the SLRB
The State Senate must approve Moore's nominees during the 2024 General Assembly session. Erica Snipes, who previously served as shared executive director of the PSLRB, SHELB, and the SLRB, has been selected to serve as acting executive director of the new board.
The nominations and establishment of the new labor board closes a chapter in the illustrious career of former NEA general counsel and labor lawyer Bob Chanin. Chanin was an original PSLRB member when it was established in 2010, following his retirement in 2009 as NEA general counsel after 41 years of service. Chanin's legal expertise was shared not only during his service on the PSLRB, but with generations of NEA Representative Assembly delegates.
Local Blueprint Implementation Plans Get Approval with Conditions
All 24 local school districts' Blueprint implementation plans received some degree of approval from the Blueprint Accountability and Implementation Board (AIB) on July 25. Four of the districts received conditional approval: Calvert, Charles, and Garrett received conditional approval pending a revised career counseling memorandum of understanding, and Queen Anne's County received conditional approval pending required minimum salary increases.
Next month the AIB anticipates approving the implementation plans from state agencies:
Local school officials must submit their next set of Blueprint implementation documents by March of next year. At that time they must show their strategies to accomplish the Blueprint priorities through the 2026-27 school years. They will submit a final implementation plan in 2027 to cover the time between the 2027-28 school year and 2031-32.
The State Board of Education (SBOE) and MSDE are developing long-range statewide education plans that are currently subject to a public survey here.
NEWS AND NOTES
New School Board Reflects Moore's Commitment to Diversity, Education
At its July 25 meeting, the SBOE welcomed new members appointed by Moore. With their inauguration came the election of officers. Clarence Crawford received unanimous support to serve a fourth term as president, and the board voted unanimously for Moore appointee Joshua Michael to be vice president. Michael is a former teacher and executive director of the Sherman Family Foundation. During the public comment period, MSEA President Cheryl Bost credited Moore for creating a more diverse state board that represents educators and the state.
Casinos, Sports Wagering Deliver $72 Million for Public Education
In June, combined revenue for education from Maryland's six casinos and 10 sports betting apps and sports betting retailers was $72 million, according to Maryland Lottery and Gaming. Casinos generated $69.4 million in revenue for the Education Trust Fund (ETF), and sports betting raised $2.8 million for the Blueprint for Maryland's Future Fund.
2024 Senate, Congressional Primary Candidates Ramp up
The Democratic primary race for the U.S. Senate seat from which Senator Ben Cardin (D-MD) will retire already features several well-known candidates, such as Prince George's County Executive Angela Alsobrooks, Montgomery County Councilmember Will Jawando, and U.S. Rep. David Trone (6th).
U.S. Rep. Jamie Raskin (D-8th) ended speculation about his possible candidacy, announcing that he would not run for Senate, instead planning to run for reelection to the House. He hopes to help regain a Democratic House majority in 2024 and to become chair of the House Oversight Committee, where he is the top Democrat. Raskin was first elected to the House in 2016 and was the Democrats' lead impeachment manager in the second impeachment trial of former President Trump.
The race to fill the 6th District seat that Trone is leaving continues to shape up. Democrat Joel Rubin, a foreign policy expert who worked for the Obama Administration and previously served on the Chevy Chase Town Council, announced he is running, and Woodsboro Mayor Heath Barnes announced his candidacy for the Republican nomination. Montgomery County Council Member Laurie-Anne Sayles (D) filed papers with the Federal Election Commission that will enable her to raise money if she decides to make a congressional run. Sayles said she will decide later this month whether she will become a candidate.