The fourth and final installment of MSEA's Trauma-Informed Educator Series will be presented on Friday afternoon, June 18 from 5:30 – 7:30 p.m. Registration for Module 4: Creating A Trauma-Informed Local Association and School is now open.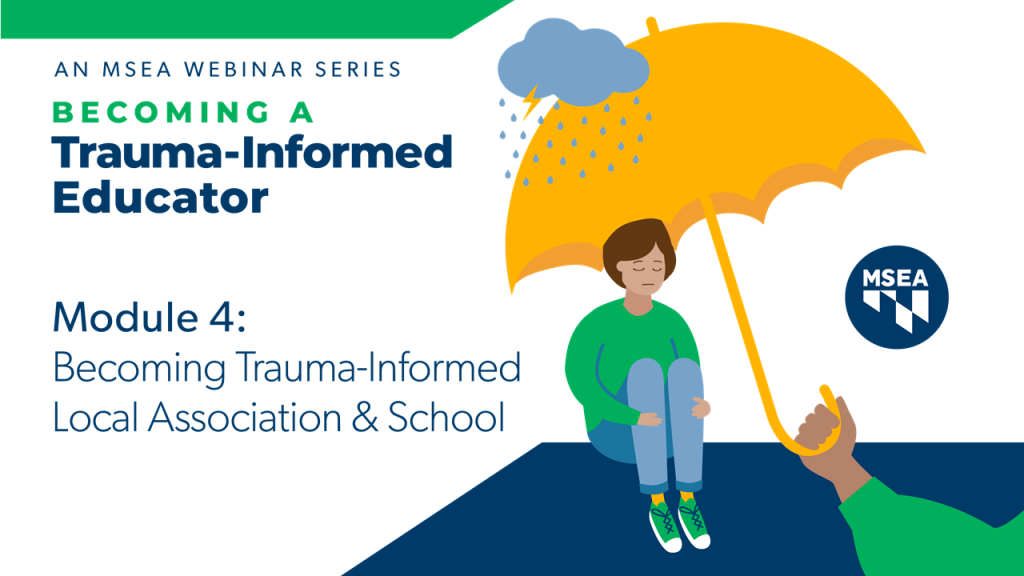 This module is designed to foster discussion among educators in continuing the mindset shift to create a trauma-informed association, school, or workplace. Members can support colleagues who wish to improve their trauma awareness and support students experiencing trauma by consistently practicing and modeling trauma-sensitive strategies discussed in the first three webinars. This webinar focuses on the attributes, important questions, and critical steps to be considered in creating a trauma-informed school or organization. The role of the Blueprint for Maryland's Future and required full-service community schools in addressing trauma will be reviewed. Participants will share lessons learned and challenges yet to be realized in two sessions of small breakouts.
This is the last of MSEA's four-part series Becoming A Trauma-Informed Educator and builds on the knowledge of ACES, brain science, SEL, empathetic communication, and restorative practices explored in the first three webinars. Although some of these concepts will have a brief review, a working knowledge of ACEs is suggested if you missed any part of this series.
Registration deadline: noon on Thursday, June 18
Questions: Contact Géraldine Duval