And other legislative updates in this week's Up the Street
THIS WEEK IN ANNAPOLIS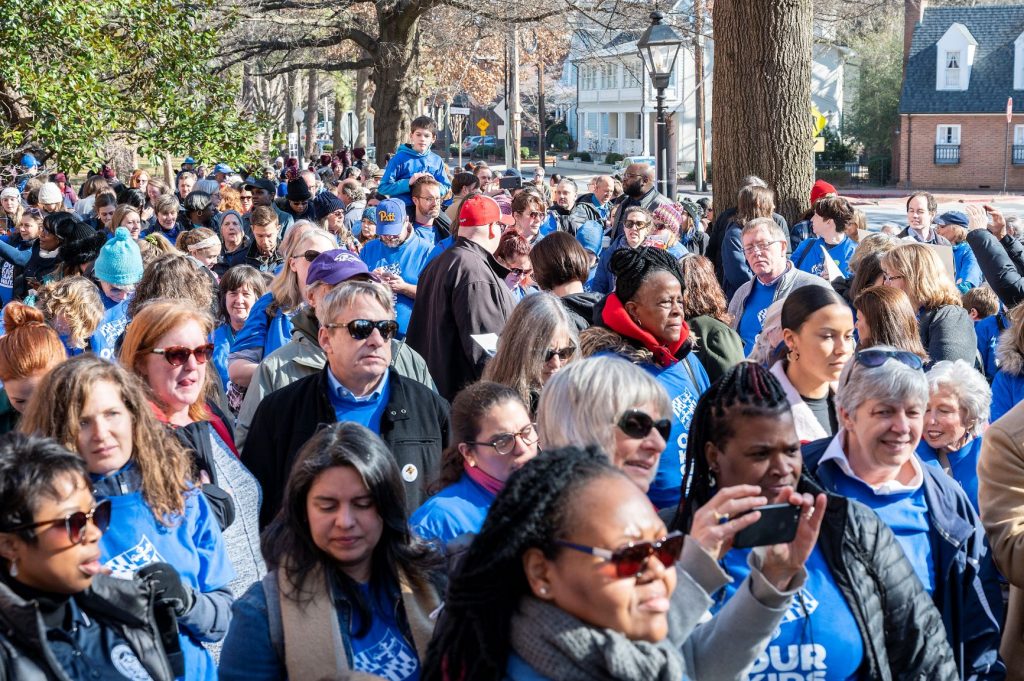 Blueprint Enactment Ushers in New Era in School Funding and Pandemic Recovery
House Bill 1372, companion legislation for the Blueprint for Maryland's Future, made it to the finish line when Gov. Hogan wrote to House Speaker Adrienne Jones and Senate President Bill Ferguson that he would allow it to become law without signing it. In his letter he reiterated his cherry-picked, inaccurate fiscal arguments against the Blueprint and tried to position himself both for and against HB 1372, which enables the Blueprint's decade of transformative programming. He endorsed HB 1372's pandemic recovery programs but refused to support the long-range investment at the core of the Blueprint.
The companion bill contains detailed plans for the use of the American Rescue Plan (ARP) and previous federal coronavirus relief funds. While federal guidelines allow use of the grants to backfill for unexpected expenses already incurred because of the pandemic, at least 5% of the state ARP education funds and at least 20% of local school system ARP funds must be spent on learning recovery. Learning recovery expenditures may include expanded summer school and after-school, hiring additional staff, offering incentive pay, extending the school year, and providing small group and individualized tutoring, among other authorized uses.
As we turn the page to the exciting implementation of the Blueprint, MSEA will fight to make sure that the voices of educators are at decision-making tables at the state and local levels and that the legislation stays true to its intended, transformative impacts of increased equity, expanded programs, improved staffing and pay for educators.
MSEA Keeps Up Fight Against Discrimination
With Sine Die and the end of session just days away, any legislation not yet passed will need quick action to make it across the finish line. One priority is HB 155/SB 98, which would prevent discrimination on the basis of race, ethnicity, color, religion, sex, age, national origin, marital status, or disability by any school that receives public funding, whether that school is public or private. The Senate Judicial Proceedings Committee just finished its mark-up of this legislation, which already passed the House on February 25. MSEA is pushing for favorable votes on the bill so that the state can draw a hard line to prevent any publicly funded school from discrimination, including in private religious schools that receive public funds.
Fairer Accommodations Process: Sparing Educators the Choice between Job and Health
This weekend will also include debate on another priority bill, as the Senate Education, Health, and Environmental Affairs committee amended and reported HB 1322 late this week. The legislation, sponsored by Del. Alonzo Washington (D-22) and passed in the House on March 17, assures educators a fairer accommodations process and protects educators during the pandemic from being forced to choose between their job and health.
HB 1322 prevents retaliation against educators who have the option to work virtually, are 65 or older, have an underlying medical condition identified by the CDC as putting them at greater risk from coronavirus (or who live in a household with, or are the primary caretaker for, an individual who meets either of those conditions), have not been vaccinated, and who choose not to return to in-person instruction. The bill would also prevent the suspension or revocation of certifications should an educator choose not to instruct in-person during the 2020-21 school year.
Schools' inflexible responses to requests for CDC-advised accommodations during the pandemic have threatened to cut experienced educators out of the workforce when they could be serving our students. MSEA continues to push for passage of HB 1322 as it makes its way through the Senate; to join the fight, click here to email your legislators.
Bargaining Rights for Community Colleges on Governor's Desk
The governor has for his signature or veto HB 894, which would give collective bargaining rights to MSEA's educator partners at community colleges. If Hogan vetoes the legislation, which is scheduled to take effect next year, MSEA stands ready to support an override. MSEA has battled for community colleges to gain these rights for years, and this year the legislation has the support of a broad coalition of advocacy groups as well as the leaders of the state's largest jurisdictions.
NEWS AND NOTES
Gambling Revenue Uptick Benefits Education
Maryland's six casinos set a new monthly record, reporting $169 million in revenue in March. That is 3.6% higher than the previous monthly record, which was set in March 2019. Thanks to the passage of Question 1 in 2018 that MSEA fought for, public education has received millions more per year in increased funding from gambling revenues. Per the phase-in process outlined in Question 1, in fiscal year 2020, our schools received $125 million in increased funding from gaming revenue; this rose to $250 million in FY21 and $375 million in FY22. Starting in FY23, at least $500 million in gambling revenues will be dedicated to increased education funding.
The passage of Question 2 in the 2020 election empowered the state to authorize sports betting for the purposes of raising revenue for education. In response to that vote, HB 940 is on track this session to identify the number of locations and online options for legalized sports betting. An estimated $20 million is anticipated from the 15% of revenue that the state would collect.
FY22 Budget Allocates Billions to Address Pandemic, Build Future
The $52.4 billion FY22 budget, HB 588, passed last Friday and included amendments by the House and Senate and more than $3 billion on top of Governor Hogan's original budget. A stronger than anticipated state economic situation and the availability of federal coronavirus funding, chiefly through the Biden Administration's American Rescue Plan, made it possible to do more to help Marylanders to recover from the pandemic.
Federal funding made it possible to replenish the Blueprint for Maryland's Future Fund, which was tapped during the pandemic to meet education expenses that are consistent with the Blueprint's goals and programs. According to the fiscal analysis provided by the Department of Legislative Services, the budget also includes $80 million for public school HVAC improvements and $46 million for transitional supplemental instruction in FY23.
CAMPAIGN 2022
Baker Jumps in Governor's Race; County Executive Races Shape Up
On Thursday night, Maryland Matters broke news that former Prince George's County Executive Rushern Baker intends to add his name to the list of those seeking the Democratic nomination for governor in 2022. Baker finished second in the 2018 Democratic primary for governor.
Former state Del. Herb McMillan (R) announced Wednesday that he will run for Anne Arundel County executive in 2022, confirming two of four potential rumored Republicans considering the challenge to first term County Executive Steuart Pittman (D). Businessman Chris Jahn filed to run in February, state Del. Sid A. Saab told Maryland Matters on Wednesday that he is actively considering the race, and Anne Arundel County Councilwoman Jessica Haire has formed an exploratory committee.
In Harford County, Billy Boniface, a longtime adviser to County Executive Barry Glassman (R) and former Harford County Council member, formally became the first candidate in the race to succeed the term-limited Glassman in 2022.
Content goes here!