And other legislative updates in this week's Up the Street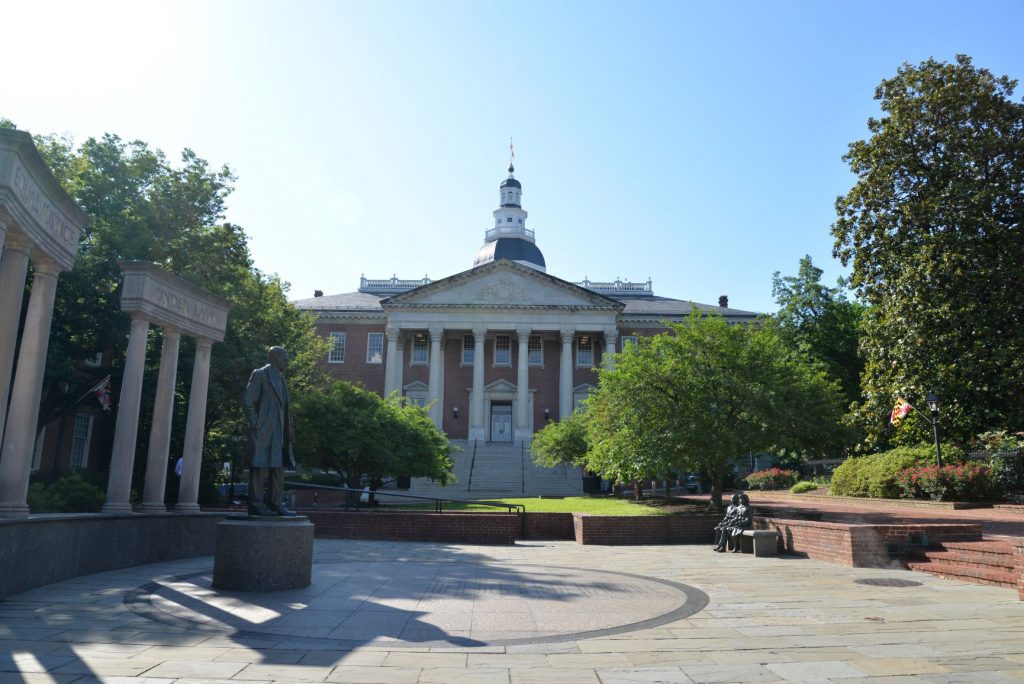 THIS WEEK IN ANNAPOLIS
Legislation Heard on Educator Accommodations, Job Security, Safe Working Conditions
As the coronavirus pandemic in Maryland enters its second year this week, educators need and deserve adequate job and health protections. In HB 1322, sponsored by Del. Alonzo Washington (D-22) and supported by MSEA, educators would avoid having to choose between their work and their health. Too many educators who want to work are being stymied by districts that are ignoring their requests for accommodations or issuing untenable ultimatums and threatening retaliation. This week, WBAL-TV shared the stories of some educators in similar situations in Baltimore County, as did the Baltimore Sun.
The legislation, which was heard in the House Ways and Means Committee on March 3, prevents retaliation against educators who are 65 or older, have an underlying medical condition identified by the CDC as putting them at greater risk from coronavirus (or who live in a household with, or are the primary caretaker for, an individual who meets either of those conditions), have not been vaccinated, and who choose not to return to in-person instruction. The bill would also prevent the suspension or revocation of certifications should an educator choose not to instruct in-person during the 2020-21 school year.
MSEA President Cheryl Bost and several educators testified in support of the bill, and they shared compelling examples of being forced by school districts to choose between the job they love and their health or the health of loved ones. Jennifer Horst, a 22-year special education case manager in Washington County, testified that she takes care of her disabled fiancé, who is immunocompromised. Jennifer has not been able to be vaccinated for the coronavirus and does not qualify for the Americans with Disabilities Act (ADA) accommodations, but her fiancé cannot risk exposure to the virus through her. Educators like Jennifer are being forced into untenable situations, like having to take unpaid leave instead of being allowed to teach remotely. School systems' knee-jerk denials of, or delayed responses to, requests for accommodations cut experienced educators out of the workforce and leave holes to fill with an insufficient supply of experienced substitutes. MSEA will continue to push for passage of HB 1322; to join the fight, click here to email your legislators.

Presumption Coverage Needed for Educators with Coronavirus Diagnosis
In support of HB 1199, MSEA is fighting to make sure that educators are guaranteed worker's compensation if they suffer from the effects of the coronavirus. In this environment where educators can't be assured a vaccine and too often aren't granted accommodations, they should receive relevant benefits for occupational diseases.
MSEA Fights for Community College Employees' Right to Organize
It's clearer than ever that community college employees need to have the same protections and abilities to bargain and organize that other public employees do. On Thursday MSEA President Cheryl Bost testified in support of SB 746, which would give collective bargaining rights to our educator partners at community colleges. The bill now boasts the support not only of a broad coalition of advocacy groups, but of numerous local leaders, including Prince George's County Executive Angela Alsobrooks, Howard County Executive Calvin Ball, Montgomery County Executive Marc Elrich, Frederick County Executive Jan Gardner, Baltimore County Executive Johnny Olszewski, Anne Arundel County Executive Steuart Pittman, and Baltimore Mayor Brandon Scott. We are hopeful this might finally be the year to see the bill come to a full Senate vote.
Better Selection Process for State School Superintendent under Discussion
MSEA continues to support a new procedure to pick a state school superintendent as proposed in HB 465. The bill, which passed the House and is in the Senate, would require that the state superintendent be appointed with the advice and consent of the Senate. The bill would also prohibit the appointment of an individual as state superintendent if the individual is, or during the immediately preceding year was, a member of the State Board of Education. This would have the positive effect to temper the governor-appointed SBOE's sole power to choose a superintendent.
NEWS AND NOTES
MSDE Pulls Back on Testing as Pressure from MSEA, Public Mounted
In a special meeting on Thursday, the State Board of Education pulled back from their wrong-headed position to administer federally required standardized tests this spring. Instead, they decided to administer a shortened diagnostic test in the fall to satisfy the U.S. Department of Education (USDE) requirement. The change of plans followed a public backlash and more than 3,000 emails from educators after the announcement of the special meeting earlier this week.
"We applaud the department and State Board for rethinking their original decision and instead seeking a waiver to spend less time on standardized tests by suspending the spring administration of MCAP," said MSEA President Cheryl Bost in a statement in response. "Educators understand that what our students need right now isn't mandated standardized testing, but instructional time, opportunities to learn and be with their classmates, and time to address their social-emotional wellbeing and any trauma caused by the pandemic. This reduction in standardized testing is an important step in the right direction, but as Rachel McCusker, the elected teacher member on the board stated as the reason for her no vote, Maryland should take advantage of further waivers that may be offered by the federal government to allow for additional reductions in standardized testing time."
The State Board's action Thursday was in addition to approved actions taken last week to seek waivers for all content area required assessments and all accountability measures tied to ESSA. This reduction in standardized testing is an important step in the right direction, and Maryland should take advantage of further waivers that may be offered by the federal government to allow for additional reductions in standardized testing time or a full waiver for 2020-2021 state assessments completely.
Retirement Fund Posts Returns as Expected
The state pension fund belonging to 412,000 educators, law enforcement workers, judges, correctional officers, and legislators outperformed its benchmark growth expectations in fiscal year 2020. At the end of FY20 it had a funded ratio of 73.6% compared to 72.9% (71.5% excluding participating governmental units) at the end of FY19 and continuing on a strong trajectory to reach the goal of 80% funded in the next few years. At the end of FY20 the fund had $54.8 billion, compared to $54.2 billion at the end of FY19. The total investment portfolio returned 3.57%, net of all fees and expenses, beating the benchmark of 3.14%.
Cardona Confirmed as U.S. Secretary of Education
With Miguel Cardona confirmed as the secretary of the U.S. Department of Education, many important decisions for the department lie ahead. Days into his new role, Cardona has not said how he expects to assess students who are learning remotely. He has said he believes standardized testing is useful but does not suggest bringing students into school during the pandemic just to test them. MSEA and NEA look forward to the opportunity to collaborate with USDE with greater trust and respect now that its leader is a veteran public school educator rather than a privatization-focused billionaire with a grizzly bear fixation.
In-Person Instruction, Vaccination, and Building Preparations
President Biden has set an ambitious goal to get at least one dose of vaccine to every educator by the end of March, an intention welcomed by educators across the country. Vaccination is an important part of the layered mitigation approach that MSEA and educators want to ensure safe in-person instruction, but supply has not met the demand up to this point. Safe in-person instruction continues to depend on preparation and maintenance of conditions outlined in MSEA's Health and Safety Checklist for Buildings and Workspaces. Members are urged to report lapses and violations at once.