Career and technical education (CTE) is taking a step into the spotlight as the Kirwan Commission recommends expansion
It's CTE's moment. Career and technical education (CTE) is taking a step into the spotlight. As students, parents, schools, and communities come together to make high school education the launching pad it should be for every student, whether into college or into a career.
The Kirwan Commission's recommendations include expanding career and technical educa­tion and cites models from Switzerland, Singapore, and Finland as examples of sweep­ing programs. The Center on International Education Benchmarking says such programs are "aligned with education and with current industry demands to ensure that newly trained students can smoothly transition from schooling and training into in-demand jobs." The Commis­sion recommends rapidly expanding access to CTE in high schools across Maryland, including the ability for students to achieve industry certifications when they graduate.
In Maryland, CTE pro­grams have been training students for careers for many years, but the days of "vocational" education are long gone. Today's CTE is fresh, excit­ing, focused, and zeroed in on success for its students. Students eager to get into the world right after high school are finding more and more exciting and well-paying tracks playing to their skills and ambi­tions. Students, and espe­cially parents, who may have been rigidly focused on a traditional college track, are seeing CTE as an exciting addition to high school that takes skills and passions and centers and engages them.
"If you were to step back and look at CTE 30 years ago, you would find what we called vocational programs," says Mike We­glein, principal at Baltimore County's Sollers Point Technical High School. "They were called voca­tional programs because they were terminal pro­grams — hard stop. Students would come in, finish high school, and then immedi­ately go into the world of work for the next 10, 15, or 20 years.
"CTE programs have evolved to really empha­size college and career readiness because we now know that students are not going to stay in the same job or profession for a life­time, they're going to move on or move up in terms of whatever their interest is," Weglein added.
CTE Works for Students
Starting students off academically prepared and with the certification or licensure that comes with CTE is giving students a 21st century education that is immediate, fluid, and can be built upon layer by layer while still allowing graduates to earn a salary. The goal of CTE in 2020 is to provide academic and career and technical skills so that students have the ability to make choices for themselves once they graduate from high school. The more tools in their toolbox, the more oppor­tunities they'll have when they graduate to go in any direction that they choose — college or career or career then college.
CTE success is borne out in the stats. Accord­ing to the Association for Career & Technical Educa­tion (ACTE), the average high school graduation rate for students concentrating in CTE programs in 2012 was 93%, compared to an average national gradua­tion rate of 80%. And taking just one CTE class, reports ACTE, for every two aca­demic classes minimizes the risk of students dropping out of high school.
Wash­ington County Technical High School multimedia and graphic arts teacher Susan Fries says that she sees the difference CTE can make. "I've had students come in and totally change from doing virtually nothing aca­demically to doing stellar work. I'm not the only teacher who's seen that happen. It's one of the hallmarks of this school and of CTE in general."
At a CTE school, students get to interact with con­tent in a number of different ways — cognitively in class­room spaces and hands-on in technical spaces with the ultimate goal of discovering a career, then onto licensure, certification, or college credit. It's applying theory to practice in real-life applications.
At the Cecil County School of Technology (CCST), where their CTE advisory committee says employers need a new generation of skilled workers in all trades, construction trades teacher Rick Webster says, "Stu­dents can walk away from my program with a complete skill set ready for carpentry, architecture, and project management."
"The trades need workers," said CCST HVAC instruc­tor Carlton Thompson. "Companies may go through 100 people just to get 10 or 12 applicants who have the skills they need for the job."
Their welding and metals technology colleague Charlie Wood said that his 2017 graduates all had jobs after graduation and his juniors in summer internships all had offers to return when they graduated. "In weld­ing, once they get their journeyman's license, they'll be making $51 an hour."
A young woman in the certified nurse assistant program at Sollers Point tells how it works for her: "This program has helped me understand what it really takes to be a nurse. I thought this program would be just about taking care of patients, but it's much more than that, requiring more skills than I imagined — taking vitals and recognizing signs. I'm experiencing the real environment of nursing care.
"Now my dream is to attend college at Emory, get my bachelor's in nursing so I can become an RN, and later become a midwife."
Her mom, visiting for American Education Week, is thrilled. "It means so much to see her maturity and professionalism. I am very impressed. This is not what we are used to. She's getting prepared ahead of time for her future. I am so happy for her."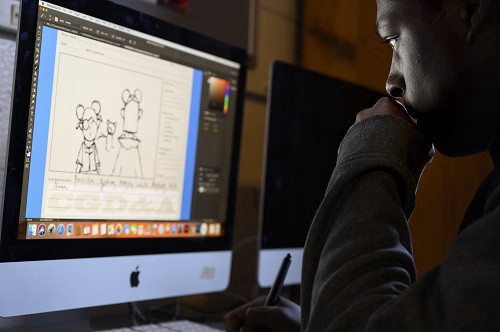 In Susan Fries' Washington county multimedia class, a student visited the program in 10th grade, and, he said, "I just fell in love with the programs, specifically multimedia and graphic design.
"I hope to get into animation or something having to do with animation, like cartooning or sculpting. I want to go to Hagerstown Community College and then the Savannah College of Art and Design."
"CTE is a great way to reach kids. They learn in context. It gives them an area of interest to focus on and within that area of interest they learn how to write and do all the computational thinking that goes with it," says computer science and cybersecurity teacher instructor.
"Even if the student doesn't chose it as a career, the type of education they get in CTE is real world thinking — they learn how to solve real world problems and develop real-world thinking."
Academic and tech teachers working collaboratively to help bring that theory to practice is another boon to students. Science teachers work with cosmetology teachers to study the morphology of the hair structure; math teachers work with the construction teacher when it comes to building blueprints for geometry classes.
"This kind of align­ment helps students apply what they are doing in their academic classes to why they came to the building in the first place," said Leah Warble, assistant principal at Sollers Point.
CTE Works for Teachers
CTE teachers come from many different back­grounds but come together as advocates for their programs and their stu­dents. From cosmetology, to the trades, to informa­tion technology, to business management and engineer­ing, CTE teachers are multi-certified, multi-licensed, and multi-degreed. For tech teachers, the com­mon theme is their skilled expertise and experience in the field.
Wayne Violet, the auto­motive technology teacher at Washington County Technical High School (WCTHS), was once a student in the pro­gram. Expected to be on a college track by his teach­ers, he decided to pursue auto repair and apprenticed at a dealership and later became a service manager. Now he's teaching at his former school with a mas­ters in CTE education.
After beginning her career as a math and technology teacher, Carrie Johnson is now, after nearly 10 additional trainings in aerospace and civil engineering, physics, and architecture, heading the pre-civil engineering and architecture program at WCTHS where students can earn up to 12 college credits Her space started as a machine shop and has evolved to fill the need for manufacturing and programmable logic control, robotics arms, and more sophisticated engineering tools.
Johnson hopes the Blueprint for Maryland's Future and the promise of more funding may mean an opportunity for another teacher in the department. "With another teacher, students could pick and choose courses, as opposed to everyone taking the same courses. Students could dedicate themselves to just one area of engineering.
"Some of the thriving programs I see have two teachers and I can see a difference. I would have another teacher to collaborate with on lessons and projects. Engineering is changing so fast, that I think it's 100% absolutely necessary and a critical need here."
One of Johnson's students got his welding certification and was employed the day he turned 18. Now he's working in the engineering department and taking employer-paid engineering classes. "I'm finding that after their internships, employers want to keep our students on and pay for their college courses," Johnson added. The added-value of highly trained teachers, locally recognized programs, marketable skills, and real-world internships with local businesses is a boon for students, teachers, employers, and parents worried about the economic futures of their children.
"Nothing at his high school related to his interests," said one WCTHS parent. "Once he got here and saw all the machines and the different opportunities the program offered, he was ecstatic.
"He's working now on machines and software that other students don't have access to and he's asked to present and explain what he's doing and crafting. He'll definitely be a step ahead in college."
"I jumped at the chance to be part of the CTE pro­gram because I saw the benefits for our students," said Jim D'Antonio. Teach­ing at Sollers Point meant shifting from his position as a general science teacher to a biomedical teacher with the allied health certi­fications he needed in hu­man body systems, princi­ples of biomedical science, and medical interventions earned during the summer. "We're required to go to trainings for every course we teach," he said, "so there's basically four years' worth of training to teach all the biomedical science courses we offer."
Warble, a chemistry teacher at the start of her career, arrived at Sollers Point as a professional development teacher eager to bring CTE — with its mix of skills, certifications, degrees, and dedication — together to offer the best programs to students. "I fell in love with the idea of helping professionals who had mastered their craft, but didn't know teaching. I was able to help them bring their craft to their students by sharing some best prac­tices and new educational skills and strategies so they could reach their students and grow and become the amazing teachers we have in the building today."
CTE Works for Education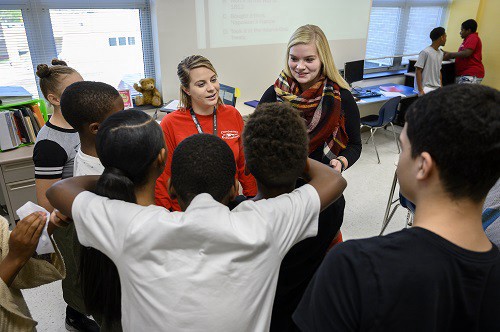 Former elementary and professional development teacher Cherie Robinson is the Teacher Academy of Maryland (TAM) instructor at Dorchester Career and Tech­nical Center. TAM addresses the critical shortage of teachers in Maryland by intro­ducing the education professions to students in grades 10–12, through a rigorous four-course sequence of study that culminates with an internship under a class­room teacher, planning and teaching lessons.
"Our education program started in 2011 in response to our teacher shortage," says Robinson. "Completing the program means students can either pass the ParaPro test to become an instructional assistant immediately after high school or head to college with three credits." There are 20 counties with a TAM program in place.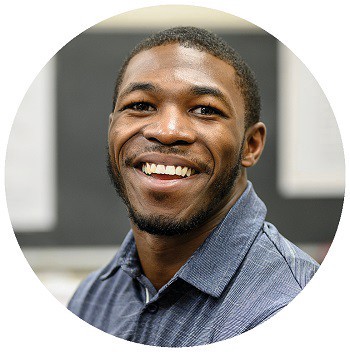 Jay Turner is one of Robinson's TAM graduates and a first-generation college student. While he works towards his de­gree, he's also working as a math inter­vention instructional assistant and head high school wrestling coach.
When he completes his degree, his plan is to return to the county. "Because the TAM program required so many hours in the classroom, it really drew out my inner educator," Turner says.
"After I get my education degree, I'd love to work in kindergarten through second grade here in the county. I'd like give back to the community that gave so much to me and I think they'd like to have me in the classroom."
CTE Works for Businesses
Business and industry partnerships are the invalu­able allies to every CTE program, building pathways to opportunities for stu­dents to work and live in their communities.
"Even during this time of relative prosperity, both in Maryland and through­out the country, a vex­ing conundrum persists: many young people can't find jobs, while far too many employers can't find people with the right entry-level skills. Closing this skills gap is one of the most important questions that schools and busi­nesses in Maryland must address," wrote Maryland Chamber of Commerce CEO Christine Ross.
"Certainly, a vast major­ity of education adminis­trators and business lead­ers in Maryland know the problem that is before us and want to solve it. The question then begs: 'How do we do it?' The answer is clear: schools from K-12 to higher education, and businesses large and small should be pointed toward one goal: successful and sustainable work­force development."
In every county, robust relationships are already in place between ener­gized CTE programs and local and state employers, from NASA to local school districts, and from small and large manufacturers and businesses to hometown car dealerships. "In the past two years," says Derek Hamilton, owner of Hamilton Nissan, a second-generation deal­ership in Hagerstown, "we have hired four graduates from the Washington County Technical High School and they have been outstanding. They were paired with our senior technicians and are now full line technicians making professional wag­es. We always try to get students from the techni­cal high schools because they come with good basic training we can build on.
"In my opinion," said Hamilton, "we can't invest enough in tech training."
CTE's Great Promise
CTE's great promise, and great challenge, is to build on the success of so many established and success­ful programs. The Kirwan Commission's proposal to dramatically expand CTE could revolutionize not only what high school means for generations to come — but could also mean a more successful and prosperous future for our students and our state.