And other legislative updates in this Week's Up the Street
Education Money Missing from Hogan's Proposed FY23 Budget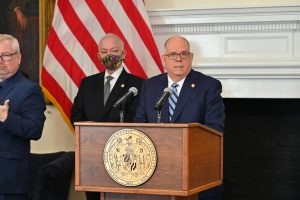 In a disappointing replay of disastrous education policy, Gov. Hogan left out nearly $140 million in education funding from the budget he proposed for fiscal year 2023. Among the damaging omissions was the education effort adjustment that the Blueprint for Maryland's Future called for the state to fund to help Baltimore City and Prince George's County cover new local Blueprint FY23 program costs. His move, which may not be legal, would result in a $99 million cut for Baltimore City and a $26.5 million cut for Prince George's County. That and another $14 million missing from Hogan's budget (SB 290/HB 300) squarely hit the historically underserved populations that the Blueprint particularly intended to lift up. Blueprint advocates fought hard to include the education effort funding in the final legislation, and House Speaker Adrienne Jones (D-Baltimore County) was quick to call out Hogan's omission.
Hogan's attempted cuts come from an often-used play in his playbook of trumpeting funding levels in his pre-budget release press announcements to mask real cuts that he has proposed to expected school funding levels. This move dates back to his very first budget as governor, where he proposed more than $100 million in cuts, and spans to two summers ago, when he proposed more than $300 million in cuts amid the pandemic. Now, Hogan is again trying to cut off Blueprint funds before it even gets started. Click here to email your legislators and urge them to restore these expected and needed funds for our schools.
Beyond the education effort adjustment cut, Hogan cut millions more in Blueprint funding, including:
$7.2 million for teachers and leader training
$2.7 million for state model curriculum and instructional materials
$1.3 million for expert review teams
$1 million for national board certification
$800,000 for Career and Technical Education Committee and Skills Board
$700,000 behavioral health training
$500,000 college and career readiness equating study
To compound the losses, Hogan proposed to eliminate a range of revenue sources incrementally from FY23 through FY27, which would turn a $4 billion budget surplus into a deficit in four years. Hogan's proposed reductions, according to estimates by the nonpartisan Department of Legislative Services (DLS), would cut revenue by $224 million in FY23 and by $942 million in 2027. DLS found that K-12 education costs required under current law will exceed the level forecast by the governor. Adjusting the forecast to reflect DLS estimates of education aid results in a structural budget deficit in fiscal 2027 after accounting for Hogan's proposed revenue reductions.
MSEA will examine all of the governor's proposed budget's short- and long-term implications and advocate for appropriate amendments, including the restoration of the governor's school funding cuts. Legislators cannot increase spending unless they find equivalent cuts to make elsewhere. One likely source for such a cut is an area DLS suggested legislators consider; if they want to amend Hogan's plan to appropriate $2.4 billion for the state reserve Rainy Day fund. That appropriation would raise the fund to a total of nearly $3.6 billion, or 15.9% of the general fund revenues. The Spending Affordability Committee recommends a 9% reserve.
NEWS AND NOTES
AIB Executive Director Comes from DLS Staff Involved with Developing Blueprint
The Blueprint Accountability and Implementation Board (AIB) made a significant hire as it begins to administer the Blueprint statewide. Rachel Hise, a DLS analyst who has worked on the Blueprint's legal and fiscal details since it started, has been named the AIB's executive director. Hise was the Kirwan Commission's lead staff person, and her depth of knowledge positions her to hit the ground running in her new position.
State Board Considers Core Blueprint Features, Career Incentives, Strategic Plan
On January 25, the State Board of Education (SBOE) learned that Superintendent Mohammed Choudhury's office has asked the AIB for an extension on the 2022-2023 deadline to meet some of the Blueprint's college and career readiness (CCR) expectations. The requirement for high school students to meet CCR standards—passing English, history, and math standards—by the end of their 10th grade year began this school year. By next school year, the Maryland State Department of Education (MSDE) was to have developed support pathways to help students if they do not meet standards by the end of the 10th grade. That deadline assumed that the Blueprint had been implemented almost a year earlier than it was, instead of being delayed by Hogan's veto.
Choudhury and the board also wrestled with the Blueprint's description of "low-performing schools," which are called out to receive special funding and staff, and the relationship between those schools and the Blueprint's pay incentives for National Board Certified (NBC) educators: a $10,000 salary bump for teachers who have or obtain NBC, and an additional $7,000 for an NBC educator to teach in a low-performing school. The definition of low-performing is a one- or two-star school as defined by the state's accountability system or a school that a district identifies is in the lowest 10% of performance. Currently there are 92 "low-performing" schools based on this definition.
In other SBOE news, Rachel McCusker, the first-ever educator member of the board, now has a place on its four-member Strategic Planning Committee, which will set the board's vision for the next several years. MSDE states that community engagement is a priority, and for its strategic plan it starts with community meetings and an invitation to the public to complete a survey to help it set goals.
Legislative District Map Approved, Anything but Settled as Lawsuit Looms
A new legislative district map was approved this week when the House voted in favor of SJ 2/HJ 2, which the Senate approved last week. The House Committee on Rules and Executive Nominations voted on Tuesday to move it to the full House, where it passed along party lines on Thursday. It became law immediately upon House approval, but Fair Maps Maryland said it will file a legal challenge. That would mean the matter will go before the Maryland Court of Appeals, where a majority of judges are Hogan appointees. The legal challenge has the potential to confound this year's prospective candidates, who have a February 22 filing deadline to run in districts that are in limbo if the court chooses to act counter to the legislature.
Congressional Districts Also in Play, Congressional Committee Comes to Aid
Meanwhile, the Democratic Congressional Campaign Committee has entered the fray to support the congressional district map that the Legislative Redistricting Advisory Commission produced, and which the General Assembly adopted in December. The DCCC is acting to stop the lawsuit that opponents have filed to replace that map. Opponents include Republicans from various Maryland congressional districts and Hogan supporters.
CAMPAIGN 2022
Nine Gubernatorial Contenders Seeking MSEA Endorsement Participate in Education Forum
MSEA hosted a virtual candidate forum on January 26 that featured nine Democratic gubernatorial candidates seeking MSEA's recommendation. MSEA President Cheryl Bost moderated the event, during which candidates answered identical questions about how they would respect and support educators, fund education, and whether they fully support the Blueprint and the right to negotiate class size, among other topics. Rushern Baker, Jon Baron, Peter Franchot, Doug Gansler, Ashwani Jain, John King, Wes Moore, Laura Neuman, and Tom Perez participated.