And other legislative updates in this month's Up the Street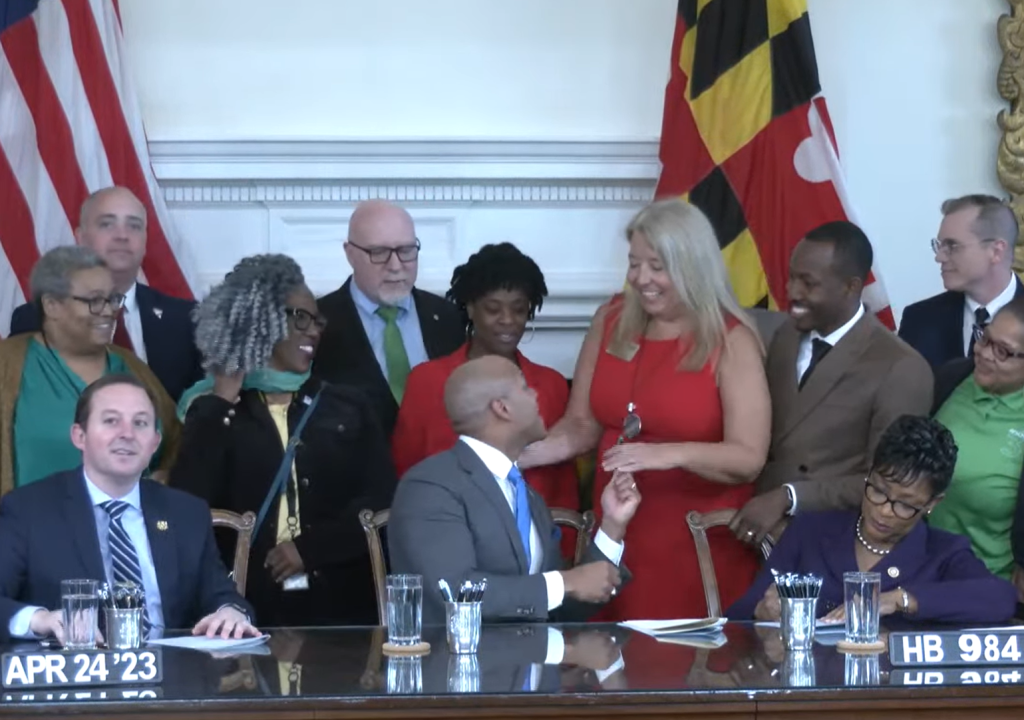 THIS MONTH IN ANNAPOLIS
Governor's First Legislative Agenda Makes Progress on Goals
Since April 10, Gov. Moore has signed into law half of the 810 bills that passed this legislative session. Among the significant new laws he signed is House Bill 984, the Public Employee Relations Act sponsored by Del. Jazz Lewis (D-Prince George's) that MSEA and union partners fought hard for to streamline the state's labor laws. At the signing, MSEA President Cheryl Bost, Executive Director Sean Johnson, and labor allies celebrated the law, which will take effect July 1. Creating one labor relations board for all public employees and unifying public employee laws will enable more consistent and timely resolutions of issues between labor and management.
All 10 bills in Moore's first legislative package passed in some form, and they have or will become law with his signature. In a departure of the divisive sessions of the previous eight years, all of Moore's legislative agenda passed with some bipartisan support. In addition to Moore's bills to accelerate the state's move to a $15 minimum wage, increase tax breaks for military retirees, and expand tax credits for low-income Marylanders, he championed his Maryland Educator Shortage Reduction Act, House Bill 1219. Although the law was amended from his original proposal, it will expand a program to offer stipends to student teachers, distribute funding to encourage future educators from among students attending historically black colleges and universities, and increase the Janet L. Hoffman loan assistance program, including by broadening the program's eligibility.
Unfortunately, the final version of HB1219 removed an expansion of the Grow Your Own program, which has proven successful in several pilot programs around the state supporting education support professionals (ESPs) who want to become certificated educators. MSEA will continue to work to establish a standalone Grow Your Own program operating statewide. In the meantime, together with local union partners, MSEA will advocate for best practices of Grow Your Own programs that are supported with funds from a temporary State Department of Education grant program, Maryland Leads.
Governor Taps Educator to Join Blueprint Accountability and Implementation Board
Importantly, an educator has been appointed to serve on the Blueprint for Maryland's Future Accountability and Implementation Board (AIB). Gov. Moore picked educator Justin Robinson from the two choices that the AIB Nominating Committee offered to fill the vacancy created when Moore tapped AIB member Fagan Harris to be his chief of staff. Robinson is a National Board Certified 12th-year teacher in Prince George's County Public Schools. An educator voice is needed to inform and guide the AIB, which has the responsibility to approve the statewide and local implementation plans required to execute the Blueprint programs in all five pillars: early childhood education, high quality and diverse educators, college and career readiness, more resources for all students to be successful, and accountability. The first active educator selected for the AIB, Robinson said, "I will bring my education expertise to the board and represent Maryland's teachers." Robinson will serve the remainder of Harris' term, which expires June 30, 2024.
Budget Requires AIB to Explore Options for Pre-k Providers; Career Ladders, School Visits to Come
The AIB plans to form a workgroup to have stakeholders provide recommendations for alternative quality requirements concerning instructional elements for private pre-k providers participating in publicly funded pre-k programs. Such providers are an integral part of the Blueprint's expanded pre-k programs, but some faced impossible requirements to obtain specific training while operating. As part of the FY24 state budget, by December 1, the AIB must submit a report on alternative requirements the providers could meet.
Meanwhile, all 24 of the state's school districts received AIB approval of their first draft Blueprint implementation plans, with all but one requiring some adjustments. These initial plans required little detail, but subsequent plans will lay out how each district will execute strategies to achieve the five Blueprint pillars' goals.
In March 2024, districts will have to submit more detailed multi-year implementation plans that factor in the career ladder that is intended to help support and retain qualified and diverse educators. Thus far, MSEA local affiliates are reporting inconsistent cooperation from districts as they develop their plans and disagreement about what a career ladder allows and excludes.
In October, the AIB's first round of expert review team school assessment visits will begin at schools which will be notified over the summer.
NEWS AND NOTES
Cardin Decision Creates Competition for Sought-After U.S. Senate Seat
News that U.S. Sen. Ben Cardin (D-MD) will not run for a fourth term next year creates a notable opening in the narrowly divided Senate, where Democrats hold a 51-49 majority.
His successor's election in 2024 will likely ripple throughout Maryland politics. Already Montgomery County Councilmember Will Jawando and U.S. Rep. David Trone (D-6th) have announced their plans to run, with others sure to join them. Trone's plan leaves open a competitive district that includes parts of Montgomery County and most of Western Maryland that could attract several seasoned Democrats and Republicans.
In Cardin's nearly 60 years in Maryland politics, he has focused on healthcare, the environment, retirement security, and foreign affairs. He previously served for nearly 20 years in the House of Representatives and 19 years in the House of Delegates, including seven years as Speaker of the House. Gov. Moore summed up his long and diligent service to the state: "He is the epitome of what it means to be a public servant."
NEA Backs Pro-Education President Biden
In late April, NEA announced its support of President Biden and Vice President Harris as the Democratic nominees for re-election. "In 2024, the future of our students, our public schools, and our democracy are on the ballot. With so much at stake, the 3-million-member strong National Education Association is proudly and enthusiastically supporting the re-election of President Biden and Vice President Harris," said NEA President Becky Pringle in a release.
Moore's Cabinet Picks Mean New Legislators for Baltimore City, Montgomery County Districts
The Montgomery County Democratic Central Committee nominated longtime county political leader and business owner Greg Wims to fill the District 39 seat that was held nearly 16 years by Kirill Reznik (D-Montgomery) before he was appointed to become the Maryland Department of Human Services assistant secretary.
Delegate Tony Bridges (D-Baltimore City) announced he will resign May 15 to become deputy secretary of Transportation. A successor will be nominated by the Baltimore City Democratic Central Committee and appointed by the governor later this spring.
New Data Show Educator Pay Falls Short, Collective Bargaining Pays
NEA recently shared data that show the average pay for certificated educators and ESPs has made little to no progress nationally in the past decade. Inflation has more than wiped out the gains from raises, which have amounted to less than 3% in the past two years.
Adjusted for inflation, on average, teachers nationally are making 6.4% less than they did 10 years ago. In Maryland, 47% of ESPs who work full time earn less than $35,000. Among other national findings:
The average beginning teacher salary was $42,845. When adjusted for inflation, starting teacher salaries are now $4,552 below the 2008-2009 levels.
More than a third of all education support professionals (K-12 and higher education combined) working full-time earn less than $25,000 annually.
For 2021-2022, the average increase in starting teacher salaries trailed inflation by 6.6 percentage points. When adjusted for inflation, starting teacher salaries are now $4,552 below 2008-2009 levels.
Compounding the unwelcome news, EdWeek found that aspiring educators who hear messages about educators' pay levels are deterred from pursuing the career.
MSEA's work to increase educator salaries and include a minimum starting salary of $60,000 in the Blueprint, and to push for widespread support of the ESP Bill of Rights, is more relevant than ever. In districts where there is collective bargaining, the NEA data found teachers earn 25% more, on average, and school support staff earn 17% more. In addition, higher education faculty in unions make about $4,000 more than non-union faculty in the same states.
NEA Urges Action for LGBTQ+, Rejection of Discriminatory Legislation HR734
NEA urges action to defeat House Resolution 734, which attempts to erase transgender students from public schools and deny them the opportunity to fully participate in sports. In a statement, Pringle said, "H.R. 734 erodes the fairness and equity that generations of Americans have struggled to achieve…By legalizing discrimination, the bill violates our fundamental rights and values and weakens our democracy." The House passed H.R. 734, and NEA urges members to contact senators to oppose H.R. 734 using this link.
Remembering Former Speaker Casper Taylor
The death of former House Speaker Casper Taylor (D-Allegany), gave legislators pause to recall the tavern-owning Western Marylander who defied stereotypes. When Taylor was speaker, one of his landmark accomplishments was passing the Bridge to Excellence Act, which enacted the recommendations of the Thornton Commission and created a new, equity-based school funding formula. That formula, the forerunner of the Blueprint, became a national model at the time. House Speaker Adrienne Jones (D-Baltimore County), who joined the House in 1997, when Taylor was speaker, valued his friendship and commitment to equity.
"He was a friend and a mentor," Jones said during a bill signing ceremony. "When anyone mentions 'One Maryland,' it's because of Speaker Taylor. He championed our efforts to make sure each resident, regardless of their zip code, had the opportunities and resources to find success. This work and his legacy will continue on in the General Assembly. He will be sorely missed."