And other legislative updates in this week's Up the Street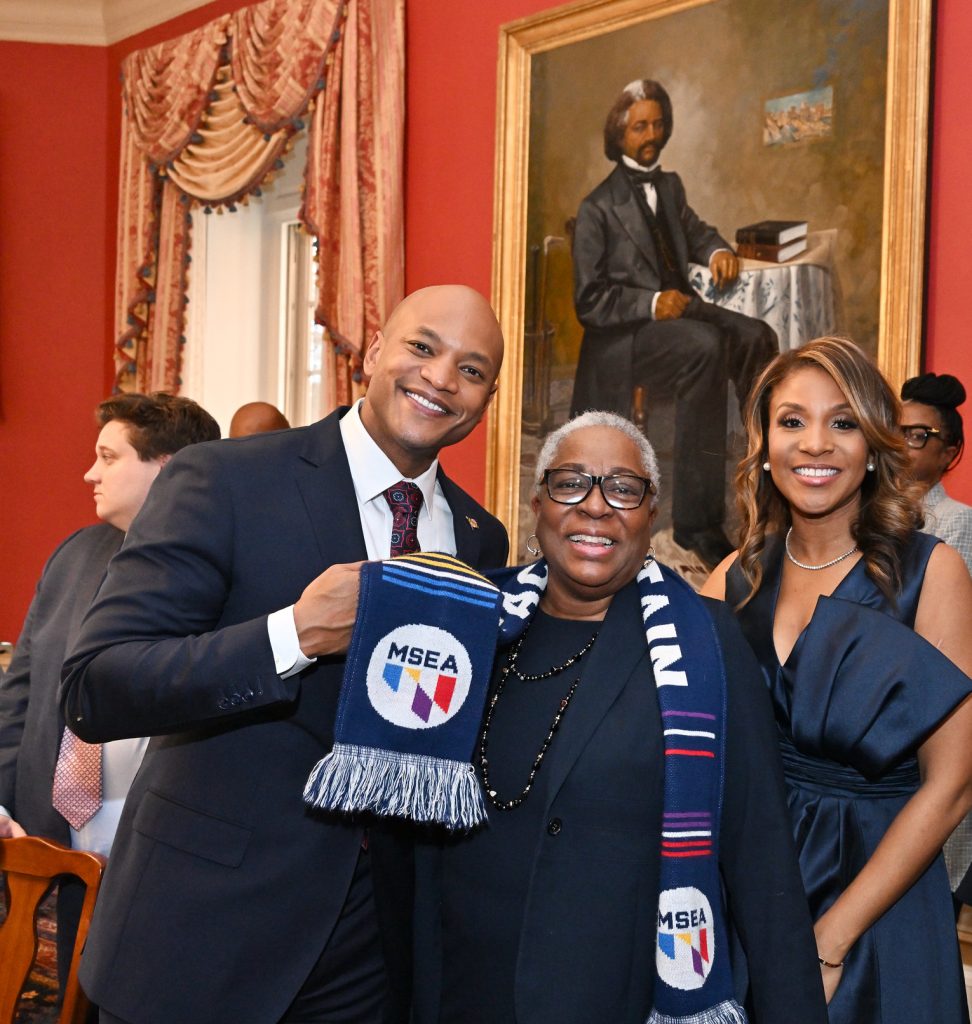 THIS WEEK IN ANNAPOLIS

Moore's State of the State Outlines Aim to End Childhood Poverty, Expand Service among All Marylanders
Governor Wes Moore's State of the State address underscored his historic commitment to schools, educators, and students, and called on all Marylanders to adopt a service mentality to collaboratively reach Maryland's goals. During his speech, he referenced an MSEA member in the House gallery who exemplified the extraordinary service of educators, working with commitment and purpose before and through the pandemic while managing excessive workloads in the face of record educator shortages. The governor's speech reinforced how he is addressing the educator shortage head-on, including through his forthcoming Maryland Educator Shortage Act to improve the pipeline of well qualified, diverse educators, and through his budget that funds K-12 programs at record levels.
Directly related to his commitment to education is his determination to eliminate childhood poverty, because it makes progress on his other goals impossible and puts students at a disadvantage from the beginning: "How can we expect them to fill their minds with ideas, if they can't fill their stomachs with food? How will they rise above their station if they are in a constant state of deprivation?"
As part of this effort, he intends to permanently extend the enhanced Earned Income Tax Credit (EITC) and expand the Child Tax Credit (CTC), making approximately 40,000 families eligible for the CTC through the Family Prosperity Act. He is budgeting $171 million to support both initiatives. These credits have clear evidence-based results showing material reductions to the number of children living in poverty and the severity of poverty as well as improvements to children's health outcomes.
Just hours after the State of the State, Moore joined MSEA President Cheryl Bost in a Facebook Live discussion of legislative priorities and his transition to the executive office. Moore reiterated his appreciation for educators and said he will commit funds, take actions, and sign laws to make conditions better for students and educators because, in his words, "If we as a state are going to accomplish everything that we are looking to accomplish, it must start with education. Because without that, nothing else is going to work."
During the Facebook Live, he specifically referenced his support of education support professionals (ESPs), the too often underrecognized educators whose $1,000 bonuses he is fully funding after Gov. Hogan did not, and his allocation of $500 million to the Blueprint for Maryland's Future Fund to extend the fund's solvency. "From the bottom of my heart, thank you," he told the MSEA audience. "You are sacrificing and serving for something bigger than yourself…It's our responsibility to make sure [your work is] rewarding and honored."
Moore Signals Support for Educator-Backed House Bill 85/Senate Bill 206 to Give Educators Voice in Class Size
During the Facebook Live event, Moore shared his support of House Bill 85/Senate Bill 206 to make class size a permissible subject of bargaining. "I'm excited for this bill to make it to my Wye Oak desk," Moore told the audience. Passage of this bill would help educators develop collaborative solutions to ensure that students have the individual attention they need. Maryland is currently one of only nine states where educators are not allowed to discuss class size at the bargaining table.
On Wednesday in the House Ways and Means Committee hearing on HB85, Prince George's County Educators' Association member and high school teacher Chrystie Lynch, Bost, students, and other supporters emphasized that educators just want a voice at the table to be able to talk about the conditions that affect their ability to serve students. "Large classes inhibit our ability to connect with our students and build relationships…especially with struggling learners," Lynch told the committee.
The legislation, which MSEA fought for last year, is being reintroduced by Majority Whip Del. Jazz Lewis (D-Prince George's). Sen. Pam Beidle (D-Anne Arundel) introduced the Senate cross-file of the bill, SB206, which is scheduled to have a hearing at 1 p.m. on February 9 in the Senate Finance Committee. This is one of MSEA's top legislative priorities. Supporters can contact their legislators through this quick and easy link to share personal stories of how large class sizes affect them and how having a voice in this important learning and working condition would help.
Proposed Burden of Proof Law Would Make Special Educators' Job Harder
A bill has been introduced that would increase the workload of already under-staffed and over-worked special educators. Special educators need more time and support, but HB294 would go in the opposite direction by shifting the burden of proof to school systems in all due process proceedings that arise from a complaint or disagreement about the goals of the IEP and delivery of services. Currently in Maryland the party initiating a legal action in such a dispute has the burden to prove that special education services are not appropriate. Shifting the burden of proof to the school system in all instances could dramatically increase the workload and paperwork burden on special educators and administrators. Contact your legislators via this link to urge them to vote against HB294 and any local bills that will have the same effect.
The statewide and nationwide educator shortage has left special educators overworked and understaffed. Special educators need more time to work directly with students, more personnel to address enormous caseloads, and more support staff to take on the non-instructional requirements of the Individuals with Disabilities Education Act (IDEA) and requirements from state and local agencies. Last school year alone Maryland had roughly 450 vacancies in special education. Increasing the workload of special educators by shifting the burden of proof would only worsen rather than help to address this staffing crisis.
NEWS AND NOTES

Legislative Shuffling from Administration Appointments Promotes Educator Allies
On Monday, the swearing in of now former Del. Alonzo Washington (D-Prince George's) to the Senate seat vacated by Paul Pinsky created space and opportunity for other House leadership changes. In December Gov. Moore appointed Pinsky—a staunch education ally who helped lead the fight for the Blueprint for Maryland's Future as he chaired the Senate Education, Health, and Environmental Affairs Committee—to be director of the Maryland Energy Administration. Washington was recommended by MSEA and the Prince George's County Educators' Association to replace Pinsky. With Washington's appointment to the Senate, he left open two House committee leadership positions that he previously held. House Speaker Adrienne Jones (D-Baltimore County) subsequently appointed Del. Jheanelle Wilkins (D-Montgomery) to become vice chair of the Ways and Means Committee, and Del. Eric Ebersole (D-Baltimore County) to become chairman of the House Education Subcommittee on Ways and Means. Ebersole, a former educator, will be in position to shape and move important legislation through the committee process. Del. Julie Palakovich-Carr (D-Montgomery) was appointed chair of the Early Childhood subcommittee.
Tax Break Increase for Educators Amounts to Modest Improvement
The IRS is doing a little something for generous educators who pay out of their own pocket to supply their students and classrooms with necessities. For the first time since 2002, when the IRS began to allow educators to deduct some of the cost of the things they buy for their classroom, the allowable deduction has gone up from $250 to $300. It is a small improvement, considering the estimate is that the average educator spends $550 and one in five classroom teachers spends more than $1,000 for basic classroom supplies.
Medicaid-Based Poverty Count Impacts Education Funding Plans
The Department of Legislative Services shared data about childhood poverty that has the potential to dramatically affect education funding formulas. Last year, to get a more accurate count of the number of children living in poverty, the state began to count them based on Medicaid enrollment rather than enrollment in free and reduced price lunch programs. The number of children identified as living in poverty subsequently went up by more than 100,000. Medicaid enrollment may drop, however, when the pandemic-era expanded Medicaid eligibility sunsets at the end of March. Based on the latest Medicaid enrollment for Maryland, poverty levels were higher statewide by an average of 81%, although school enrollment went up just .5%. This significant increase of students in poverty is estimated to add approximately $390 million to the state's share in the cost of education. The data will directly affect the Blueprint for Maryland's Future, which remains the most significant poverty-fighting legislation that Maryland is enacting.