And other legislative updates in this week's Up the Street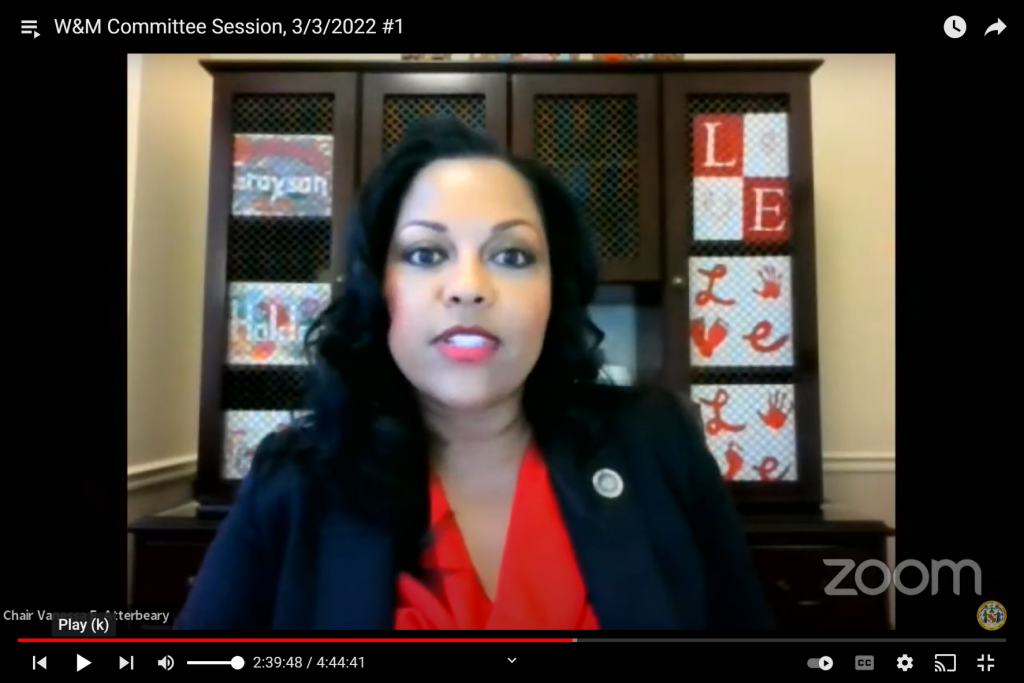 THIS WEEK IN ANNAPOLIS
Committed Educators Testify for Class Size Bargaining Rights, Combat Great Resignation
In the House Ways and Means Committee on Thursday, a lineup of congressional representatives joined state and local leaders and educators to advocate for House Bill 890, sponsored by chair of the House Democratic Caucus Delegate Jazz Lewis (D-Prince George's), to make class size a legal subject of bargaining. Educators described the value of being able to have a voice in their class sizes to give students the individual attention that is vital to their success.
Smaller class sizes provide the opportunity for students and educators to deepen and strengthen relationships—a critical step in supporting children academically and social-emotionally, particularly in the wake of the stresses, traumas, and inequities stemming from the pandemic. Maryland is one of only nine states where class size is an illegal subject of bargaining, along with Alaska, Indiana, Kansas, Maine, Nebraska, South Dakota, Tennessee, and Wisconsin. "It is disturbing that Maryland law currently prohibits teachers, when organized and bargaining collectively, from discussing class sizes during contract negotiations," U.S. House Majority Leader Rep. Steny Hoyer (D-5th) wrote to the committee in support of the bill. This bill "would change that, empowering teachers to negotiate for smaller class sizes and better student-to-teacher ratios in our public schools."
U.S. Rep. Anthony Brown (D-4th) and U.S. Rep. David Trone (D-6th) also submitted written testimony in support of the bill. MSEA President Cheryl Bost, scores of educators from around the state, Democratic gubernatorial candidate and former U.S. Secretary of Education John King, and Wes Moore's lieutenant governor pick and former Delegate Aruna Miller testified in favor too. Ways and Means Chair Vanessa Atterbeary closed the hearing by underscoring the urgency of taking action, saying "Not being able to discuss the issue is doing a disservice to the teachers and also the students. … I think this is something this committee needs to take a serious look at."
A statewide poll MSEA conducted found that a majority of educators are considering leaving the profession sooner than planned because of the pandemic. The poll also found that giving educators the right to bargain class size would have a meaningful impact on their working conditions and increase the likelihood they would remain in the profession. Click here to contact your legislators and urge them to give educators a voice in class sizes.
Hearing Coming for Legislation to Increase Wages for Education Support Professionals
On March 9, legislation to address the education support professional (ESP) staffing shortage and low pay will have its first hearing in the Senate. Senate Bill 831, sponsored by chair of the Senate Democratic Caucus Senator Craig Zucker (D-Montgomery), takes a short- and long-term approach to the need to increase wages for support staff. Filling ESP positions was hard before the pandemic, and it has since reached crisis levels, with staffing shortages evident in jurisdictions across the state.
For the short-term SB 831would give support staff $500 bonuses in both FY23 and FY24, and for long-term progress it would establish a workgroup to explore the best ways to improve support staff wages and make recommendations to the General Assembly for future legislation. MSEA would have a seat on the workgroup.
Click here to contact your legislators and urge them to support this legislation to raise ESP wages. To join a virtual lobby night for this important bill, click here.
Educators Support Bill to Prohibit Discrimination in Publicly Funded Nonpublic Schools
On Thursday, the Ways and Means Committee also heard testimony on House Bill 850, which would prohibit all schools that receive state funds from discriminating based on race, ethnicity, color, religion, sex, age, national origin, marital status, sexual orientation, gender identity, or disability. Currently, for some types of schools, there is no codified language prohibiting such discrimination. This would require a clear nondiscrimination policy for all schools that receive state funds. The legislation would include nonpublic schools and prekindergarten programs that receive state funds in the requirement to provide reasonable accommodations and to print a statement of nondiscrimination in their student handbooks. Among the majority who testified in support, President Bost said the bill is needed to create a safe environment for all students. "MSEA fundamentally believes that schools should be welcoming and nurturing learning environments for students of all backgrounds and beliefs," she said.
BOOST Distracts from Public School Needs, Potential
In a House Appropriations Committee hearing on Monday, public education supporters opposed Gov. Hogan's proposal to codify funding for nonpublic schools in the Broadening Options and Opportunities for Students Today (BOOST), House Bill 415. Throughout his administration, Hogan has focused on increasing BOOST funding, to the tune of a 113% increase over the course of his tenure. BOOST remains an unproven distraction from the fundamental issues affecting public schools and students. The millions of dollars could make systemic changes that benefit all students statewide, not a select few. Educators strongly oppose the BOOST program, its expansion, and its codification through this bill.
NEWS AND NOTES
McCusker Has MSEA Endorsement for Reelection to State Board
The MSEA Board of Directors unanimously endorsed Rachel McCusker, an elementary school music teacher from Carroll County, for re-election as the teacher representative on the State Board of Education (SBOE) in the election that is open March 7-13. In a position that MSEA fought to create, McCusker has been the first-ever teacher representative on the SBOE. McCusker's achievements and priorities were featured in a recent edition of MSEA's ActionLine, and she will join MSEA President Bost for a Facebook Live on MSEA's page at 8 p.m. on Monday, March 7.
All Maryland teachers who hold an active Maryland Educator Certificate with at least one teaching area on January 1, 2022, are able to vote in the election. Details are on the Maryland State Department of Education website.
State Pension System Shedding Russian Assets after Invasion of Ukraine
The $70 billion state pension system's director said the process to divest from all Russian assets is underway in the wake of Russia's attack on Ukraine. On Thursday, State Retirement and Pension System Director Martin Noven told the Special Joint Committee on Pensions that the system is going beyond the federal sanction guidelines, which prohibit new investments in Russian assets. The committee is expected to act soon, after receiving a written report of facts from Noven.
Statewide Mask Mandate Lifted with Vote by Legislative Panel
The state legislature's joint Committee on Administrative, Executive, and Legislative Review voted on February 25 to affirm the State Board of Education's request to rescind the statewide regulations for in-school masking. Lifting the mask mandate is now a local district decision that no longer has to be based on infection and vaccination rate criteria.
CAMPAIGN 2022
Most Democratic Gubernatorial Candidates Rally around Mizeur
This week, former delegate and 2014 gubernatorial candidate Heather Mizeur announced that eight Democrats in the running for the party's gubernatorial nomination supported her bid for Congress in Maryland's First District. Mizeur is leading the fundraising race among Democrats seeking to challenge incumbent Rep. Andy Harris in the general election. The gubernatorial candidates who jointly announced their backing of Mizeur were Rushern Baker, Jon Baron, Doug Gansler, Ashwani Jain, John King, Wes Moore, Laura Neuman, and Tom Perez.
District 26 in Flux with Delegate Walker's Pending Departure
The decision by Delegate Jay Walker (D-Prince George's) to retire at the end of his term next January creates room for newcomers in his House district race before the March 22 filing deadline.