And other legislative updates in this week's Up the Street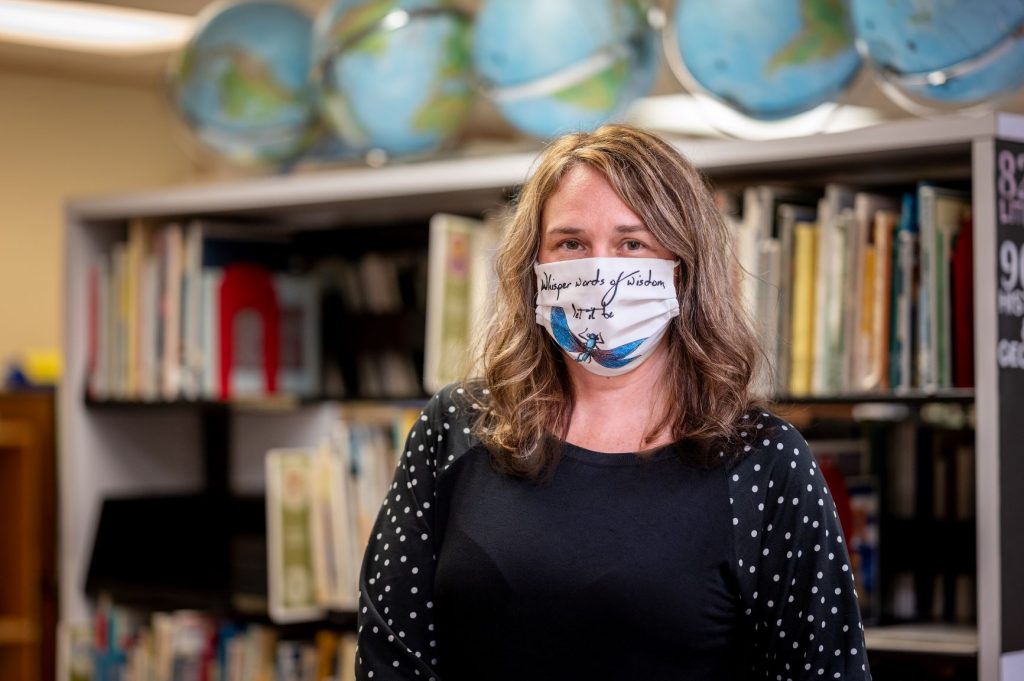 THIS WEEK IN ANNAPOLIS
Legislation Advances to Provide Educators Fairer Accommodations Process
This week finds more educators and students returning to in-person instruction, while the coronavirus pandemic continues and vaccine supply remains short. Dedicated educators, who are eager to be safely and sustainably in classrooms and schools with their students, need and deserve adequate job and health protections. Enhanced protection for educators may be on the horizon this week with the House of Delegates' passage of HB 1322, sponsored by Del. Alonzo Washington (D-22) and supported by MSEA.
If passed, educators would avoid having to choose between their job and their health. The legislation prevents retaliation against educators who are 65 or older, have an underlying medical condition identified by the CDC as putting them at greater risk from coronavirus (or who live in a household with, or are the primary caretaker for, an individual who meets either of those conditions), have not been vaccinated, and who choose not to return to in-person instruction. The bill would also prevent the suspension or revocation of certifications should an educator choose not to instruct in-person during the 2020-21 school year.
Schools' inconsiderate denials of, or delayed responses to, requests for accommodations threaten cutting experienced educators out of the workforce when they could be serving our students. MSEA will continue to push for passage of HB 1322 as it heads to the Senate; to join the fight, click here to email your legislators.
Organizing Rights Closer to Reality for Community College Employees
The House and Senate advanced SB 746/HB 894, which would give collective bargaining rights to our educator partners at community colleges. The bill has the support not only of a broad coalition of advocacy groups, but of numerous local leaders, including Prince George's County Executive Angela Alsobrooks, Howard County Executive Calvin Ball, Montgomery County Executive Marc Elrich, Frederick County Executive Jan Gardner, Baltimore County Executive Johnny Olszewski, Anne Arundel County Executive Steuart Pittman, and Baltimore Mayor Brandon Scott. MSEA is hopeful that this might finally be the year to see the bill pass both chambers. It's clearer than ever that community college employees need to have the same protections and abilities to bargain and organize that other public employees do.
New Legislation Ready to Help Implement Blueprint for Maryland's Future
This week both chambers of the General Assembly held joint hearings in the House (Ways and Means and Appropriations committees) and the Senate (Education, Health, and Environmental Affairs and Budget and Taxation committees) for the companion legislation, HB 1372/SB 965, needed to update the implementation of the Blueprint for Maryland's Future. As an emergency bill, it would support immediate implementation by adjusting timelines thrown out of whack by the governor's veto and targeting resources even more precisely to respond to the pandemic's impact on our schools.
MSEA testified in support of the legislation with amendments. One suggested amendment at the hearing would ensure that the tutoring and summer school programs planned for the next two summers and school years not be outsourced in order to ensure greater continuity of working with students. MSEA also made the case that additional time-consuming standardized tests are not needed to meet the assessment requirement in the bill. MSEA is fighting for district-based diagnostic assessments that can be administered quickly and provide actionable, meaningful feedback to inform instruction and additional support for students.
Additional amendments to target a few financial aspects of the bill were also proposed, such as the timing of concentration of poverty grants, clarifying the language about the effect and duration of a "funding pause" that revenue drops greater than 7.5% could catalyze, and making sure that educators as well as students can access federal assistance for social-emotional supports. The final set of amendments seek to make sure that the spaces used for the additional programs are suitable, safe, and possibly modified to accommodate schooling after normal school hours and in hotter months.
Lawmakers Act to Restore Equity to HBCUs
On Wednesday, the Senate voted unanimously and the House voted 122-17 to pass Senate Bill 1 (and HB 1), the $577 million settlement with the state's four historically black colleges and universities (HBCUs). Between fiscal years 2023 and 2032, $577 million, or about $60 million per year, will begin to restore equity for the HBCUs that the state has failed to fund fairly for generations. As part of the union's focus on equity-based legislation, MSEA advocated for SB 1 again this year.
NEWS AND NOTES
Budget Bill Awaits Passage in House After Debate on BOOST
The FY22 Budget (HB 588) went through floor debate and amendments in the House late Thursday. Delegates made last-minute amendments to account for the Board of Revenue Estimates' positive revenue forecast and the influx of billions in federal coronavirus relief funds. From the two earlier federal coronavirus relief packages and last week's American Rescue Plan, billions will be injected into the state economy through direct stimulus, unemployment benefits, paycheck protection, and more. The amended budget fully funds K-12 education, including the Blueprint and pandemic recovery programs, leaves more than $1.8 billion in the state's Rainy Day Fund, and projects a surplus of $262 million by FY26. The amended budget restores funding to community colleges, parks, and cultural venues that was cut by Hogan.
Among the few contentious budget amendments on the House floor was a reduction, as usual, in the funding for private schools in the BOOST program. Hogan again proposed $10 million in funding, and the Appropriations Committee amended that to $6.6 million. The committee's aim is to wind down funding to zero in 12 years to stop siphoning public dollars to private schools. The budget must pass the House and then the Senate, and any new amendments the Senate made would have to be resolved in conference committee.
Fourth Supplemental Budget Recognizes House Objectives
Hogan submitted a fourth supplemental budget of more than $1 billion on Wednesday that made some of the restorations planned in the House budget amendments mentioned above, such as the restoration of the community college cut, as well as more than $200 million to expand rental assistance programs, $230 million for transportation infrastructure projects, and funds for the Interagency Commission on School Construction to hire more staff and help finish a statewide assessment on school facilities that is years overdue.
American Rescue Plan Update
The General Assembly's decision to extend a $200 million tax break to Marylanders may come into conflict with the rules about the federal relief funds headed to Maryland through the American Rescue Plan. The money in the Rescue Plan cannot be used "to either directly or indirectly offset a reduction in the net tax revenue" or delay the imposition of any tax or tax increase after March 3. On March 5, a new state law took effect, without the governor's signature, to extend the earned income tax credit (EITC) to people who use an individual taxpayer identification number (ITIN), which is frequently used by undocumented foreign residents. The Rescue Plan extends the EITC to federal taxpayers who use ITINs. The state attorney general is reviewing the situation.
CAMPAIGN 2022
Fields Continue to Shape Up
Bethesda resident Jon Baron, a former federal official and nonprofit executive, is now among a long list of those considering a run for governor. At the county level, four Republicans have shown interest in challenging Anne Arundel County Executive Steuart Pittman. Businessman Chris Jahn filed to run in February, Anne Arundel County Councilwoman Jessica Haire has formed an exploratory committee, and Del. Sid Saab and former Del. Herb McMillan are also considering a run against education champion Pittman.