And other legislative updates in this month's Up the Street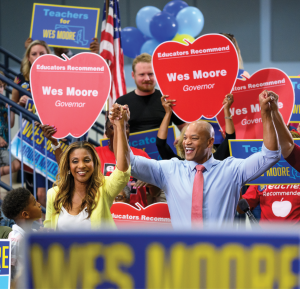 THIS MONTH IN ANNAPOLIS
Education, State Priorities Will Need Support from New Governor, State, National Leaders
With just a month until the November 8 general election, pressure is mounting to support pro-public education candidates at the national, state, and local levels who will advance critical initiatives such as respect for educators, reduced workloads, bargaining rights around class size, better pay for education support professionals (ESPs), freedom to teach the truth, and more. Economic and educational advances are on the ballot this election. Reproductive freedom is on the ballot. Safety and equity are on the ballot.
Poll results from the Washington Post indicate that in the governor's race Wes Moore has 60% support to 28% for Trump-aligned Republican Dan Cox, but no poll before Election Day is a guarantee. Earlier September poll results, which found Moore up by 22 points, were used by Maryland Public Television (MPT) to determine that only Cox and Moore qualify to participate in the gubernatorial debate MPT and WBAL-TV will host at 7 p.m. on October 12.
MSEA's recommended comptroller candidate Brooke Lierman and attorney general candidate Anthony Brown, with Moore as governor, can make incredible progress to achieve our shared goals of giving all students a chance to pursue their dreams and for educators to have the support they need. For every race, visiting MDAppleBallot.com will guide voters who want to avoid electing extremists like Cox, who denies the validity of the 2020 presidential election, and has so far refused to commit to accepting the 2022 election results.
MSEA Advocates for ESP Bonus Restoration; Budget Balance Offers Options
Among MSEA's priorities for the 2023 legislative session is to make whole the ESP bonuses that Gov. Hogan underfunded this fiscal year. Budget surpluses reported at the end of FY22, and which are predicted to continue, strengthen MSEA's position to advocate for the full ESP bonus amounts.
The state closed FY22 with a balance of $5.5 billion in the general fund, and for FY23 is on track to have $1.2 billion more than predicted in the spring, according to the latest report from the Board of Revenue Estimates. The General Assembly allocated $3.5 billion of the FY22 surplus for FY23 operations. As mandated by state law, $870 million of the $2 billion fund balance was transferred to the Rainy Day Fund and the Fiscal Responsibility Fund. That leaves a final balance of $1.121 billion in unassigned revenues. This is the first year that part of the unassigned balance is automatically transferred to the state's reserve accounts.
Some of the fund balance could be used to make whole the ESP bonuses that were intended in 2022 legislation that MSEA fought successfully to pass, with legislative leadership from Senator Craig Zucker (D-Montgomery) and Delegate Shaneka Henson (D-Anne Arundel). The legislation originally included establishing a workgroup to study and make recommendations to address ESP pay issues long-term and $500 bonuses for ESPs this fiscal year and next. The final bill did not include the workgroup, and Hogan's budget included less than half the money for this year's ESP bonuses. MSEA will work with the incoming governor and legislature to get ESPs the money they well deserve. Electing pro-public school champions to the legislature, lobbying and testimony by MSEA members—flexing the power of collective voices—will be essential to win what educators deserve.
NEWS AND NOTES
Blueprint Gives Students Easier Access to Free Meals, Healthy Future
A pilot program will help assure more students in need have access to nutritious food by linking Medicaid eligibility with free school meals. The Blueprint for Maryland's Future aimed to provide all students with what they need to reach their full potential, and food insecurity associated with poverty has been identified as a substantial barrier. The Blueprint required Medicaid enrollment to be used to directly certify children for free meal eligibility. That began in July, after the U.S. Department of Agriculture accepted the Maryland State Department of Education's application.
Mobile Sports Wagering Applications Open; Gambling Revenues Add Millions to Education Funds Since August
In addition to casino revenue that supports the state's Education Trust Fund (ETF), sports wagering revenue has contributed $3.7 million to the Blueprint for Maryland's Future Fund since sports wagering became legal in December. The Sports Wagering Application Review Commission (SWARC), which can issue up to 60 mobile licenses, opened the application window for mobile sports betting on September 6. Applications, subject to a 45-day review, are due by October 21. SWARC added a requirement that within 30 days of approval licensees must submit a plan to incorporate diversity in their operations, including strategies to obtain a diverse group of owners or contractors, conduct diversity-related events, and proposed timelines and benchmarks to achieve diversity objectives. State-licensed sports gambling contributes to the Blueprint 15% of revenues above operational costs and prizes dedicated to education.
Maryland Lottery and Gaming most recently reported $159.3 million in casino revenues in September, with $49.4 million going to the ETF; and $18.6 million in sports wagering revenues in August, with $477,840 going to the Blueprint fund.
Biden Administration's Student Debt Relief Plan Eases Borrowers' Financial Burden
Applications for student loan forgiveness are scheduled to open this month under the Biden Administration plan to eliminate student debt for people making less than $125,000. Pell grant recipients will be eligible for up to $20,000 in debt cancellation, and recipients from other borrowers, excluding Federal Family Education Loans (FFEL), will be eligible for up to $10,000 in debt cancellation. Information about the loan forgiveness program is at studentaid.gov. The pause in payments on federal student loans that has been allowed since 2020 has been extended through December 31. Applications close October 31 for the separate public service loan forgiveness (PSLF) program for borrowers like educators who work in the public sector or for a nonprofit. PSLF information is here.
Leadership Openings on Legislative Black Caucus Could Make History
New leadership is coming to the Maryland Legislative Black Caucus, following the decision to step down by its long-serving chairman, Del. Darryl Barnes (D-Prince George's), and Treasurer Del. Benjamin Brooks (D-Baltimore County). Vice Chair Del. Jheanelle Wilkins (D-Montgomery) will become interim chair, the first woman to fill the position. She is eligible to serve through the end of Barnes' two-year term in 2024 and could be reelected. The caucus will have to elect a new treasurer and vice chair.
CAMPAIGN 2022
Peroutka Does Not Defend State's Laws for Reproductive Freedom, LGBTQ+ Equality
In the race for attorney general, Anthony Brown offers a record of support for public education, equity, social justice, and human rights, while his opponent, Michael Peroutka, recently reiterated his vows to bypass existing laws that guarantee reproductive freedom and rights for the LGTBQ+ community. Peroutka dangerously denies the validity of laws with which he disagrees for personal reasons.
Court Denies Cox Request to Prevent Early Count of Mail-in Votes During Case Appeal
The Court of Appeals denied Dan Cox's motion for a stay to prevent ballot-counting from being allowed to begin on October 1. Cox's broader argument was to be heard by the Court of Appeals today. Disingenuously Cox argues that he is concerned about process—even claiming he supports early counting of ballots—but claims that court-ordered changes in the middle of an election cycle undermine confidence. But Cox had no problem accepting the results of the GOP primary, the date of which was pushed back by court order. Cox also voted against the legislative effort to fix the issue last session. He has consistently opposed efforts to ease the election process.
Pending the appeal, the court ruled with the State Board of Elections to try to avoid the kind of delay in results that afflicted the July primary, and mail-in votes are being counted ahead of Election Day on November 8. A week of in-person early voting runs October 27 to November 3.
Educators Engaged in Getting out Vote in Priority Races for NEA, MSEA
Crucial issues impel MSEA President Cheryl Bost, MSEA leaders, and members and other voters to demonstrate their support at a press conference on October 11 for NEA- and MSEA-recommended candidate U.S. Rep. David Trone (D-6th) in his reelection campaign. Trone's record in Congress for public education, social and racial justice, and access to affordable physical and mental healthcare distinguish him from his extremist opponent, Neil Parrott, in a race that redistricting made more competitive. Parrott, who has railed against coronavirus vaccination, is a current state delegate who voted against universal pre-K, higher wages for teachers, special education funding, and reproductive autonomy. He has used his position to spew conspiracy theories about and deny human rights to the LGBTQ+ community, among other legislative actions. Volunteers are encouraged to sign up here to help defeat candidates like this.
And in the 1st U.S. House District, NEA and MSEA support Heather Mizeur in her race against Republican extremist Rep. Andy Harris. As a former member of the Maryland General Assembly Mizeur addressed a massive school construction backlog, led efforts to increase K-12 funding, and opposed shifting the cost of teacher pensions to local governments. She served as vice chair of the House Education and Economic Development Subcommittee. Harris has promoted dangerous antivaccination propaganda, has a record opposing women's rights, denied the validity of the 2020 presidential election, and attended a December 2020 meeting where former President Trump fomented the plan to invite followers to descend on the capital on January 6 to overturn the legitimate 2020 election results.
Unions Coalesce for Fitzwater in Frederick County
In Frederick County, Councilwoman and educator Jessica Fitzwater has attracted strong support from several unions for her county executive race. The Marylanders for Freedom and Opportunity Political Action Committee is running a TV ad to expose that her opponent, Senator Michael Hough (R-Frederick), consistently voted to restrict Marylanders' right to reproductive freedom in his time as a delegate and senator in the General Assembly. MSEA and the International Brotherhood of Electrical Workers Local 24 supported the PAC.