And other legislative updates in this month's Up the Street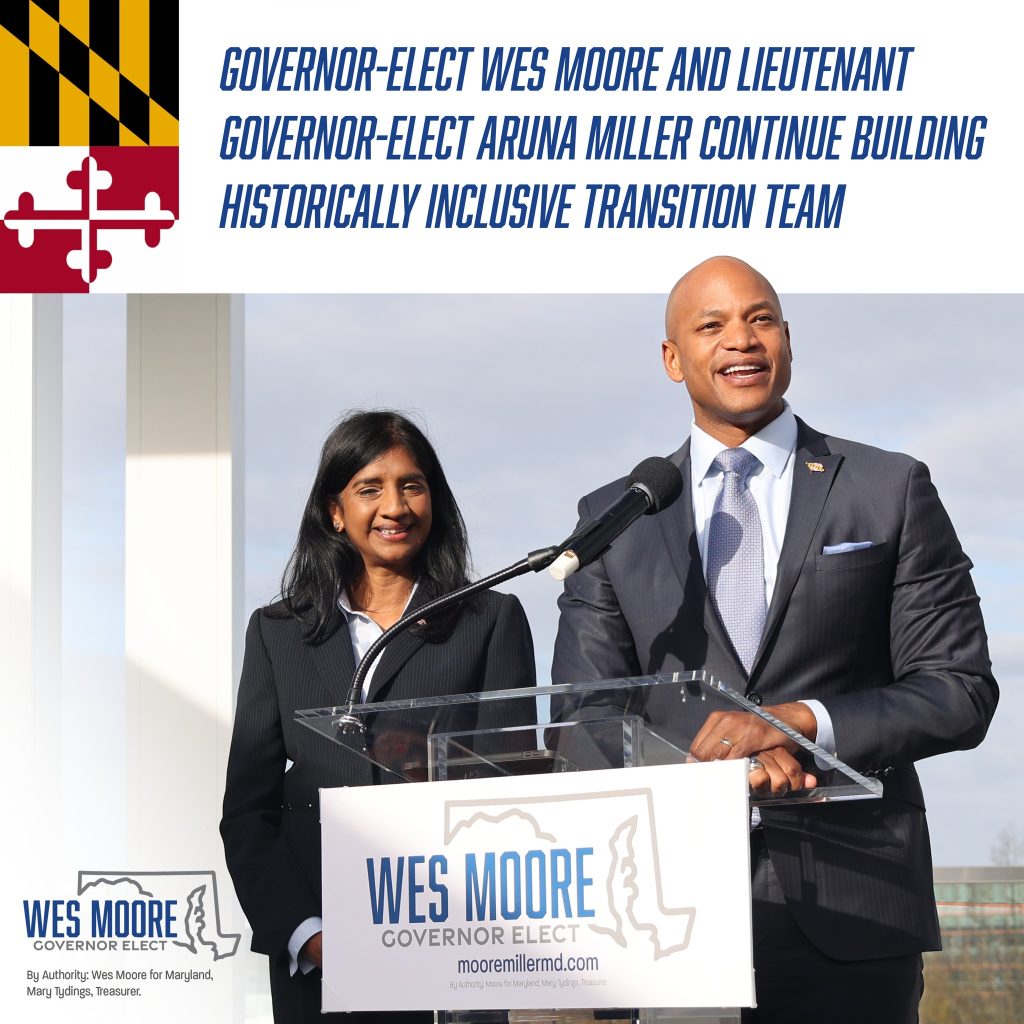 THIS MONTH IN ANNAPOLIS
Moore's Staff, Transition Committee Selections Include Educator Allies
The Moore Administration has announced a diverse list of staff and transition team leaders that include a number of pro-public education advocates. Governor-elect Moore chose House Majority Leader Eric Luedtke (D-Montgomery) to be his Chief Legislative Officer. Luedtke is an associate clinical professor at the University of Maryland School of Public Policy and former Montgomery County public school teacher and MSEA member who has been a strong and long-time ally to educators.
Moore's choice for executive policy committee chairs of his transition team keeps his promise to include educator voices in policymaking, and MSEA President Cheryl Bost continues to serve on the 26-member transition steering committee developing policy recommendations for the governor. President Bost and MSEA Vice President Theresa Mitchell Dudley are both serving on the Education Executive Policy Committee. Moore's co-chairs of the Education Executive Policy Committee are:
Dr. Charlene Dukes, the first female president of Prince George's Community College and former president of the Maryland State Board of Education
Dr. Jennifer Lynch, the director of Educational Partnership at the Office of the Baltimore County Executive and a member of the Blueprint Accountability and Implementation Board
Dr. Richard Warren, Jr., a Hazel Professor of Education at the University of Maryland, Eastern Shore, 2019 Maryland State Teacher of the Year, and former MSEA member
Warren's thoughtful takes on how to best support educators, the appropriate role of assessments, and what's next for the policy committee were highlighted in this recent interview.
Legislative Leadership Shuffle Requires Filling Several Vacancies
Given Luedtke's move to the administration, House Democrats will select a new majority leader, and the Montgomery County Democratic Central Committee will send the name of its nominee to fill the District 14 House seat to the governor. In addition, Democrats must identify a House majority whip and President Bill Ferguson (D-Baltimore) will tap a new Senate Finance Committee chair. Delegate Talmadge Branch (D-Baltimore City), the majority whip since 2007, is scheduled to retire in January, and so is Senate Finance Committee Chair Delores Kelley (D-Baltimore County), after 28 years in the Senate and six years in the House.
Senate GOP Changes Leadership
Following losses of Republican-held Senate seats in the general election, the Senate Republican Caucus replaced Senator Bryan Simonaire (R-Anne Arundel) as its minority leader with Senator Steve Hershey (R-Upper Shore). Hershey, a Senate Finance Committee member, served as minority whip from 2014 to 2020. The caucus re-elected Justin Ready (R-Carroll) minority whip. Simonaire became leader two years ago, when Republicans shifted to more conservative leadership, which included electing then-Senator Michael Hough (R-Frederick) minority whip. Ready became whip last year when Hough decided not to run for re-election to the Senate this year, but instead to run (unsuccessfully) for county executive in Frederick.
NEWS AND NOTES
AIB Adopts Comprehensive Blueprint Implementation Plan
On Thursday, the Blueprint for Maryland's Future Accountability and Implementation Board (AIB) adopted its comprehensive Blueprint implementation plan (CIP) that is intended to provide districts the criteria for success. It is intentionally more qualitative than quantitative the first year and will be updated. The adopted CIP incorporates clarity that MSEA President Bost recommended at past AIB meetings to assure the plan contains educator voice and expertise.
The AIB adopted adjusted deadlines to optimally implement the Blueprint. Locals, which must implement Blueprint programs according to AIB criteria, are permitted to complete their individual implementation plans in three phases, with only the first phase due in March. At that time plans are due for college and career readiness paths for students in grades 11 and 12; for requirements for certified school personnel who have regular and direct contact with students to complete annual training on student behavioral health; and for encouraging and supporting teachers—especially those from historically underrepresented populations—to obtain and maintain National Board certification. Districts have until March 2024 to implement other programs, such as a new system of professional development that helps teachers advance in their careers. MSEA intends to have a strong voice in plans for programs that directly impact students, educators' careers, and local bargaining rights.
State's Fiscal Position Strong in Face of Recession Worries, Budget Experts Say
The Maryland Spending Affordability Committee's economic advisors predict that the state has a miraculously healthy financial condition to avoid budget cuts, weather a recession, and fund the 10-year Blueprint implementation at least through fiscal year 2026. The state's position is built on the strong financial condition it exhibited coming through the pandemic, buoyed by federal relief funds. Even though those funds are coming to an end, the rainy day reserves protected by the state legislature and projected revenue together put Maryland in a position to come through a potential recession without having to make major cuts to recurring expenses or to anticipated increases in spending, the advisors said.
Mobile Sports Betting Apps Open; Profits Will Contribute to Blueprint Fund
Mobile sports betting went live on November 23, adding another revenue source for the Blueprint. Sports betting at licensed venues has been allowed since December 2021, but mobile sports betting outlets were not licensed by the Sports Wagering Application and Review Commission until November. On opening day, seven of 10 licensees were ready. The 15% tax on mobile sports betting is expected to generate up to $30 million in 2023, climbing to $100 million by 2027. All sports betting revenues that come to the state will fund the Blueprint. Mobile betting was not a factor in the October sports betting revenue report, which reported profits of nearly $40 million, with $781,642 going to the Blueprint for Maryland's Future Fund.
Biden Extends Student Debt Repayment Deadline after GOP-Led States Contest Debt Relief
In the wake of GOP-led states' lawsuits contesting the Biden Administration student debt relief plan, applications for the program were suspended, but President Biden has offered alternative temporary relief for student borrowers. The administration has extended the pause in payments on federal student loans, which was scheduled to expire December 31, through June 2023. Biden's permanent debt relief program would apply to Pell grant recipients who made less than $125,000, and families who made less than $250,000, in 2020 or 2021. They would be eligible for $20,000 in debt cancellation. Recipients from other borrowers, excluding Federal Family Education Loans (FFEL), would be eligible for up to $10,000 in debt cancellation. NEA publishes the latest news concerning student borrower support here.
U.S. Education Department Adds $1 Billion to Enhance Behavioral Health Supports
The U.S. Department of Education has dedicated $1 billion to start and expand programs to prevent violence in schools by addressing root causes in mental health. The Stronger Connections grant program is designed to help schools reduce exclusionary discipline, hire behavior specialists, implement anti-bullying practices, and rigorously train and evaluate school resource officers if they are employed.
CAMPAIGN 2022 WRAP-UP
With all the votes certified and finances reported, the gubernatorial race ended with educator-supported Moore achieving a landslide victory by more than 30 percentage points, the largest margin since Democrat William Donald Schaefer won 82% of the vote in 1986. Financially, Moore and Lt. Governor-elect Aruna Miller came out well ahead too. Together they have $2.7 million left in campaign funds, more than rivals Dan Cox and Gordana Schifanelli ever raised for their campaign, according to the latest campaign finance reports. Moore and Miller raised a total of nearly $17 million.
Educators' Recommended Candidates Defend and Win Important Seats Up and Down Ballot
In the final counts, MSEA-backed candidates won 94% of their contests in the Senate and 93% of contests in the House of Delegates. Key seats defended include in District 8 (Kathy Klausmeier, Harry Bhandari, and Carl Jackson), District 9 (Katie Fry Hester), District 27 (Michael Jackson), District 29B (Brian Crosby), District 30 (Sarah Elfreth, Shaneka Henson, and Dana Jones), District 32 (Pam Beidle, Sandy Bartlett, Mark Chang, and Mike Rogers), District 33C (Heather Bagnall), and District 34A (Andre Johnson and Steve Johnson). Educator-backed candidates also flipped a number of seats, including in District 2B (Brooke Grossman), District 8 (Nick Allen), District 9A (Natalie Ziegler and Chao Wu), District 33 (Dawn Gile and Andrew Pruski), and District 34 (Mary-Dulany James).
In county-level races, scores of educator-supported candidates won, including important wins in the competitive county executive races in Baltimore County, where Johnny Olszewski was re-elected; in Frederick County, where music teacher and MSEA member Jessica Fitzwater was elected; and in Howard County, where Calvin Ball was re-elected. In school board races, educator-backed candidates secured victories across the state, including defeating extremist, anti-public education candidates supported by outsidenational groups attempting to divide communities and pit parents against educators.