And other legislative updates in this month's Up the Street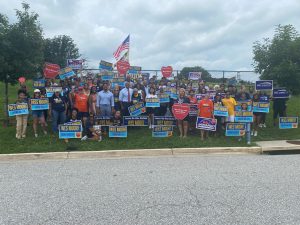 THIS MONTH IN ANNAPOLIS
Educators Lead Support for Winning Pro-Public Education Candidates
When all of the July primary votes were counted, 88% of MSEA-endorsed candidates claimed victory, demonstrating once again the power of educators' endorsement. In the November 8 general election, educators have an outstanding opportunity to elect pro-public education champions to positions of county executive, school board, county councils/commissions, the state House and Senate, and the statewide offices of governor, comptroller, and attorney general.
At the top of the ticket, MSEA endorses Wes Moore for governor, Brooke Lierman for comptroller, and Anthony Brown for attorney general to give students the resources and opportunities to pursue their dreams. The candidates won overwhelming support in MSEA's democratic process for statewide political endorsements when hundreds of members at representative assemblies in April and August overwhelmingly affirmed the MSEA Endorsement Council's recommendation for the three candidates.
With just eight weeks until the general election, MSEA members continue to organize and work for candidates. MSEA members will be knocking on doors with lieutenant governor candidate Aruna Miller and Howard County Executive Calvin Ball to get out the vote for pro-public education candidates on Saturday, September 10. Volunteers are encouraged to sign up here to participate.
Union Strength, Legislative Victory Celebrated for Community College Employees
With public sentiment for unions near a record high level, community college employees are now able to join a union to amplify their voice in determining their working conditions. On September 1, MSEA, the American Federation of State, County, and Municipal Employees (AFSCME) Local 6067, the Service Employees International Union (SEIU) Local 500, and MSEA-endorsed candidates Anne Arundel County Executive Steuart Pittman, Dawn Gile, running for senate in District 33, and Courtney Buiniskis, running for House in District 30B celebrated and promoted the new rights of community college workers at Anne Arundel Community College. It marked the start date for community colleges to have the right to organize that MSEA, AFSCME, and SEIU fought for years to get passed and won in the 2021 legislative session. Union representatives immediately began to inform prospective members of the power that organizing has to improve teaching, learning, and the lives of educators.
A recent Gallup poll found that public approval for unions is at 71%, the highest since 1965, and this year has seen a wave of union organizing victories, including at Amazon and Starbucks. The National Labor Relations Board reported a 57% increase in union election petitions during the first six months of fiscal year 2021.
NEWS AND NOTES
New AIB Website Gives Access to Blueprint Implementation Information
The Accountability and Implementation Board (AIB) tasked with overseeing implementation of the Blueprint for Maryland's Future has its website up and running. The site includes AIB news, mandates, and opportunities for the public to participate in the process of implementing the Blueprint. The website makes it easier to keep up with the implementation plan timelines.
Education Benefits from Record July Casino Revenue, $181.5 Million, $169 Million in August
Just in time for education to benefit to the maximum, Maryland Lottery and Gaming reported $181.5 million casino revenues for July, setting a monthly record. August revenues were $169 million, which is .5% higher than August 2021. From the two months' combined revenue the state receives $147 million. Thanks to the MSEA-led effort to Fix the Fund and pass Question 1 during the 2018 election, starting in fiscal year 2023 (which began July 1), all gaming revenues which go to the Education Trust Fund (ETF) must supplement the state's education budget.
Established during the 2007 special session, the ETF is a nonlapsing special fund supported by gaming revenues that has been used to provide funding for Maryland's public schools. The passage of Question 1 required the governor to ensure that the ETF funds are used to increase school funding rather than simply supplant existing funding. These funding increases had to total at least $250 million in fiscal 2021, growing to 100% annually of all gaming revenues dedicated to ETF by fiscal 2023, which has been projected to be at least $500 million annually.
EPI Finds Maryland Educators Still Stuck with 20% Pay Gap
The latest data comparing the salaries of college-educated workers in public schools to non-education professionals with comparable levels of education finds that Maryland educators earn 20.3% less. Public support for higher educator pay is at an all-time high, though support lies along partisan lines. The latest data support MSEA's priority to fight for higher wages and reduced workloads to attract and retain the best educators. Maryland is one of 28 states where the Economic Policy Institute (EPI) found teachers have a pay gap of more than 20%. In no state does the relative weekly wage of teachers equal or surpass that of their nonteaching college graduate counterparts.
MSEA has been engaged on several fronts to improve educator pay. Locals are working to guarantee the higher pay owed to teachers in the Blueprint for Maryland's Future, and MSEA is developing an education support professional (ESP) bill of rights to fight for a living wage and better working conditions for these essential workers. Students and educators depend on ESPs for classroom support, transportation, food service, facility and technology maintenance, and more. ESPs are encouraged to attend MSEA's listening sessions to share their priorities for the bill of rights.
Biden Makes Good on Debt Relief; IRS Increases School Supplies Tax Deduction
Educators will be among those with student loan debt who experience relief from the Biden Administration plan to eliminate student debt for people making less than $125,000. Pell grant recipients will be eligible for up to $20,000 in debt cancellation, and recipients from other borrowers will be eligible for up to $10,000 in debt cancellation. Applications for debt relief are scheduled to open next month. The pause that has been allowed since 2020 in payments on federal student loans has been extended a final time through December 31.
NEA found that student loan debt has a significant impact on the lives of a majority of educators who took out student loans, and that many were still paying off the debt at retirement age. The debt relief moves racial and social justice forward, given NEA's finding that Blacks and minority communities are disproportionately saddled with higher levels of student loan debt.
Another break for educators is NEA's successful push to increase federally deductible classroom expenses by $50. When educators file their 2022 federal taxes they will be able to deduct $300 of eligible classroom expenses even if they take the standard deduction. This is the first increase in the deductible amount since $250 in expenses became deductible in 2002.
Teacher Shortage Has Attention of Wes Moore, Biden Administration
The nationwide shortage of educators has the attention of the Biden Administration nationally, and Wes Moore is prepared to address the root problems as governor in Maryland. The Biden administration recently unveiled a three-point plan: partner with recruitment firms to find new potential applicants, subsidize prospective teachers' training, and pay them more. Moore released his plan to improve teacher pay and working conditions while strengthening the supply of educators in the pipeline.
At the White House plan's unveiling NEA President Becky Pringle joined a discussion led by First Lady Jill Biden that included U.S. Secretary of Education Miguel Cardona and Secretary of Labor Marty Walsh, American Federation of Teachers President Randi Weingarten, and executives from participating job-search companies. Cardona recognizes that the shortages, exacerbated by the pandemic, have been longstanding, and he is committed to increasing the level of respect that educators have as professionals to attract and retain them.
CAMPAIGN 2022
Pro-Labor Moore Collects Union Endorsements, Leads in Fundraising
With a strong commitment to labor, Moore has also gained the endorsement of the Maryland Fraternal Order of Police, and four locals of SEIU: Local 500, 1199SEIU United Healthcare Workers East, 32BJ SEIU, and SEIU Local 400 PG. He is also out front financially, raising the most money in his race, according to the latest campaign finance reports. His campaign had just under $1.5 million on hand heading into Maryland's fall election season—more than tenfold the amount his opponent reported.
MSEA Ad Campaign Supports Fitzwater in Key County Executive Race
In the critical Frederick County executive race MSEA has launched a TV and digital ad campaign to support Jessica Fitzwater. Fitzwater is a classroom educator and county council member who has helped upgrade schools, improve educator pay, and fought for affordable housing. Her opponent, State Senator Michael Hough (R-Frederick), supports an extreme conservative agenda. In his day job, he is chief of staff for far-right West Virginia U.S. Representative Alex Mooney (2nd District), who among other things, has continuously attempted to overturn the results of the 2020 presidential election.
Former Rivals Rally for Moore; Republicans Run away from Their Nominees
The urgency concerning the gubernatorial and attorney general's race has united Democrats, including former rivals, to help Moore and Brown win in their respective races. Cox has failed to win support from his own party's leaders. Hogan, who has called Cox a "QAnon whack job," will not support him, and Senate Minority Leader Bryan Simonaire (R-Anne Arundel) and Delegate Justin Ready (R-Carroll) refrained from committing to campaigning for Cox when they outlined statewide GOP campaign priorities at the Maryland Association of Counties (MACo) Conference. In the attorney general's race Republican candidate Michael Peroutka's ties to white supremacy and theories that the 9/11 attacks were planned by U.S. government actors have outraged, among others, Gov. Hogan, who said, "These disgusting lies don't belong in our party."
MPT to Host Debate between Moore, Cox Next Month
The public will have an opportunity to see the vast difference between Cox and Moore when Maryland Public Television hosts a gubernatorial candidate debate on October 12. More information on the debate and moderators will be released in the coming weeks.
State Board of Elections Seeks to Speed up Ballot Counting
In a petition filed September 2, the State Board of Elections is trying to make it possible to count mail-in ballots sooner than the Wednesday after an election. The board's petition seeks a judicial order to suspend a state law that prohibits the opening of any mail-in ballot envelope before the Wednesday after the election and asks the court to permit local election boards to begin processing mail ballots on October 1. The workaround is necessary due to Gov. Hogan's veto of a bill that would have allowed for an earlier count of these ballots.
Board members voted unanimously to pursue the legal action and said it is necessary based on the volume of mail-in ballots that delayed this year's primary vote count for weeks in some counties. Mail-in ballots—which voters can request until November 1—will start arriving in voters' mailboxes in about a month. A week of in-person early voting begins October 27, and Election Day is on November 8.