and other legislative updates in this month's Up the Street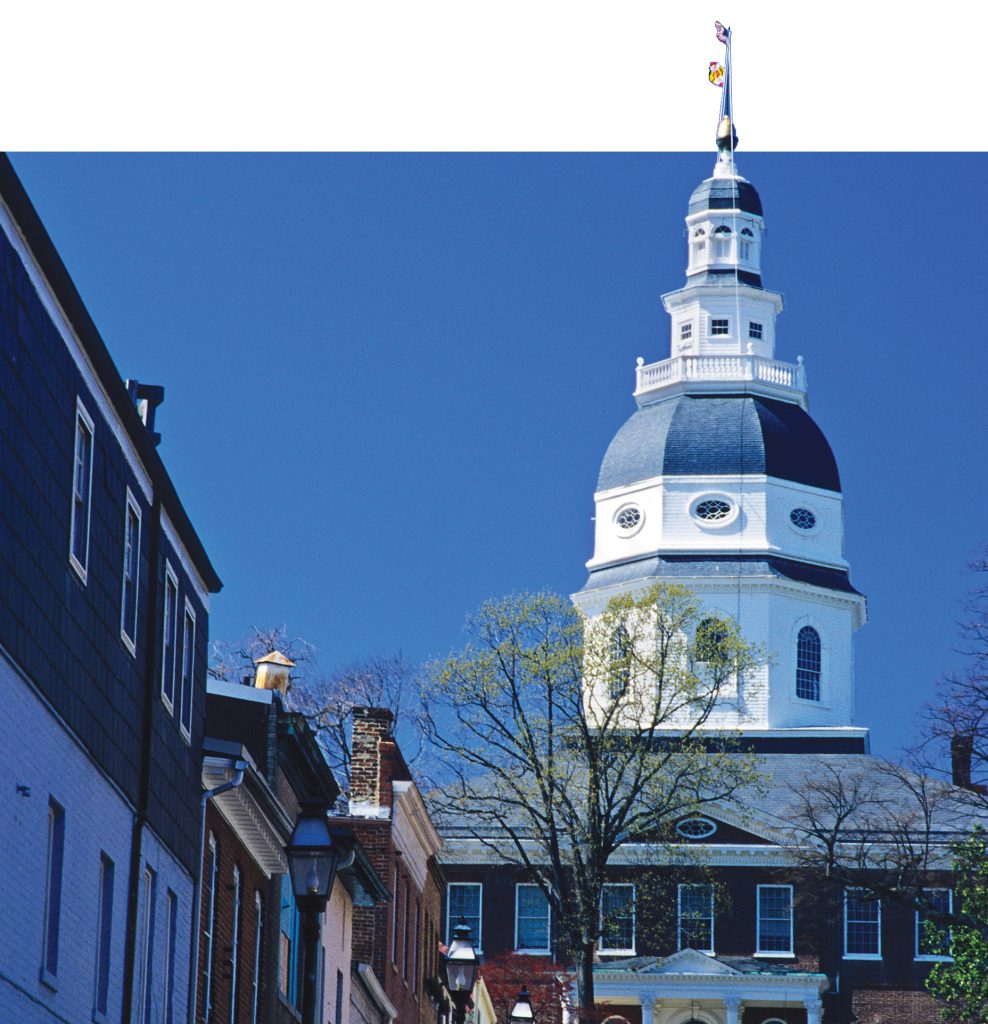 THIS MONTH IN ANNAPOLIS
Educator Voice on State Board Grows
Gov. Wes Moore appointed attorney Samir Paul, a former Montgomery County Education Association (MCEA) member and Montgomery County Public School teacher, to the Maryland State Board of Education (SBOE) earlier this month. Paul, a STEM champion and computer science teacher, started the STEM Talent Pipeline Program, an after-school math program for low-income girls in Montgomery County. While a member of MCEA, NEA recognized him as one of its "30 Under 30" educators.
Moore also appointed outgoing Prince George's County Public Schools CEO Monica Goldson and student member Abisola Ayoola from Wilde Lake High School in Howard County. Paul's experience as a teacher will add to the educator voice on the board established by Rachel McCusker, a music teacher in Carroll County, who has twice won election to the one seat on the board reserved for an active educator.
Moore Signs to Keep Truth in Textbooks; U.S. Education Department Battles Book Bans
Around the country, conservative groups have attempted to remove books that reflect the history and humanity of students who have endured historic discrimination based on ethnicity, gender identity, culture, and other biases. As some extremist lawmakers nationwide push to limit the types of books that can be found in schools, Gov. Moore joined nine other governors to fight the censorship of textbooks in a letter released on June 2. In it he said, "If we are to continue striving for a more perfect union, then we must carry out our duty of ensuring future generations understand our full history as well as the contributions of all its people." Moore, along with other Democratic governors, called on textbook publishers to "hold the line" and refuse to water down their educational materials at the behest of Republican lawmakers and conservative parents.
In the face of such book censorship, the U.S. Department of Education's Office for Civil Rights is appointing a new coordinator to take on book bans in classrooms and libraries across the country.
Blueprint Plans Must Meet AIB Approval by Oct. 1; Public Comment Open on State Plans
Starting this year, school boards will have until October 1 each year to get approval for their annual Blueprint implementation plans, if they require revision after the July 1 due date. School districts whose revised plans do not get approved by October 1 are then potentially subject to the withholding of 25% of the increase in the subsequent fiscal year's Blueprint funding.
The Blueprint Accountability and Implementation Board (AIB) heard from Executive Director Rachel Hise on June 22 that most local implementation plans are on track to be ready for AIB approval by July 27. The SBOE and the Maryland State Department of Education (MSDE) are developing long-range statewide education plans, and there is still time to comment via their survey here.
Casinos, Sports Wagering Deliver $56 Million for Public Education
In May, combined revenue for education from Maryland's six casinos and 10 sports betting apps and sports betting retailers was $56 million, according to Maryland Lottery and Gaming. Casinos generated $51.49 million in revenue for the Education Trust Fund (ETF), and sports betting raised $4.65 million for the Blueprint for Maryland's Future Fund.
NEWS AND NOTES
Endorsements, Candidates for U.S Senate, House 6th; Moore Fills Districts 17, 41
In the Democratic primary race for the U.S. Senate seat from which Senator Ben Cardin (D-MD) will retire next year, Prince George's County Executive Angela Alsobrooks garnered recent endorsements from U.S. Rep. Steny Hoyer (D-5th), and Comptroller Brooke Lierman, among others. U.S. Rep. Jamie Raskin (D-8th) is scheduled to announce his intentions early in July, and there are indications that Baltimore Orioles owner John Angelos may enter the contest. Announced primary candidates include Montgomery County Councilmember Will Jawando (D) and U.S. Rep. David Trone (D-6th).
In the 6th District for the seat that Trone is leaving, former state Delegate Neil C. Parrott (R-Washington) announced that he has created an exploratory committee ahead of a possible bid in 2024. He was the 6th District's GOP nominee in 2020 and 2022, finishing nine points behind Trone last year. He finished 20 points behind Trone in 2020, when the district favored Democrats. Parrott and other Republicans sued to challenge the General Assembly's proposed new district lines following the 2020 Census, and the district, which takes in parts of Montgomery County and most of Western Maryland, became more competitive. Three other Republicans have entered the race: retired police officer Chris Hyser, grocery store clerk Todd Pugilisi, and Air Force veteran Mariela Roca, who sought the nomination in 2022.
Democrats who announced recently include military veteran Mia Mason (D) and think-tank executive Destiny Drake West. Montgomery County Councilmember Laurie-Anne Sayles (D) said she is testing the financial feasibility of running. Mason ran in Maryland's first congressional district in 2020 and 2022. Montgomery County delegates Joe Vogel and Lesley Lopez have also announced their entries into the race.
Filling delegate vacancies that his administration appointments created, Moore appointed Gaithersburg City Councilmember and former Maryland Municipal League president Ryan Spiegel to represent Montgomery County in District 17. Spiegel was the nominee of the Montgomery County Democratic Central Committee to fill the seat formerly held by Delegate Kumar Barve (D), who resigned to become a member of the Maryland Public Service Commission. In Baltimore City's 41st District, Moore appointed attorney Malcolm Ruff from two nominees put forward by the Baltimore City Democratic Central Committee. The BCDCC deadlocked in a 4-4 vote on Ruff and Angela Gibson, who had previously been appointed to represent the district in the House and who voted for herself this time as a member of the BCDCC. Ruff will fill the seat vacated by former Delegate Tony Bridges (D), who was tapped by Moore's administration earlier this year to serve as the assistant secretary of transportation equity and engagement at the Maryland Department of Transportation.
Fate of Biden Student Debt Relief Plan Hinges on Supreme Court Ruling
The U.S. Supreme Court is set to determine what becomes of the student debt relief plan that President Biden announced last year. The plan would wipe away up to $10,000 in federal student loan debt for those who earn less than $125,000 a year individually, or $250,000 as a family. Pell Grant recipients would have had an additional $10,000 in debt forgiven. Several weeks ago, Biden vetoed a congressional attempt to repeal the law, and on June 21 a veto override by Congress failed. That left it up to the Supreme Court to uphold or strike down the executive order that established the plan to provide relief to 48 million borrowers. NEA has resources to help educators navigate their student debt cancellation options.
Respect for Black Students, Mental Health Support Lacking; Biden Adds Mental Health Resources
Research published by Gallup and the Walton Family Foundation, based on a survey of 2,300 students ages 12-18, found that 33% of Black students gave their schools an A rating for respecting their race, ethnicity, gender, and identity, compared to 53% of Hispanic students and 50% of white students. Students gave higher marks to schools for keeping them physically safe and respecting their identities while scoring them lower on supporting their mental health and teaching them about potential careers.
Student wellbeing has received strong support from the Biden Administration, which included $100 million for additional mental health supports for students as part of the Bipartisan Safer Communities Act. Funding is to increase access to school-based mental health services and strengthen the pipeline of mental health professionals in high-needs school districts.
Nation Watches Case after Oklahoma Funds Religious Charter School
In Oklahoma, an application to operate a Catholic charter school entirely with public funds has constitutional experts at odds. Allowing public dollars to support an explicitly religious school that will exclude students based on sexual identity, reproductive health, and religious affiliation, among other factors, goes against the tenets of public education. U.S. Supreme Court decisions authorizing the inclusion of religious schools in choice programs, such as tax credits for scholarship donations and tuition assistance, opened the door to this kind of diversion of public funds.
Such use of public funds is entirely inappropriate, says Nina Rees, the president and CEO of the National Alliance for Public Charter Schools. "All charter schools are public schools, and as such must be non-sectarian," she said in a statement.
Following the vote to approve the Oklahoma school charter, Americans United for Separate of Church and State said it will take legal action to revoke the charter.