And other legislative updates in this month's Up the Street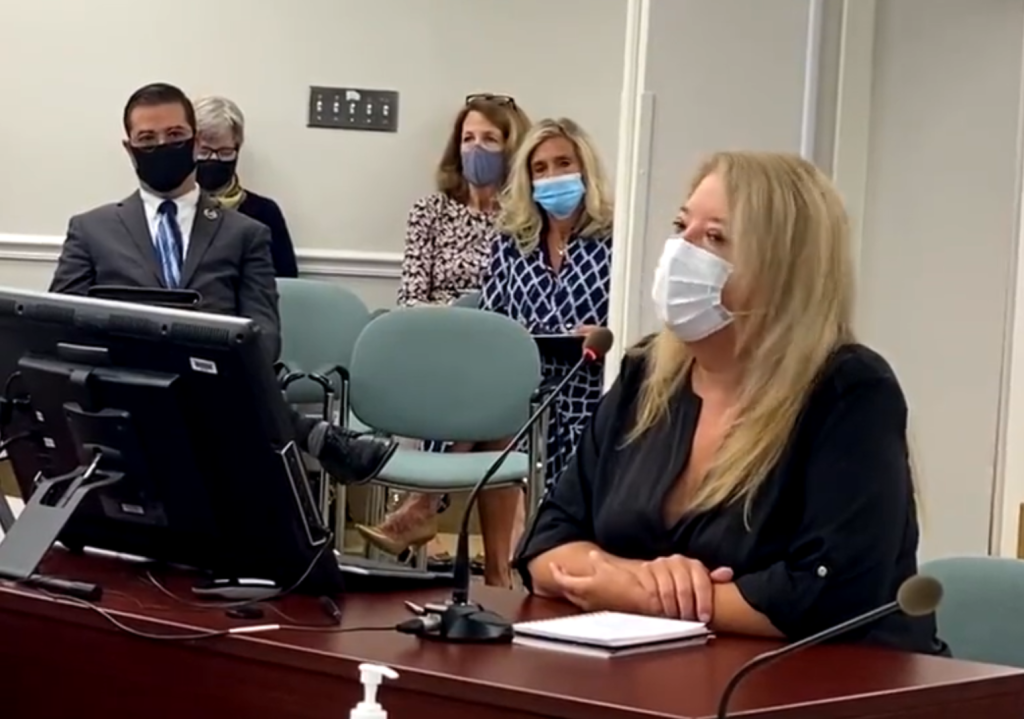 Special Session Agenda Includes Redistricting, Community College Organizing, New Treasurer
The General Assembly will convene a special session starting on Monday with an agenda that will have an impact on education: selecting a new map of the state's eight congressional districts, electing a state treasurer, and considering votes to override Gov. Hogan's vetoes, including of SB 746/HB 894, which would give collective bargaining rights to community college employees.
Veto-proof majorities in both chambers passed the collective bargaining bill during this year's regular session. MSEA has worked with a strong coalition of advocates to push for a veto override so community college educators will be able to join the ranks of educators who benefit from the strength that union membership provides.
The decennial national census requires redistricting. The Legislative Redistricting Advisory Commission chaired by Karl Aro has drafted a congressional map to be considered on December 6 by the Senate Reapportionment and Redistricting Committee and the House Rules and Executive Nominations Committee. Lawmakers will vote on a new state legislative district map during the regular 2022 session.
House Economic Matters Chairman Delegate Dereck E. Davis (D-Prince George's County) was recommended by the Special Joint Legislative Committee to Select the State Treasurer. The full General Assembly will vote to select the successor to longtime treasurer Nancy Kopp, who will retire at the end of the year. As one of three votes on the Board of Public Works, the treasurer has influence over capital funding for vital school construction projects, among other powers.
In the House chamber, all committee hearings during the special session and during the regular session starting on January 12 will be virtual, and public participation will follow the protocol for virtual testimony. We expect the Senate chamber to release their guidance next week. These guidelines are all subject to change, based on public health metrics.
MSEA Advises State School Board to Maintain Mask Regulation to Support Safe In-Person Education
On December 1, the State Board of Education (SBOE) discussed whether it should amend the status of the statewide masking mandate in schools before its scheduled expiration on February 25. This meeting followed a session to gather public and expert comments on November 16, during which MSEA President Cheryl Bost underscored that educators supported the mandate to better assure uninterrupted, safe in-person instruction in schools statewide. The SBOE members came to a general conclusion at their December 1 meeting that they could support enacting a different emergency regulation that could end whenever certain criteria were met, with defined "off ramps." Members disagreed on the metrics that would suit them, and Superintendent Mohammed Choudhury's office is to present some options.
MSDE's draft will be presented to the SBOE for consideration and public comment before any new rule is enacted. The SBOE may choose to rescind the existing emergency regulations upon enactment of new regulations, or they could take effect when the current regulations expire.
AIB Meets at Last, Discusses Need for Blueprint Deadline Extensions
The Accountability and Implementation Board (AIB) that oversees implementation of the Blueprint for Maryland's Future met for the first time on November 15 and again on November 29. Former Montgomery County Executive Ike Leggett is chairman of the seven-member board, which includes Brit Kirwan, who chaired the Commission on Innovation and Excellence in Education, more commonly known as the Kirwan Commission. Delays by Gov. Hogan prevented the AIB from beginning its oversight on the schedule anticipated by the law, meaning that some of the Blueprint reporting deadlines must move to give the Board and counties adequate time to do their work.
For example, by November 1, the AIB was originally scheduled to produce a report on whether Blueprint funding is sufficient, and whether any legislative adjustment should be made to the law in the 2022 session that begins on January 12. By February 15, 2022, the AIB was scheduled to produce a comprehensive statewide Blueprint Implementation Plan, which will define outcomes and metrics and serve as a model for local education systems' implementation plans. The local plans are due June 15, according to current law, but members questioned the feasibility of getting something ready for districts to have as a guide by February.
NEWS AND NOTES
Pension Actuarial Update Shares Positive News

Earlier this year (see previous coverage in Up the Street) the state pension fund belonging to 412,000 educators, state employees, law enforcement workers, judges, and correctional officers reported record earnings and continues on a path to be 100% funded by 2039. The latest data shared on November 18 with the General Assembly's Joint Committee on Pensions indicate the fund will be 80% funded sooner than the previous target of 2026 and as early as June 2023. Due to changes in actuarial assumptions, local school systems' required contributions will increase as the state's costs will decrease. MSEA lobbyist Sam Zwerling warned the committee that more educators are interested in retiring sooner because of the workload and health conditions over the last couple of years.
Further House Leadership Changes Coming
The last issue of Up the Street reported on the committee leadership changes in Ways and Means, with Del. Anne Kaiser (D-Montgomery) stepping down and Del. Vanessa Atterbeary (D-Howard) becoming the new chair, and Economic Matters, with the likely promotion of Del. Dereck Davis to the treasurer spot; now news that Delegate Maggie McIntosh (D-Baltimore) will retire at the end of her term next year will also require a new House Appropriations chair. McIntosh, who is a former teacher and was the first openly gay member of the General Assembly, will wrap up three decades of elected service. She has been a strong advocate on behalf of Baltimore and for students statewide. She served on the Kirwan Commission and was a key leader in the effort to pass the Blueprint for Maryland's Future as well as the Built to Learn Act, in addition to a long record of accomplishment on fiscal, environmental, and other issues, including serving as a driving force in the effort to secure marriage equality.
One further committee chair is also open with Delegate Shane Pendergrass' retirement next year after 28 years representing Howard County. Her retirement will require filling the Health and Government Operations chair.
Economic Outlook Brightens, Conceals Widening Disparities
The Department of Legislative Services' economic report shows the state with budget surpluses ranging from nearly $2 billion to more than $7 billion, instead of a structural deficit, through FY2028. While top wage earners experienced positive economic changes during the past two years, low wage earners have shouldered the brunt of economic losses. MSEA will advocate for using budget surpluses to advance the causes of equity, through education and other programs that reach underserved populations.
CAMPAIGN 2022
AG Race Has Former First Lady Against Former Lt. Gov.; Gov. Race Shrinks
Retired Judge Katie Curran O'Malley officially entered the race for attorney general, competing with U.S. Rep. Anthony Brown, formerly the lieutenant governor to her husband Martin O'Malley. U.S. House Majority Leader Steny Hoyer (D-5th District) endorsed Brown this week following Judge O'Malley's entry into the race.
While the attorney general race grew, the gubernatorial field shrank as Baltimore entrepreneur Mike Rosenbaum dropped out of the governor's race this week.
Comptroller Candidate Picks Up AFSCME Endorsement
Comptroller candidate Brooke Lierman (D-Baltimore) picked up endorsements this week from American Federation of State, County, and Municipal Employee (AFSCME) Locals 3 and 67, the largest union for state and local government workers.