And other legislative updates in this month's Up the Street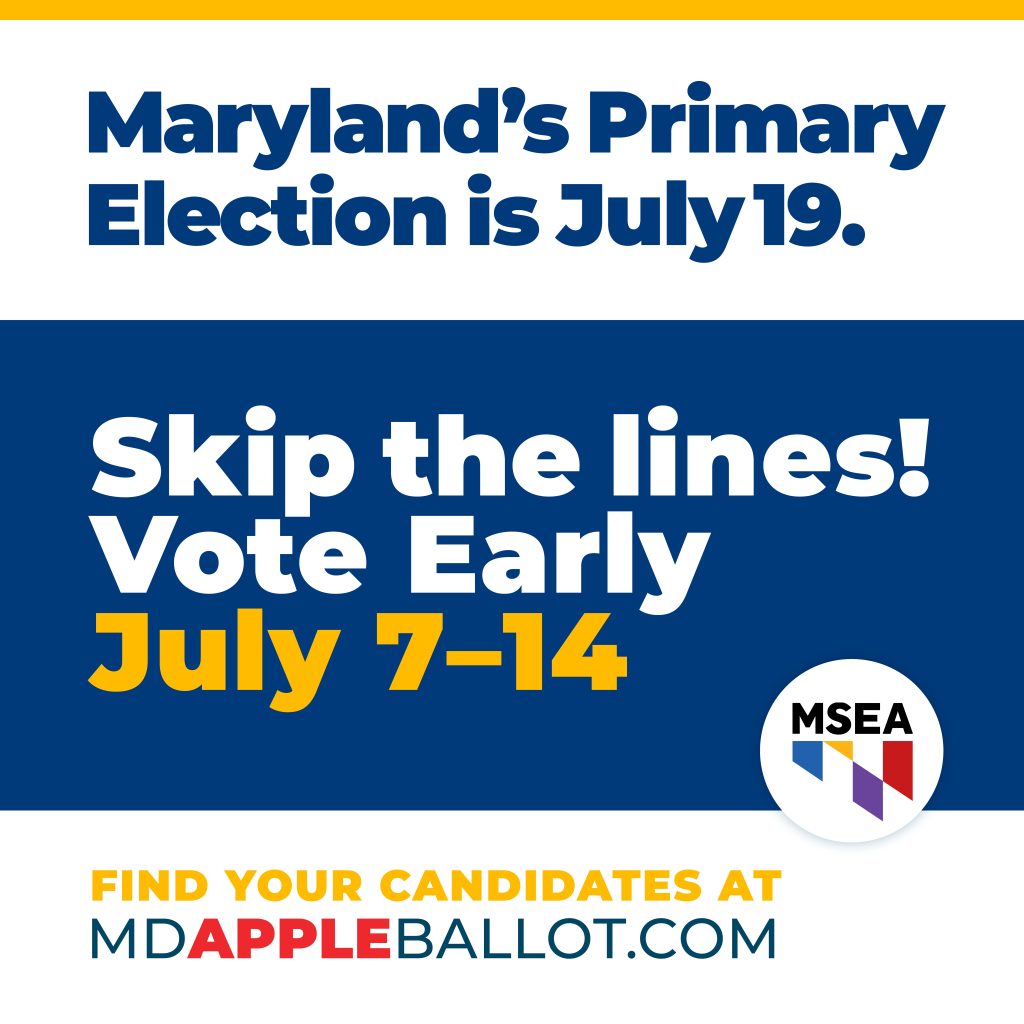 ELECTION ALERT
Issues Drive Educators to Support Moore, Lierman, Brown; Every Vote Will Matter
MSEA is rallying members and supporters to get out the vote to elect the best local and statewide candidates in the crucial July 19 primary. For statewide offices, MSEA has endorsed Wes Moore for governor, Brooke Lierman for comptroller, and Anthony Brown for attorney general. Recommendations for federal offices, General Assembly seats, county executive, county council/commission, and local boards of education can be found at MDAppleBallot.com.
Polls Illuminate Necessity to Capitalize on Undecided Voters
Polling by Goucher/The Baltimore Banner and The University of Baltimore/Baltimore Sun indicates that Moore, Lierman, and Brown are in good position to win their contests. But the polls also find a high percentage of undecided voters, which indicates that there remain members of the public who do not yet know enough about these pro-education candidates. The exhausting past year and confusing changes to the primary date have left a significant share of voters uninformed about this critical primary and the candidates. Outreach efforts to the undecided voters will be imperative to get candidates elected.
Anyone who missed the June 28 deadline to register to vote in the primary may register in person at the voter's designated polling place during early voting or on July 19 with appropriate identification. Registered voters have the opportunity to vote by mail; to vote early in person from July 7-14; or in person on Primary Day, July 19. Mail-in ballots must be requested in person or online by July 12 and postmarked or returned to a drop-box by 8 p.m. on July 19.
NEWS AND NOTES
Educators Rally to End Gun Violence, and Congress Moves; Supreme Court Rules Against Restrictions
After nearly three decades of school shootings and continued Congressional inaction to stem the tide of violence, new gun safety restrictions were finally enacted in the Safer Communities Act that Congress passed on June 24 and which President Biden signed immediately. It marks a victory for Maryland educators who joined the National Education Association (NEA) and allies rallying at the March for Our Lives events across the nation on June 11 and June 18 in an intensive campaign to improve school safety.
Among the law's features, the Safer Communities Act strengthens background checks for gun purchases, increases mental health care access, and encourages nationwide red flag laws, like Maryland's, to prevent those who pose a threat to themselves or others from being able to buy a gun. It stops disappointingly short of a range of more stringent measures, many of which Maryland has, that could save more lives. NEA President Becky Pringle said, "This is a good first step, and the bill will absolutely help save lives, but we cannot stop here."
The celebration for the Safer Communities Act faded when the same day that the Senate voted for it the U.S. Supreme Court decision in New York State Rifle & Pistol Assoc. v. Bruen overturned New York's law that made it illegal to carry a concealed weapon without first demonstrating a need to carry one. "As our nation continues to mourn the deaths of 19 children and two teachers at Robb Elementary School in Uvalde, Texas, and the hate-fueled massacre in Buffalo, New York, it is unconscionable and utterly disgraceful that a radicalized Supreme Court has decided, once again, to erode further what few common-sense gun safety measures we do have in place," Pringle said. "This decision will put students, educators, and all Americans at greater risk of gun violence. … This decision will not deter us. The 3 million members of the NEA, along with students and parents, are not going to back down until we take serious action to end gun violence in communities across this nation."
The court's decision may affect Maryland's law regarding concealed weapons, which is similar to New York's, and Maryland Attorney General Brian Frosh warned that safety will suffer. With the reality that the number of school shootings in 2020-2021 set a record, and firearm-related injuries are now the leading cause of death in children ages 1-19 in the U.S., MSEA will continue to support laws that will make our schools and communities safer and free from gun violence.
Brave Educators Stand Up for All Students Despite Threats
The success of MSEA's work for HB850 this session to prohibit discrimination in all publicly funded schools could not have been more timely, as the disappointing Supreme Court ruling in Carson v. Makin underscores. The Court ruled that the constitutional separation of church and state does not necessarily include prohibiting religious schools from receiving state funding. The ruling is sure to embolden voucher proponents, and public schools will suffer if more private schools are able to siphon funds from the public schools that taxpayers support.
As recently as June, during Pride Month, Maryland students and educators who are in the LGBTQ+ community faced Pride flag bans, and supportive Maryland educators experienced deeply inappropriate bullying and threats online. As MSEA President Cheryl Bost wrote in her letter to the Carroll County Board of Education following their Pride flag ban, "No matter who we are, we all want the freedom to be ourselves. But too often we see attempts to put people in boxes based on what we look like, where we're from, who we love, or our gender. This stoking of fear and division distracts from making sure that all students and families have the supportive, respectful, and bully-free environment that we all deserve. We should all be free to thrive and support each other for who we are."
Blueprint Funding Benefits as State Collects Near Record Level Casino Revenues
Near-record revenue from Maryland's six casinos will benefit the Blueprint for Maryland's Future and education in general. According to the most recent report from the Maryland Lottery and Gaming, revenue from state casinos in May clocked in at $178.8 million, second only to July of 2021, when revenue was $180.1 million. Of the May 2022 revenue, $53.4 million went to the Education Trust Fund.
CAMPAIGN 2022
Moore, Lierman, Brown Lead in Fundraising
Campaign finance reports that were filed on June 14 showed Moore in the fundraising lead, having raised more money than any other gubernatorial candidate in either party in the reporting period. His campaign raised $2.5 million since January, with about $2.1 million cash on hand approaching the July 19 primary. In the comptroller's race, Lierman outraised Tim Adams, who is largely funding his campaign out of his own pocket. Lierman raised $400,000 since January and has $1.5 million on hand.
In the attorney general's race, Brown raised $944,000 in the past six months and has $1.24 million on hand, compared to Katie Curran O'Malley, who raised $623,000 and has $839,000 cash on hand.
Ferguson, Mfume, Oprah Support Moore; State Leaders, Unions Endorse in Local, Comptroller, Attorney General, U.S. Races
Maryland leaders including Senate President Bill Ferguson (D-Baltimore City), Senate President Pro Tem Melony Griffith (D-Prince George's), and U.S. Rep. Kweisi Mfume (D-7th) are endorsing Wes Moore in his bid for governor, and iconic celebrity Oprah Winfrey brought her influence to bear in support of Moore's campaign during a recent virtual fundraising event. Other endorsements for Moore in the governor's race include America's premier Black newspaper The Afro, the Maryland League of Conservation Voters, and a phalanx of Prince George's County current elected officials including Senate Education, Health, and Environmental Affairs Chairman Paul Pinsky, Senator Malcolm Augustine, Senator Michael Jackson, and the majority of the Prince George's County Council.
In the comptroller's race, Lierman received endorsements from The Baltimore Sun, Prince George's County Executive Angela Alsobrooks, The Afro, and the Coalition of Asian Pacific American Democrats of Maryland (CAPAD-MD). And in the attorney general's race, Anthony Brown received endorsements from House Speaker Adrienne Jones (D-Baltimore County), Senator Antonio Hayes (D-Baltimore City), Senator Pinsky, Delegate Alonzo Washington (D-Prince George's), Baltimore City Delegates Marlon Amprey and Melissa Wells, U.S. Senators Cory Booker (D-NJ) and Kirsten Gillibrand (D-NY), the National Nurses Organizing Committee, UFCW Locals 27, 400, and 1994, and The Afro.
Recognizing the pivotal role school boards have in today's politicized education landscape, U.S. Rep. David Trone (D-6th) is supporting the school board candidates endorsed by MSEA's Frederick County local affiliates: Ysela Bravo, Rae Gallagher, Dean Rose, and Karen Yoho. "Our students and educators deserve leaders who will put them first and provide them with a world-class education and an opportunity for success. I wholeheartedly believe that Ysela, Rae, Dean, and Karen will deliver on that promise," Trone said. In the race for Maryland's congressional 4th district seat being vacated by Anthony Brown, AFSCME Maryland Council 3 and Council 67 have joined NEA in endorsing former 4th District Rep. Donna Edwards.