And other legislative updates in this week's Up the Street
Special Session Brings Win for Community College Collective Bargaining Power, a New Treasurer, Realigned Congressional Districts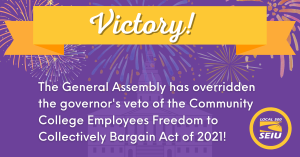 The General Assembly special session that took place December 6-9 gave Maryland a new state treasurer, a new map of congressional districts, and collective bargaining rights for Maryland community college employees.
Legislators swiftly overrode Gov. Hogan's veto of the 2021 session community college collective bargaining legislation (SB 746/HB 894). It gives the colleges' employees the right to organize and fight for fair working conditions starting in September 2022 at most of the state's largest community colleges, September 2023 at smaller community colleges, and September 2024 for Baltimore Community College. Except for exclusive bargaining units established before September 2022, the large community colleges do not have to engage in wage negotiations until July 1, 2023 and the smaller community colleges not until July 1, 2024.
Legislators overwhelmingly supported making Delegate Dereck E. Davis the next state treasurer, who is to be sworn in today. As treasurer he will have influence over the statewide funding decisions made by the Board of Public Works (BPW), which approves capital projects including schools, and on the Board of Revenue Estimates (BRE), whose predictions affect state financial planning that impacts schools and students. On the BPW the treasurer is one of three members, alongside the state comptroller and the governor. On the BRE the treasurer serves with the comptroller and the state's budget secretary.
A new congressional district map received both General Assembly approval and a quick veto override after Hogan refused to accept what the legislative committee had drawn. The map updates districts across the state and makes the first congressional district more competitive for Democrats by including part of Anne Arundel County. Some of Hogan's allies have threatened a lawsuit, which legal experts say would be difficult to win. Cases challenging the 2011 congressional maps in Maryland and North Carolina failed in 2019 when the U.S. Supreme Court ruled that partisan gerrymandering is a political matter, not something for federal courts to referee.
State School Board Revisits Mask Regulation to Support Safe In-Person Education
At the State Board of Education (SBOE) meeting on December 7, State Superintendent Mohammed Choudhury impressed upon board members that Maryland had nearly continuous school operations since the fall, compared to other states where masks have not been encouraged and where weeks of school closures have been necessary following coronavirus cases. In search of "off-ramps" from the mask mandate, the SBOE settled on parameters, tied to vaccination rates and community transmission rates, from which local school districts could choose to determine when they will lift local masking mandates. The proposed emergency regulation requires approval from the Joint Committee on Administrative, Executive, and Legislative Review (AELR). If none of the members of the AELR requests a public hearing on the emergency adoption of the regulation, committee members may be polled on the regulation as soon as December 22. The new emergency regulation would replace the emergency regulation about masks that is scheduled to expire February 25, and would last 180 days.
MSEA Pushes for Sustainable Workloads, Class Sizes
MSEA is advocating for changes to reduce unsustainable workloads and overcrowded classrooms that have worsened during the pandemic and made this school year incredibly challenging for educators and have prompted many to consider leaving the profession. As part of the association's 2022 legislative priorities, MSEA will push to give educators more power over their working conditions and student learning conditions by making it possible for them to bargain about class size. In addition to helping to reduce educator burnout and turnover, such a change would also help to encourage more individual attention for students and even stronger relationships between educators and students.

Sports Betting Starting to Raise Revenue for K-12 Education
Several of the licensed sports gambling venues have begun operations at last, joining casinos in generating millions in new revenue for K-12 education. The state will receive 15% of the gross receipts, and that money will go to the Blueprint for Maryland's Future Fund. Legislative analysts predict that wagering on professional and collegiate sporting events will net the state between $15 million and $25 million a year.
NEWS AND NOTES
Spending Affordability Committee and Board of Revenue Projections Share Good News
The state has a robust revenue outlook for the current fiscal year and next, according to the Board of Revenue Estimates (BRE), which met on December 14. In September, the BRE examined better-than-expected income tax revenues and has now estimated an additional half billion dollars in each of FY22 and FY23.
NEA Has Transformative Racial Justice Leader in Pringle
The New York Times recognized National Education Association President Becky Pringle as a top Black labor leader positioned to bring about the kind of racial and social justice that are MSEA's priorities. The profile of Pringle was written by former Baltimore Sun reporter Erica Green.
Federal Court Rules in Favor of Anti-LGBTQ Christian School
A disappointing court ruling in favor of Bethel Christian Academy to quietly discriminate against members of the LGBTQ+ community and receive public funds will not keep MSEA from defending the rights of all students to be equally protected and valued. MSEA and coalition partners will continue to fight attempts to use public funding for schools that do not share those basic values.
More Legislative and Leadership Changes in Annapolis
General Assembly leadership changes continue as this week Sen. Delores Kelley of Baltimore County, a member of the General Assembly for more than 30 years and chair of the Senate Finance Committee, announced that she would not seek reelection in 2022. Also this week, Gov. Hogan appointed Linda Foley to represent Montgomery County as a delegate in the 15th District, taking the seat of former delegate Kathleen Dumais, who was appointed to be a circuit court judge.
School Construction Funding Workgroup Offers Final Recommendations
The state Workgroup on the Assessment and Funding of School Facilities that was established by 2021 legislation met for the last time December 15 and has a final set of recommendations for the General Assembly to consider next session. The workgroup is proposing legislation for a revolving loan fund to allow more districts to forward fund projects at low or no interest. Other recommendations and changes involve new cost sharing formulas for capital improvement projects and Built to Learn school construction and guidelines for how the Interagency Commission on School Construction (IAC) should determine the maximum amount of state funding for school construction projects. The workgroup wanted the IAC to adjust its calculation methods, which use school enrollment and baseline square footage.
CAMPAIGN 2022
Updates from the Trail
In Democratic gubernatorial campaign news, U.S. House Speaker Nancy Pelosi (D-CA) endorsed Tom Perez, and former Gov. Paris Glendening endorsed Wes Moore. Moore has tapped former Delegate Aruna Miller to be his running mate.

This week, U.S. House Majority Leader Rep. Steny Hoyer (D), who filed to run for his 22nd term next year, endorsed Heather Mizeur in the newly reconfigured first congressional district.