And other legislative updates in this week's Up the Street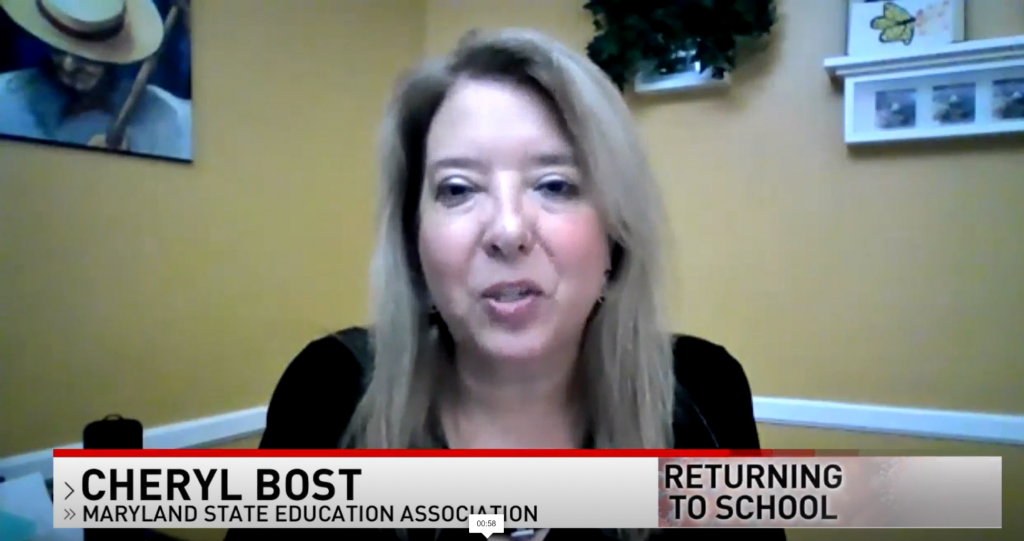 THIS WEEK IN ANNAPOLIS
Hogan $49 Billion Budget; Education Share Designed to Address Pandemic
Governor Hogan proposed a $49 billion fiscal year 2022 state budget on Wednesday that appears to fund most state aid for education, in the aggregate, at least equal to last year. Of course, when he annually congratulates himself for setting a record with education funding, he doesn't mention that most increases are required by law, including this year's requirement of an additional $500 million to keep elements of the Blueprint for Maryland's Future on track, notwithstanding his veto of the once-in-a-generation education reform proposal last year. The significant challenge with this budget is how to account for the artificially low student enrollment count in September 2020, which if unaddressed, would reduce state aid by nearly a quarter billion less than FY21. But advocates and budget experts alike see that drop as a one-time aberration due to the pandemic and will require action to make school districts whole for the 2021-2022 school year. Many legislators and MSEA were not prepared to accept that artificially low minimum, and legislators and advocates are talking about the need for greater funding to address the unusual pandemic conditions. The governor's budget does include just over $200 million in what his office describes as "hold harmless" funds. If that funding level is adequate to address both the artificial enrollment count and the impact of that count on at-promise populations that require additional resources, such as students on free and reduced price meals and students receiving special education services, is yet to be determined.
Here are some key points of the FY22 budget proposed by the Hogan administration:
Direct state aid to education is $7.5 billion, $213 million above what the artificially low enrollment would have required. Federal aid and a Blueprint veto override will be needed to go beyond this and provide greater funding for safe reopening and long-term recovery, respectively.
Targeted tutoring is funded at $151 million, partly called for in (and funded by) the Blueprint for Maryland's Future and ramped up because of the pandemic.
Supplemental grants for pre-kindergarten expansion are at $53 million, $10 million less than in FY21.
Hogan has again attempted to budget $10 million for the BOOST voucher program. Last year he proposed $10 million as well. We lobbied against it, and it was cut to $7.6 million, which maintained the previous year's funding level. MSEA will continue to advocate for the elimination of this voucher program.
The capital budget includes $833 million for public school construction.
Up the Street will have a more detailed analysis of Hogan's budget and its effect on schools, educators, and other statewide priorities, in next week's edition.
Hogan Resorts to Bullying, Threats on Reopening Schools
On Thursday, Governor Hogan upstaged his benevolent budget persona to engage in outright bullying. He cherry-picked data about school transmission rates and demanded in double talk that because there is a coronavirus vaccine that every district should "make every effort" to return to in-person hybrid education by March 1. His remarks omitted the reality of insufficient and spotty vaccine availability and ignored the record highs in coronavirus case rates. The disconnect between the feasibility of creating safe and healthy facilities for in-person instruction didn't seem to matter to him or to State Superintendent of Schools Karen Salmon, who echoed his call for open schools, no matter the success of vaccine distribution and safe learning conditions. Hogan had Acting Deputy Secretary of Public Health Services Dr. Jinlene Chan discuss the state's new guidance, which contains no specific metrics at all, to be used to assess conditions for safe school operations. Hogan also took the opportunity to menacingly and inappropriately threaten educators' pay and licenses, apparently ignorant of educators' herculean efforts during virtual learning and continued attempts to get vaccinated and bring about the safe conditions that would allow for a greater return to in-person learning. House Majority Leader Eric Luedtke tweeted that State House Democrats were already discussing emergency legislation to prevent the governor from taking the bullying actions he threatened.
MSEA will continue to advocate for a safe and sustainable reopening of schools. Meanwhile, we will discuss the governor's threats and much more on next week's "Educate at 8" Facebook live Q&A on January 27. MSEA President Cheryl Bost and General Counsel Kristy Anderson will be joined by Majority Leader Luedtke and Congressman Anthony Brown for this conversation that spans both state and federal efforts.
Pressing on for Statewide Improvements
Staying focused on students, educators, and schools, our primary goal this session will center on overriding Hogan's veto of the Blueprint for Maryland's Future and passing other legislation that supports education and equity. Overriding the veto of the Blueprint will launch a decade of programs that address longstanding inequities that disproportionately affect students living in areas of concentrated poverty. The pandemic has laid bare the desperate need to create strong schools in every neighborhood by providing additional support to struggling learners, hiring more educators and increasing their pay, expanding access to career and technical education, and delivering a more prosperous future for Maryland. Overriding the governor's veto of the Blueprint will also restore the Built to Learn Act, a much-needed $2.2 billion investment in school construction.
Already MSEA President Cheryl Bost and MSEA staff have testified to support legislation, including HB 1, the revival of a $577 million settlement with the state's HBCUs; HB 215 and HB 165, to close tax loopholes for hedge fund managers and the very wealthy, respectively; HB 133, to increase state budget transparency and fairness; and other bills that raise revenue for education. MSEA and member advocacy remains vital to see these measures are enacted to recover from the conditions that have shortchanged students for years.
NEWS AND NOTES
Vaccine Distribution: More Theory Than Practice, But Educators Are Eligible
Technically all educators are able to be vaccinated, but the availability of vaccine is a major hurdle that Hogan ignores when he suggests educators can be vaccinated and teach in-person safely. The state reports receiving approximately 10,000 doses per day for 1.5 million people, and we know that their availability to educators has been extremely uneven across the state. Educators may sign up for a vaccination appointment on the state website, and find county providers. We've compiled more about what we know relative to educators here.
President Biden Ushers in New Approach to Equity, Education
In one of his first actions in office, President Biden began to dismantle inequality and racism, which he identified as priorities of his administration. Hours after taking the oath of office he signed orders to halt evictions and foreclosures, fortify the protections in the Deferred Action for Childhood Arrivals (DACA) to protect "Dreamers," and to disband the Trump administration's 1776 Commission, which was formed to promote "patriotic education," and produce a sanitized version of American history, especially concerning slavery, that credible historians deem utterly insupportable. Biden has nominated San Diego, California, Schools Superintendent Cindy Marten, a veteran teacher, to serve as undersecretary in the Department of Education, with his previously announced nominee for secretary, Dr. Miguel Cardona.
CAMPAIGN 2022
Campaign Finance Reports Filed
Comptroller Peter Franchot has $2.2 million in the bank for his race for governor, ahead of four potential but unannounced opponents: Baltimore County Executive John Olszewski, who has $1.6 million; Prince George's County Executive Angela Alsobrooks, who has $1 million; Howard County Executive Calvin Ball, who has $691,966; and former Attorney General Doug Gansler, who reported $428,241. Baltimore Delegate Brooke Lierman (D-46), running for comptroller, reported a balance of $588,292; and Democrat Tim Adams, mayor of Bowie, who has formed an exploratory committee for the comptroller's race, reported $253,130.