And other legislative updates in this week's Up the Street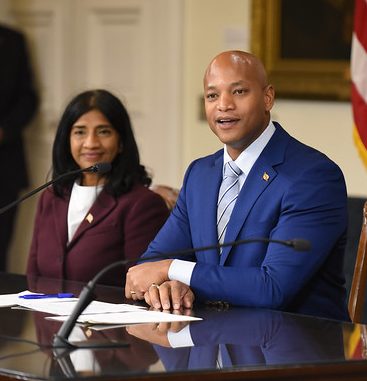 THIS WEEK IN ANNAPOLIS
Historic Inaugural Events Include Governor's Promise to Meet Needs of All Students
An extraordinary second week of the 2023 legislative session culminated with the inauguration Wednesday of Governor Wes Moore, sworn in as Maryland's first Black governor and the only one currently in office nationwide, and Lt. Gov. Aruna Miller, Maryland's first Indian-American lieutenant governor. The ceremony featured the introduction of Moore by longtime supporter Oprah Winfrey, who heralded Moore's lifelong dedication to public service. In his inaugural address, Moore committed to working on behalf of every Marylander, regardless of a person's zip code, financial position, ethnicity, religion, gender identity, or political party.
Moore reiterated both his gratitude for education that changed the direction of his life, and his promise to ensure that public schools give every student just such an opportunity to succeed. "We will invest in our special education students, our English language learners, our LGBTQIA+ students, students experiencing homelessness, and every kid who needs a little extra help. We will see to it that mental and behavioral health challenges do not prevent our children from getting the education they need and deserve," he assured the crowds assembled for the event in Lawyer's Mall between the State House and a statue of Supreme Court Justice Thurgood Marshall. "Every student in Maryland will know that there are many paths to success and fulfillment—and those paths begin with high-quality, highly inclusive schools from pre-k to 12th grade."
On Monday, the inauguration of Comptroller Brooke Lierman made history as she became the first woman elected to the position in Maryland. Retired U.S. Sen. Barbara Mikulski, the first woman to be elected statewide in Maryland, attended Lierman's inauguration on Monday and handed Lierman a replica torch, from one trailblazing woman to another.
Moore Budget Addresses Educator Shortages, Student and Family Needs
Today Moore presented his budget, Senate Bill 181/House Bill 200, with an extraordinary commitment to K-12 education, which he described as the foundation for a strong state. He funds education—and the Blueprint for Maryland's Future specifically—at historic levels and makes whole the education support professionals who are owed retention bonuses, among other critical spending decisions. He makes those vital investments while maintaining the recommended 10% of general fund revenues in reserve in the Rainy Day fund to be prepared for potential economic downturns.
"Governor Moore's budget marks the beginning of a new era of commitment and leadership to ensure that every student has an outstanding public school where they can pursue their dreams," said MSEA President Cheryl Bost. "He upholds his promise to support students and educators, fully funding the FY24 state share of the Blueprint, which will expand career and technical education programs and pre-kindergarten, address educator shortages, and raise educator pay." Read her full statement here. Look for additional budget analysis in next week's Up the Street.
Moore's record funding of $8.8 billion for K-12 education exceeds the statutory funding formulas and increases per-pupil funding by 9%. The funding includes:
A 32% or $475 million increase in funding to support low-income students
$500 million to the Blueprint for Maryland's Future Fund to extend the fund's solvency
$15 million in new funding to enhance teacher recruitment and retention through the yet-to-be-introduced Maryland Educator Shortage Act
$1.1 billion for school construction
"Our education support professionals—bus drivers, custodians, front office staff, and so many others—make our schools work yet often go unnoticed and underpaid. The legislature passed a $1,000 retention bonus for these valued employees last year that Gov. Hogan's budget didn't fully fund. We appreciate that Gov. Moore's budget recognized these employees and their contributions to our schools," said Bost.
Describing his education priorities in a recent interview with WYPR, Moore emphasized his intention to treat educators as partners, and he acknowledged the groundwork laid by the Blueprint for Maryland's Future to achieve common goals. "There is a lot of core alignment, what we have with the Blueprint, so you will see in the budget that we are going to be presenting, we're going to be making a historic down payment on that, but we also know that in order for it to be effective, that we are going to have to implement this in partnership," Moore told WYPR.
Yesterday Moore made several executive decisions supporting workers, reproductive rights, and environmental protections. He signed an executive order to create a state agency called the Department of Service and Civic Innovation to oversee his plan to allow high school graduates to be paid to learn trade skills. Another executive order that Moore signed Thursday will implement ethics standards for all employees in his administration—including the governor and lieutenant governor.
Educator Voice on Class Size at Stake in House Bill 85/Senate Bill 206; Hearing Set for February 1
The House Ways and Means Committee will have a hearing on February 1 at 1 p.m. that includes House Bill 85, which would allow class size to be a permissible subject of collective bargaining. Reintroducing a key piece of legislation that MSEA fought for last year, Majority Whip Del. Jazz Lewis (D-Prince George's) has introduced HB85 to give educators the right to negotiate around class size during collective bargaining. Sen. Pam Beidle (D-Anne Arundel) has introduced the Senate cross-file of the bill, SB206. At a time when attracting and retaining qualified educators is harder than ever, giving educators a voice in class sizes would address a top concern of both educators and parents. It would help educators develop collaborative solutions to ensure that students have the individual attention they need. This is one of MSEA's top legislative priorities.
House to Be Briefed on Blueprint Implementation
On Friday the House Appropriations and Ways and Means committees will receive a joint briefing concerning the Blueprint for Maryland's Future. The Blueprint Accountability and Implementation Board (AIB) has adopted its comprehensive implementation plan, and by March 15 local school boards are to have drafts ready of their implementation plans. The Blueprint law includes both funding and policy improvements to transform Maryland public schools over the course of 10 years. The changes will enhance equity, expand career and technical education and pre-kindergarten, expand and improve pay for the education workforce, and much more. MSEA's legislative priorities include amending the Blueprint to help address the acute educator shortage that worsened since the transformational law was passed.
Legislative Black Caucus Has New Leadership
There is new leadership for the Legislative Black Caucus with Del. Jheanelle Wilkins (D-Montgomery) elected as its new chair. She steps in following the departure last month of Del. Darryl Barnes, who had served for more than five years. Wilkins is a member of the House Ways and Means Committee, which oversees a wide range of education issues.
NEWS AND NOTES
School Board to Discuss Changes to Regulations for Educator Preparation, Licensure
On January 24 the State Board of Education will consider the next phases of repealing and replacing the regulations governing educator preparation and licensure, (COMAR) 13A.12.01.-.07 Educator Licensure, and 13A.07.06, Programs for Professionally Licensed Personnel. MSEA has closely monitored and commented on these regulations which have been examined by members of the Professional Standards and Teacher Education Board (PSTEB) and the Maryland State Department of Education. MSEA wants to ensure that the regulations support high quality and diverse educators and align with the Blueprint's expectations and goals.
Historic Levels of Federal Funding for Community Schools to Benefit Maryland Students
On Wednesday the U.S. Department of Education announced that Maryland is one of eight states selected to receive some of $63 million in new federal funding to expand or begin community school programs. Community schools are already a key component of the Blueprint and will expand rapidly over the next several years. "This represents a huge step toward the Biden-Harris Administration's goal of doubling the number of full-service community schools across the country and raising the bar for our support of children," U.S. Secretary of Education Miguel Cardona said.