And other legislative updates in this week's Up the Street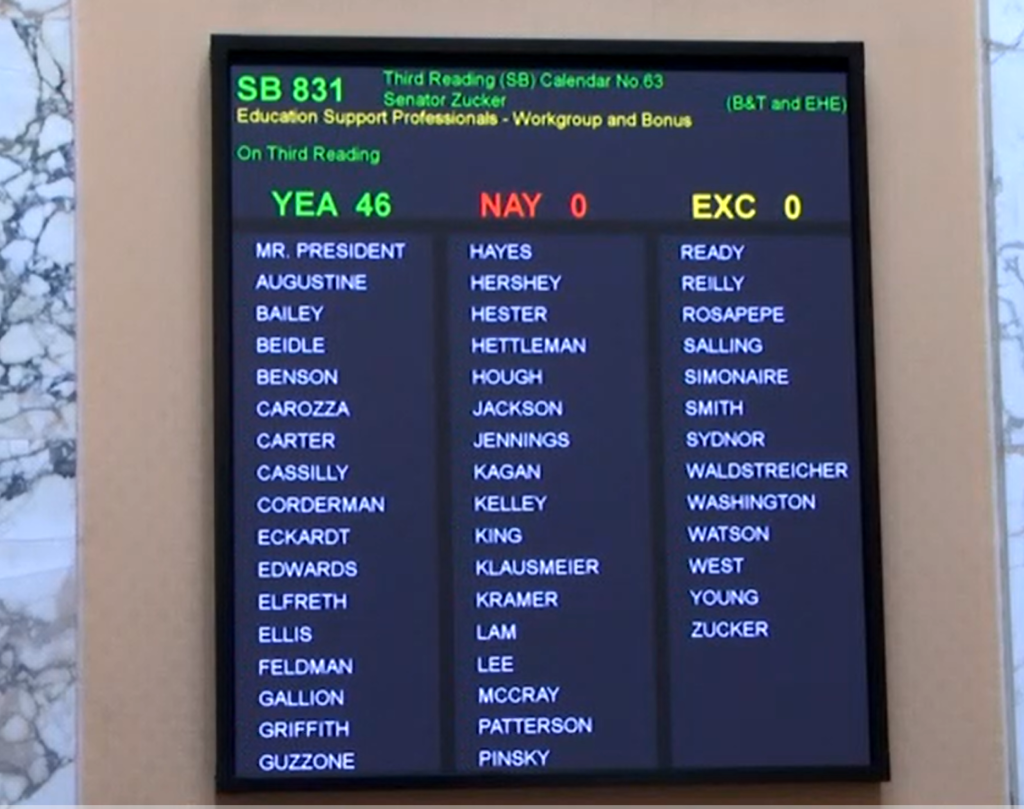 THIS WEEK IN ANNAPOLIS
Budget Work Leads to Long-Term Blueprint Funding, Bonuses for Support Professionals
This week a House and Senate conference committee has been ironing out differences to get to a final budget based on Gov. Hogan's proposed FY23 budget and the five supplemental budgets he submitted. A general fund surplus of $7.5 billion across FY22 and FY23 projected by the Board of Revenue Estimates has empowered legislators to do more for education and still include more prudent tax cuts than the governor proposed.
The House made amendments to the Senate budget, Senate Bill 290, but retained the Senate plan to put $800 million toward out-year funding for the Blueprint for Maryland's Future Fund. That is a significant step in continuing to fund the landmark education plan and ensure that all students in all schools will continue without interruption to benefit from the expanded programs and staffing levels promised by the Blueprint.
Among the tax cuts that Hogan proposed was one for retirees that would have cost the state an estimated $2.8 billion a year in revenue. In its deliberations, the Senate prioritized preserving future revenue streams that will be needed when the surplus is no longer available. Under the Senate plan a $1,000 tax credit for taxpayers age 65 or above, who are not necessarily retired, would apply to single taxpayers with income under $100,000 and to joint filers with income under $150,000. The Senate amendments reduce the annual revenue loss from the credits to $300 million, and they included an emergency clause—as there is for the Blueprint—to pause the program if general revenues drop significantly.
The budget includes proposed tax exemptions for diapers and baby accessories, oral hygiene products, and medical equipment for a cost of approximately $23 million per year. At a cost of roughly $40 million per year, an amended work opportunity tax credit is proposed to give employers a credit for hiring someone who is facing certain barriers to employment (people with felony convictions, veterans, the long-term unemployed, and people receiving public assistance). Even allowing for these tax credits and increased program funding, legislators are able to set aside in the Rainy Day Fund $69 million more than the benchmark 10% of general fund revenues.
In addition to the $800 million for the Blueprint, the supplemental funding also includes:
$220 million for FY22 for federal student meal grant awards
$4.8 million for FY22 English language assistance
$510,000 for advanced placement computer science
The supplemental budgets also allocate $1.4 billion in federal coronavirus relief money still available for education purposes:
$586 million for ARPA funding for local school systems
$139 million for FY22 to for pandemic learning recovery through the Maryland Leads Initiative
$39 million for ARPA support to nonpublic schools
$37 million for ARPA and CRRSA recovery from pandemic
$25 million for Governor's Emergency Education Relief (GEER) initiatives
$21 million for FY22 nonpublic schools
$10 million for FY22 Elementary and Secondary School Emergency Relief (ESSER) initiatives
$4.29 million for supporting virtual learning
$4.1 million for technology under American Rescue Plan Act (ARPA) and Coronavirus Response and Relief Supplemental Appropriations (CRRSA) funds
$1 million for innovative school and community nutrition information technology projects
Education Support Professional Wage Bill Advances
Among one-time opportunities the surplus allowed is money to give education support professionals (ESPs) bonuses this year and next year. Hogan included $8 million to cover about half of one year's cost, but two years of bonuses were proposed in Senate Bill 831, crossfiled with House Bill 1349. While the two bills are currently in different forms, both would ensure at least a $500 bonus in the 2023-24 school year. MSEA made this legislation a priority to address the crisis in ESP recruitment and retention. They are essential to the daily functioning of schools, whether they are driving buses, preparing and serving meals, assisting in the classroom, maintaining buildings and technology, keeping records and implementing pandemic protocols, or any of the many other critical roles they fill.
Importantly, in addition to the two-year bonuses, MSEA regarded as important SB831's proposed establishment of a workgroup to explore long-term solutions to ESP wage gaps and staff shortages. However, an amended HB1349 passed in the House in a 102-34 vote which replaced the workgroup provision with a report from the Maryland State Department of Education. If the workgroup element fails to pass this year, the groundwork has still been laid to make a difference for ESP wages and MSEA will not cease to fight for long-term ESP wage improvements.
NEWS AND NOTES
Workgroup Examines Pandemic Education Spending
The considerable federal education funding sent to states during the pandemic was the subject of the Comptroller's Workgroup on Pandemic Spending on Tuesday. MSEA lobbyist Samantha Zwerling testified about the stress that educators continue to experience because of the pandemic. "Schools opened to all in person this fall and educators and students were supposed to treat it like normal. It wasn't and it still isn't," Zwerling said. "Educators report to us constantly that these are the toughest years of their careers, and many are leaving our schools."  She underscored the importance of work to address inequities, improve communication from districts, and prioritize health and safety in school buildings. The workgroup is tasked with reviewing state and federal coronavirus-related spending.

Congressional District Map Redesign Advances Swiftly; Candidates May Have to Scramble
Another court case looms over a new congressional district map, which the 2020 decennial census count required to be drafted. This week legislators produced and passed a new congressional district map as required by the Anne Arundel Circuit Court last Friday. The court ruled in favor of Republican-leaning plaintiffs who objected to the congressional district map that was produced by the Legislative Redistricting Advisory Commission and approved by the General Assembly in December. However, the attorney general's office has filed an appeal of the court's ruling to the Maryland Court of Appeals. Meanwhile, candidates have an April 15 filing deadline approaching, and a primary that has already been pushed back to July 19.
Compared to the map approved in December, this week's map is predicted to create more competition in the Second, Third, Fifth, and Sixth congressional districts and would leave the First district, now held by the state's only Republican representative, more heavily Republican.
CAMPAIGN 2022
Endorsements in Governor, Attorney General, and Comptroller Races
Endorsements for Democrats in the governor's race include House of Delegates Majority Leader Eric Luedtke (D-Montgomery) and Delegate Terri Hill (D-Howard) for Wes Moore; Delegate Lesley Lopez (D-Montgomery) for Tom Perez; and Unite Here Local 7's hotel, gaming, and food service workers for Rushern Baker.
Endorsements in the attorney general's race include Delegate Mike Rogers (D-Anne Arundel) and Unite Here locals 7, 23, and 25 for Democrat Anthony Brown; and Delegates Eric Ebersole (D-Baltimore County) and Pat Young (D-Baltimore County) for Democrat Katie Curran O'Malley. The first woman elected statewide in Maryland, former Senator Barbara Mikulski (D), made an endorsement in the comptroller's race, giving her support to Delegate Brooke Lierman (D-Baltimore City).
Content goes here!