Jing Dai is a Chinese teacher at Meade Senior High School. She is the 2021-2022 Anne Arundel County Pub­lic Schools Teacher of the Year, a 2021-2022 Maryland Teacher of the Year finalist, and a 2022 Washington Post Teacher of the Year finalist.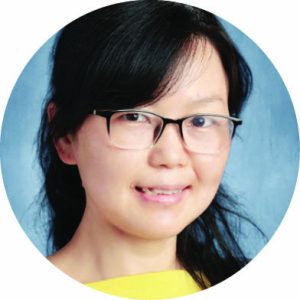 Authentic learning is an instruc­tional strategy that connects what students are taught in school to real-world situations and allows students to explore, think, and construct concepts and ideas that they learned. By resolving real-world problems, students are more likely to make meaning out of their learning while staying motivated through the learning experience. They can also develop their practical skills, sharpen their critical think­ing ability, and gain the confidence to utilize these skills beyond their classroom. With a few shifts in our practice, we can bring authenticity into our classrooms and into our students' daily lives.
Project-based learning is often the most effective way, because it provides students with tasks that promote higher-level thinking skills and allows them to feel their values when they resolve problems. During the pandemic, I developed a project-based unit to support local restaurants and increase my students' awareness of the challenges our community faced.
This student-led project allows students to "take the wheel" in their learn­ing and helps students to learn valuable critical thinking skills. In conducting their project, students need to gather information, find problems, brain­storm, and collaborate to design a poster or video to advertise their favorite restaurant in both English and Chinese, then post their projects on their social media and tag their favorite restaurants. This unit provided students with an authentic situation and showed them that they have the resources to make a positive difference with their actions. Students understand that what they learn within the walls of the classroom can help them solve problems they observe in their communities through collaboration, com­munication, and creativity.
Gifted education is a means to provide students who display su­perior interests and potentials with opportunities to apply past and present learning to real-life situations. A few years ago, I had a student, Anne, who struggled with a learning disability and was lost in her studies. As a result, Anne lacked confidence in who she was. When I real­ized she was talented in dance, I encouraged her to participate in my Chinese Dance Club. Due to Anne's innate gift of dance, she learned faster than others. Her confidence grew and she started to teach her peers. The Chinese Dance Club performed their dance at Chinese festivals and other events. Anne's face lit up when she heard the applause from the audiences.
Through these interactions, Anne was inspired to learn Chinese, and she pushed herself to accom­plish more and to be the very best she could be. She finally regained her sense of trust, happiness, and wisdom through her studies. Her grade significantly increased from a D to an A.
Field trips can take a variety of forms that meet a diverse set of needs and can enhance deep, active, and authentic learning. I used to have field trips to Chinatown, the Chinese Embassy, international festivals, or local Chinese super­markets and restaurants every year. These trips fostered interaction with native speakers and used oppor­tunities to develop students' skills in relaxed and authentic settings. Students are thrilled when they learn they have these unique oppor­tunities. As they discover the value of their skills, my students feel inspired to speak more regularly, with confidence backed up by experience. They have expressed that these trips opened their minds and were highlights of their high school career. One student said, "It was the best day so far during my time at Meade High."
Overall, education and life should always work together. We cannot teach our students every­thing. We need to equip our students with the necessary skills that they can apply in the real world. By implementing authentic, real life, and relevant learning experiences into our instruction, we are giving them an opportunity to learn through action and reflection, as well as driving their own learning through application and collaboration.
Latest News