And other legislative updates in this week's Up the Street
THIS WEEK IN ANNAPOLIS
Educators Get Blueprint Close to Finish Line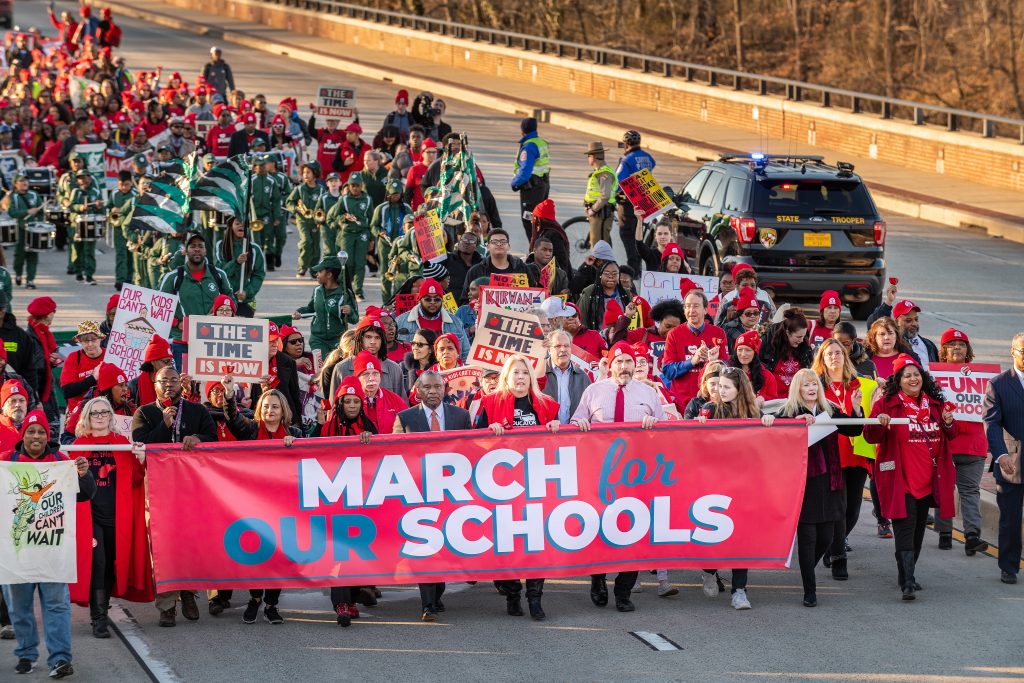 As soon as next week, lawmakers could take the votes to finally pass the Blueprint for Maryland's Future, the once-in-a-generation education reform. Early on in session, the House of Delegates special ordered an override of the governor's veto to this coming Monday, February 8. If the vote indeed takes place on Monday and is successful, then the Senate could complete the override vote later next week to enact the legislation at last. Over the four-year campaign to get the Blueprint across the finish line, educators have continued to lead, marching through the streets of Annapolis, holding community forums in all corners of the state, and calling and emailing legislators to urge them to pass the Blueprint. Make sure your voice is heard before any final votes are cast by clicking here to email your legislators.
Overriding the veto of the Blueprint remains MSEA's top priority this legislative session. Its enactment sets the stage—not to return to what was normal before the pandemic, which was inadequate—but to transform the next decade, fundamentally address systemic racial and social injustice, and give every student a chance at a promising future. The pandemic made clear and worsened the longstanding inequity that has been ignored, allowed, and embedded by too many for too long in education and society. The Blueprint is the right program to meet this moment, ramping up support to struggling learners, hiring more educators and increasing their pay, expanding pre-kindergarten and career and technical education, and delivering a more prosperous future for Maryland.
Overriding the Blueprint veto would simultaneously revive the Built to Learn Act, 2020 legislation which called for a $2.2 billion investment in new school construction and renovations to bring classrooms into the 21st century. That funding would go a long way to ensuring that classroom space, HVAC systems, and technological capabilities meet standards needed for safe and sustainable instruction during the pandemic and beyond.
State of the State a Non-Event
Gov. Hogan delivered the annual State of the State address on Wednesday from the safety and isolation of his state reception room rather than the full State House as usual. During the speech he implored Marylanders to buck up, prepare for harder times, and return students and educators to school buildings.
Highlighting his $1 billion RELIEF Act, SB 496, which was amended by the Senate to give more than a few hundred dollars to low-income earners, Hogan glossed over the experiences of Black, Brown, and low-income working people, who have suffered the greatest loss of life and devastating economic outcomes from the pandemic. Hogan took credit for lightening the burden for Marylanders in the past year—including the mere distribution of federal coronavirus aid—and took no responsibility for the abysmal vaccine distribution plan and unemployment insurance program performance that has left people wanting and waiting for support and benefits indefinitely. All told, there was little new and no breaking news in his remarks.
Responding to the governor's speech, House Majority Leader Eric Luedtke said lawmakers are committed to pass legislation that addresses the pandemic's disparate impacts on Black and Brown families, and structural injustice in general. "Where the administration is failing, we will not hesitate to demand better," Luedtke said. He also argued that the governor and Superintendent Karen Salmon should work with educators on reopening instead of "demonizing them."
Lawmakers Eye Funding to Cover What Governor Has Missed
The Millionaires' Tax, HB 435, with MSEA's support, would reform tax law so the wealthiest would pay 7% tax on their income above $1 million. In the Senate, the Recover Now amendment to the governor's RELIEF Act (SB 496) would add $520 million to the bill to make up for delayed unemployment benefits, hire healthcare workers, improve access to healthcare, fund summer school or tutoring programs, offer rental and mortgage relief, send $1,000 to low-income earners, support food banks and other aid providers, and more.
MSEA will also continue to press for the legislature to override the vetoes of the Tobacco, Sales and Use Tax and Digital Advertising Gross Revenues Tax (HB 732, 2020) and the 21st Century Economy Fairness Act (HB 932, 2020). Those bills have the potential to raise billions of dollars in revenue for education annually from huge corporations and advertisers like Google and Facebook who have not paid their share of corporate taxes in Maryland, even though they have profited massively by doing business in the state.
NEWS AND NOTES
MSEA Pushes for Safe In-Person Instruction, Vaccination, and Building Preparations
As educators seek scarce opportunities to be vaccinated against the coronavirus while many school districts rush to return to buildings, MSEA encourages educators to use our Health and Safety Checklist for Buildings and Workspaces, a list of building conditions to determine whether a school is safely prepared. The checklist can be used by teams of colleagues to assess the safety of buildings and identify areas for follow up. Meanwhile, locals continue to try to work with their school systems to enable safe in-person instruction amid extremely challenging public health conditions and polarizing political pressures.
Clearly vaccination against the coronavirus represents a great tool for protection, as President Biden, Dr. Fauci, and the CDC agree. Vaccination is one mitigating factor in risk determination, and the more educators who can be vaccinated before entering school buildings the better. Lawmakers have proposed money to improve the inconsistent and confusing deployment of the state's vaccination program, and MSEA will continue to push for the prioritization of educators as more clinics open and more vaccine is available.
A New Day Dawns at the U.S. Department of Education
The reckless admonition to open schools to in-person instruction that came out of the Betsy DeVos Department of Education is gone. This week's U.S. Senate confirmation hearing for Dr. Miguel Cardona went well for President Biden's education secretary nominee. The Senate is expected to hold a confirmation vote for Cardona next Thursday. The Biden Administration has already begun ramping up work on a range of pro-education policies, such as student debt relief. Biden has stated that he wants to see a return to in-person instruction only when adequate resources are supplied, and has included money for vaccination, coronavirus testing, and safety equipment in his $1.9 trillion coronavirus relief plan.
At Federal Level, Legislators Have Educators' Backs
Using Baltimore schools as a representation of nationwide need, Maryland's U.S. Senators Chris Van Hollen and Ben Cardin joined their Senate colleagues in introducing the Reopen and Rebuild America's Act on February 1 to pump $130 billion into school infrastructure and technology access nationwide. The bill will create federal-state partnerships lasting 10 years to fund bonds for construction and supplement capital funding.
Educate at 8: MSEA to Welcome Senate President Bill Ferguson
MSEA's upcoming "Educate at 8" Facebook live Q&A on February 10 will feature a visit from former teacher and current Maryland Senate President Bill Ferguson. Be sure to tune in next Wednesday at 8 p.m., and catch up on our previous episode featuring Congressman Anthony Brown and Majority Leader Eric Luedtke.
CAMPAIGN 2022
One Candidate Files, One Potential Candidate Passes
Another candidate has filed to run against Rep. Andy Harris in the First Congressional District—Mia Mason, who challenged Harris last year. This means that there will be a contested Democratic primary in the district, with last week's news of former delegate Heather Mizeur planning to run as well. In the comptroller's race, Sen. Jim Rosapepe (D-Prince George's and Anne Arundel), who had been rumored as a potential comptroller candidate, decided to run instead for re-election to his Senate seat.