And other legislative updates in this week's Up the Street
THIS WEEK IN ANNAPOLIS
Blueprint Becomes Law, to Transform Education, Establish Equity
After years of educator-led advocacy, the Blueprint for Maryland's Future is law and our students will benefit from a more adequate, equitable, and targeted funding formula that will improve the lives and schools of a generation of Marylanders. An overwhelming majority of the House and Senate voted this week to override the governor's veto of the Blueprint, setting in motion the once-in-a-generation education reform. In the House, the final vote was 97-38 (well over the 85-vote threshold to override a veto), and in the Senate, the final vote was 31-15 (easily clearing the 29 votes needed to override a veto).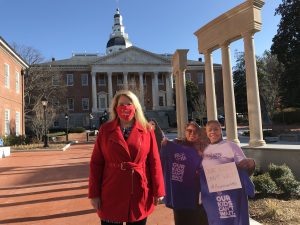 For the next decade, new funding will go to hiring more educators and paying them professional salaries and expanding early childhood education opportunities, career and technical education, community schools, supports for English language learners, and special education and mental health resources. Although it was created before the coronavirus pandemic, the Blueprint contains the educational, social-emotional, and career supports to enable students and Maryland to recover from the pandemic.
Legislators are working on companion legislation to adjust the timing of specific programs that were scheduled to begin last year which the governor's veto stalled and which the pandemic gives reason to revise. Senate President Bill Ferguson suggested on MSEA's Educate at 8 on Wednesday that legislators may speed up program implementation for bridging the digital divide, language and mental health supports, and community schools.
The Blueprint establishes layers of accountability, local implementation boards, and inspection teams tasked with the law's implementation. MSEA will be fully engaged in fighting for the faithful implementation of the law and for educators to have their rightful place at the table when decisions are made or bargained. MSEA will support implementation plans that deliver on the law's expectations concerning pre-kindergarten expansion, educator support, resources for students living in areas of poverty, career and technical education expansion, special education, and more. The result will ultimately give every student and educator a healthy, safe, and supportive teaching and learning environment.
Two other veto overrides this week enacted important revenue-generating legislation: the Tobacco, Sales and Use Tax and Digital Advertising Gross Revenues Tax (HB 732, 2020), and the 21st Century Economy Fairness Act (HB 932, 2020). Those bills are estimated to raise millions of dollars in revenue for education annually from huge corporations and advertisers like Google and Facebook who have not paid their share of corporate taxes in Maryland, even though they have profited massively by doing business in the state.
Because of prudent planning by legislators who supported the Blueprint, the state has banked enough money to cover implementation costs through at least FY26. This is also in part due to earlier wins from our years-long campaign for a new funding formula, such as the successful passage of legislation to Fix the Fund and the voters' landslide support of Question 1 in 2018 to ensure that casino revenues would go to increasing, rather than supplanting, existing school funding.
NEWS AND NOTES
Educate at 8: Senate President Ferguson Promises Blueprint, NEA's Kusler Gives Federal Update
Maryland Senate President Bill Ferguson and National Education Association (NEA) Senior Director in the Center for Advocacy Mary Kusler had good news and support for educators when they joined MSEA's "Educate at 8" Facebook live Q&A on Wednesday. Ferguson assured MSEA members that the Senate would override the Blueprint veto today, thereby "making good on the promise" to invest in education and educators, to give all students the best education possible, and to help recover from the pandemic educationally and economically. "The Blueprint will be our path forward," he said.
Kusler shared the good news that President Biden's American Rescue Plan contains $170 billion for K-12 education, and a separate bill in the U.S. House of Representatives would deliver $7.5 billion for digital connectivity. She also said that Biden supports a safe return to in-person instruction, which this federal funding would help to support. Kusler also indicated NEA's focused push to request waivers from spring testing requirements, as were offered by the U.S. Department of Education last year.
Cardona Nears Final Confirmation Vote
As soon as next week, Dr. Miguel Cardona may officially become the next U.S. education secretary. Cardona sailed through a committee vote of the Senate Health, Education, Labor and Pensions Committee on Thursday morning. The committee's 17-5 vote sends Cardona's confirmation to the floor of the Senate.
MSEA Seeks Safe In-Person Instruction, Vaccination, and Building Preparations
MSEA shares NEA's view when it comes to defining conditions for safe in-person instruction, a position that has been informed by guidance from such experts as Dr. Anthony Fauci, director of the National Institute of Allergy and Infectious Diseases, and the CDC, which announced new guidance today. NEA's statement on the guidance can be found here; look for more in next week's Up the Street on this guidance. Along with President Biden, MSEA and other education advocates agree that federal and local resources are required to safely and sustainably accommodate in-person instruction, and that teaching and learning in schools remains the most desirable result when it is safe to do so.
MSEA has produced the kind of framework recommended by NEA to make progress at the local level preparing and maintaining conditions for safe in-person teaching. MSEA members are using this Health and Safety Checklist for Buildings and Workspaces to determine whether a school is safely prepared and operating.
Of course, vaccination against the coronavirus remains a top priority, and little progress has been made in accelerating Maryland educators' access to the scarce supply of vaccine. Vaccination is a key tool in our layered mitigation toolbox, which includes the well-documented protocols around mask wearing, social distancing, adequate ventilation, and rapid and frequent coronavirus testing. Vaccination access for educators must be improved as quickly and as widely as possible.
Educators continue to speak out about the importance of safe and healthy schools and the challenges of this school year. On Tuesday National Public Radio featured Baltimore County teacher Pam Gaddy on an "All Things Considered" segment exploring safe in-person instruction expectations.
CAMPAIGN 2022
More Potential Names Added to Gubernatorial Race
We are just a few months removed from Campaign 2020, but the race for governor will be here before we know it. In the still-forming 2022 gubernatorial campaign, Republican and former Lieutenant Governor Michael Steele and the former U.S. Secretary of Labor and Democratic National Committee Chairman Tom Perez said recently that they are considering a run next year. Other announcements are expected over the course of the next few months as campaigns build the fundraising and grassroots infrastructure necessary to win a statewide primary in June 2022 and general election next November.